Full of rivalry, excitement, and passion, racing is one of those sports that is appreciated on a worldwide scale. Nowadays there are an array of events and tournaments based on the idea of racing because it is such a beloved activity. Formula 1 is a prime example, and it is the highest class of international racing where open-wheel single-seater formula racing cars are tested to their limits. With more racing fans than ever currently, it is worth taking a look at the best racing-themed casino games for Formula 1 fans so that they can bring racing into their everyday lives.
Firstly, there is a huge correlation between fans of casinos and racing as both fans are required to be well-versed in the games to fully enjoy them. It is worth noting that due to modern technology, there is an abundance of racing games on the market and players are spoilt for choice with over 2000+ games listed.
Formula X
Formula X is regarded as the number one game that satisfies both types of fans ever since it was released by GTECH. Not only is this game the recipient of a plethora of positive reviews but there are highly impressive graphics, ambient sound effects, and a racetrack that makes Formula 1 fans feel as though they are racing on a real racetrack.
Formula X has five reels and 25 pay lines, and the game has high-paying symbols, wilds, and bonus rounds, including progressive jackpots. Players can also choose from a range of stakes as they can bet anywhere from 0.01 to 250, which is perfect for people who are trying to stick to a budget. There are also opportunities to win extra money with bonus features such as rolling five scatters which gives players a 100 free spins bonus. Like most racing-themed slot games these days, this game is also available to play on a myriad of desktop and mobile devices meaning that you can even play while you are multitasking.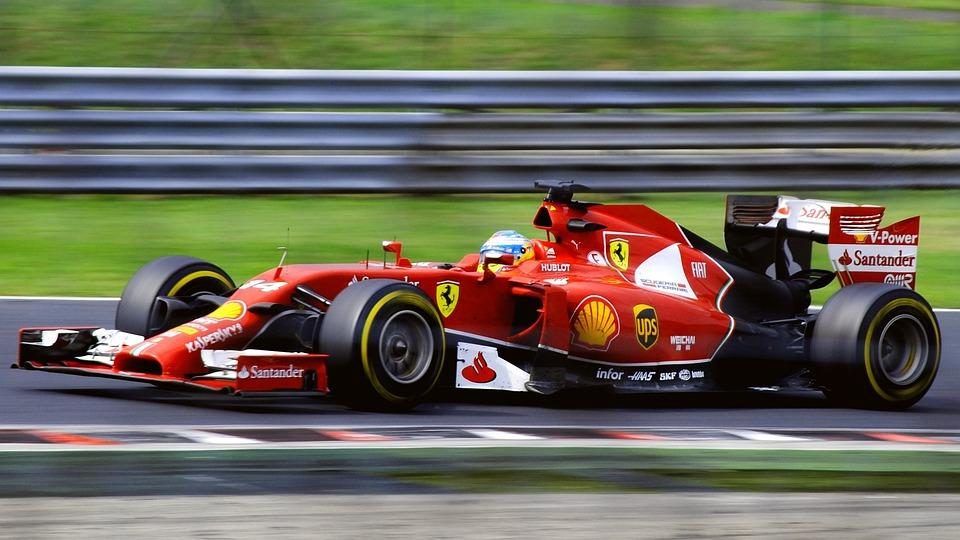 Route 777
Number two on the list when it comes to racing games is Route 777, which can be found at most online casinos nowadays. Created by Elk Studios, this slot anchors players in Route 777 and has a classic 3 reel setup and 17 pay lines giving players plenty of opportunities to win big. With an RTP of 96.30% and a minimum stake of 0.20, this game is incredibly entertaining with exciting graphics to glimpse at every opportunity.
24-Hour Grand Prix
Of course, the 24-Hour Grand Prix is another impressive racing-themed casino game that comes third on the list. Created by R7, the appeal of this slot game is the nostalgic visuals that transports players back in time. Supposedly based on the Monaco Grand Prix, this game offers players the chance to choose from cars such as Porsche 906 Carrera (see here), Ferrari 330 P3, Ford GT40, and more. With an RTP just below 95%, many people play this game more for its entertainment factor as opposed to the possibility of achieving lucrative payouts. 
Drive Multiplier Mayhem
Moreover, when discussing the top racing-themed casino games, we cannot neglect talking about Drive Multiplier Mayhem. With plenty of bonus features, this game gives players the chance to grab the top prize of 750,000 coins and has a traditional five-reel structure with 15 ways. This game is simultaneously perfect for those who are just starting out in the realm of casino games as well as those who are leaning towards being professional players.
Green Light
Lastly, number 5 on the list of the top racing-themed casino games is Green Light which is created by Real-Time gaming. With an already impressive reputation, this games developer has truly found success with this casino game. With five reels, an RTP of 95%, and 20 pay lines, those Formula 1 fans who opt to play this game will certainly not be disappointed. For those who haven't played this game before or slot games in general there is also a demo mode available to allow players to get accustomed to the game before they pledge their real money on it. Saturated with wild and scatter symbols, the game also has a myriad of free spins and a lucrative jackpot. The green light is a great visual symbol representing the green light in racing and the aim of the game is to collect as many of them as possible to maximise your bankroll.
Conclusively, as racing is a sport that involves high levels of fun, adventure, and thrill seeking it is no wonder that many Formula 1 fans have translated their love for the activity into casino gaming. From Formula X and Route 777 to Drive Multiplier Mayhem to Green Light, more casino games than ever that incorporate the concept of racing, so why not try one out for yourself?
Last Updated: April 20, 2023