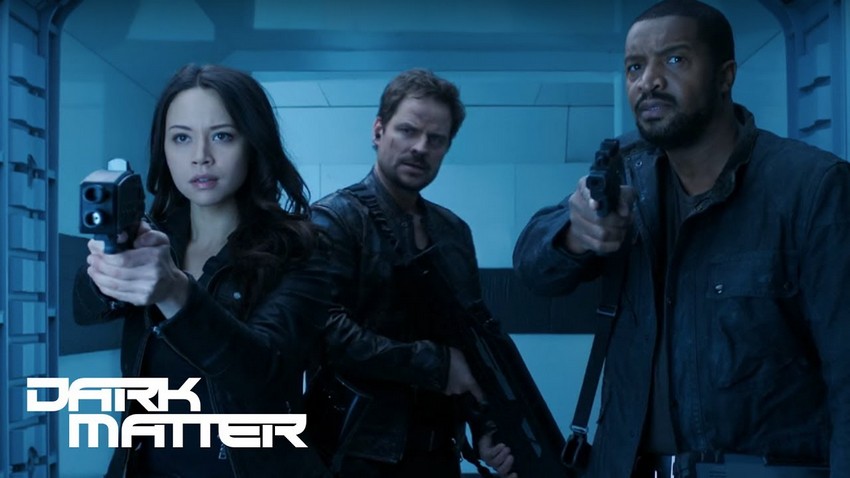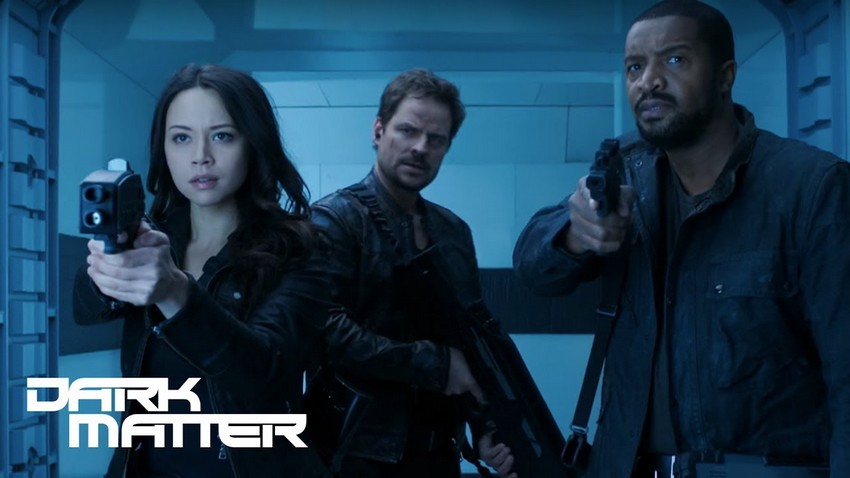 Once upon a time, the Sci-Fi Channel was synonymous with, well… sci-fi! But then the bigwigs at the US cable network forgot how to spell their own name and the newly rebranded SyFy started cutting ties with all the things that built it up. Headlining science-fiction properties like Battlestar Galactica and Stargate were all given the axe in favour of cooking shows and reality TV make-up artist competitions. Seriously.
Luckily, a few years back, SyFy finally regained their senses and started a campaign to get back to the original namesake. Leading this charge back was The Expanse, an ambitious, big budget space opera adaptation of James S.A. Corey's popular novels. Flanking that high-profile flagship though were Dark Matter and Killjoys, a one-two punch combo of lighter sci-fi entertainment that aired together in a Friday night programming block. Or at least used to air together as Dark Matter has now been cancelled.
Developed by ex-Stargate stalwarts Joseph Mallozzi and Paul Mullie from their own 2012 four-issue Dark Horse Comics miniseries, Dark Matter sees an intergalactic crew of six people waking up on a powerful and infamous spaceship with no memory of who they are or how they got there. Across three seasons, the crew of the Raza has discovered all kinds of secrets about themselves and also become instrumental in a gigantic intergalactic conflict that has now spanned space and time (and even alternate universes). The show's third season finale aired two weeks ago, setting the stage for its biggest moment yet with a massive cliffhanger ending. An ending that will now have to be the actual end.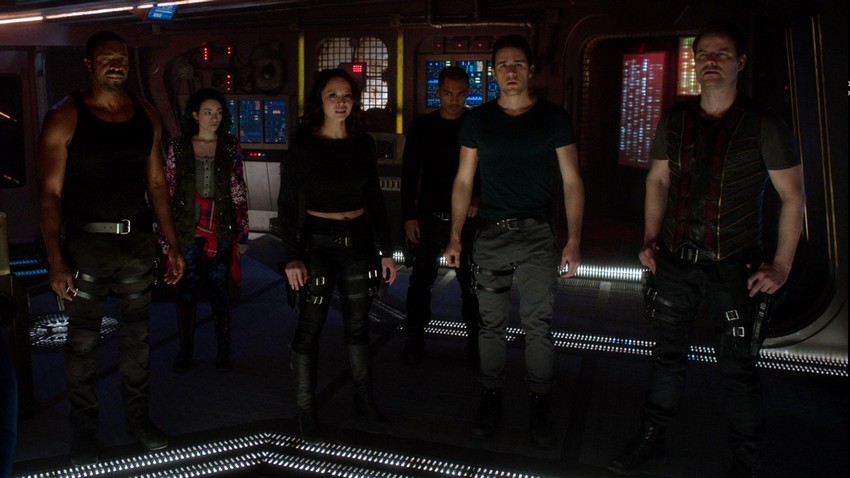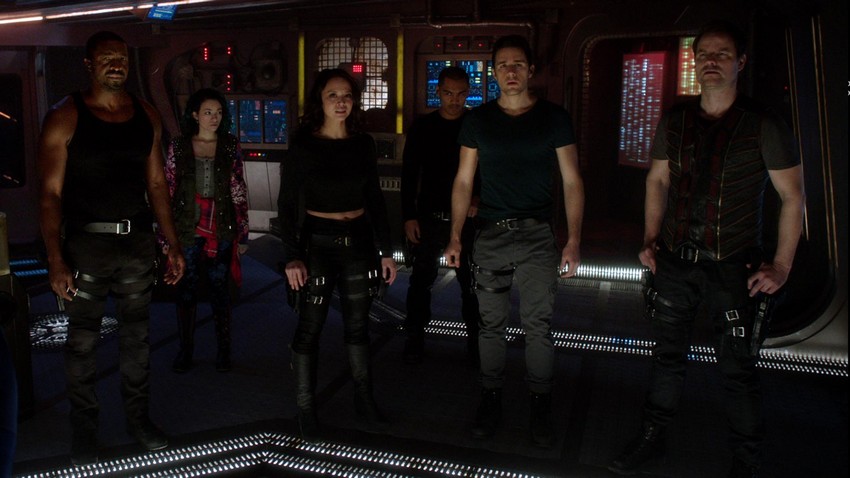 Mallozzi broke the news on his own blog, expressing frustration at the cancellation. Despite its ratings dipping a very slight 10% from season two, Dark Matter was still one of SyFy's most watched shows of 2017, and "consistently ranked at the top of cable percentage gainers in overall viewers and the key demos". As the writer explained though, it all seemingly came down to money.
Working against us was the fact that we weren't a SYFY original.  We were an acquisition.  For those not in the know, an original is a series that is developed by the network and, more importantly, owned by the network, allowing them to monetize the show through things like international sales, streaming, etc.  The network pays a lot more but presumably reaps the benefits down the line. Ideally. An acquisition, on the other hand, is a show that will cost a network considerably less, but doesn't offer those alternate revenue streams because there is no ownership stake.

Dark Matter was an acquisition and, as such, didn't have the type of money typical of an original series. As such, we had to run a very tight ship – producing on the page and running a highly efficient production.
As Malozzi continued, it reportedly wasn't efficient enough, with SyFy choosing to rather invest heavily in a slate of supernatural shows for 2017-2018. Mallozzi had worked out a detailed five-year plan for the show, knowing exactly where every story beat was going, and it was heading into some major moments. He offered to fly down from the production in Canada to SyFy's offices in Los Angeles to explain this to the network after hearing that the show was in trouble, but was informed that "the decision would not be based on the show's creative, so there was no point in going down to pitch".
Unfortunately, with the series' narrative planned out this far in advance already, there was simply no way to wrap it up this early in any conclusive manner, resulting in that massive cliffhanger. Mallozzi did point out that there are other options to pursue, but many of them are easier said than done. If I had to take a gamble, I would say that we may just see Dark Matter returning to its comic book roots to wrap things up.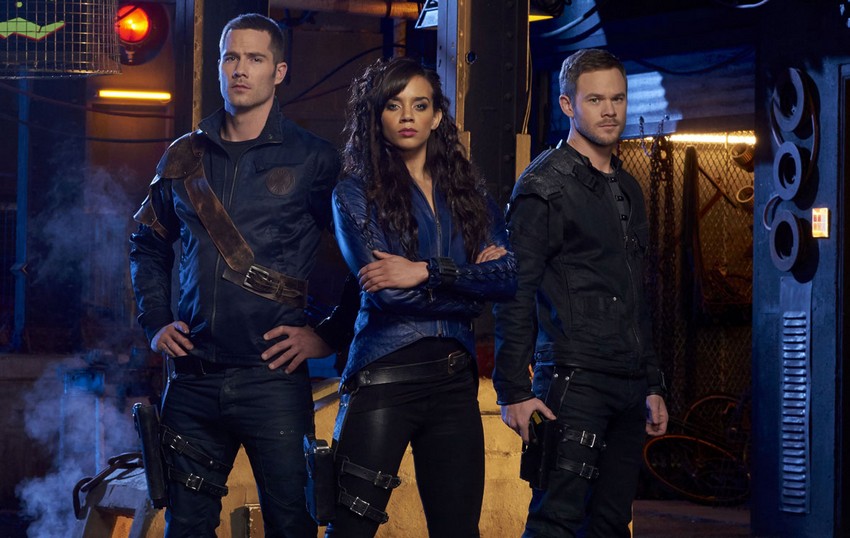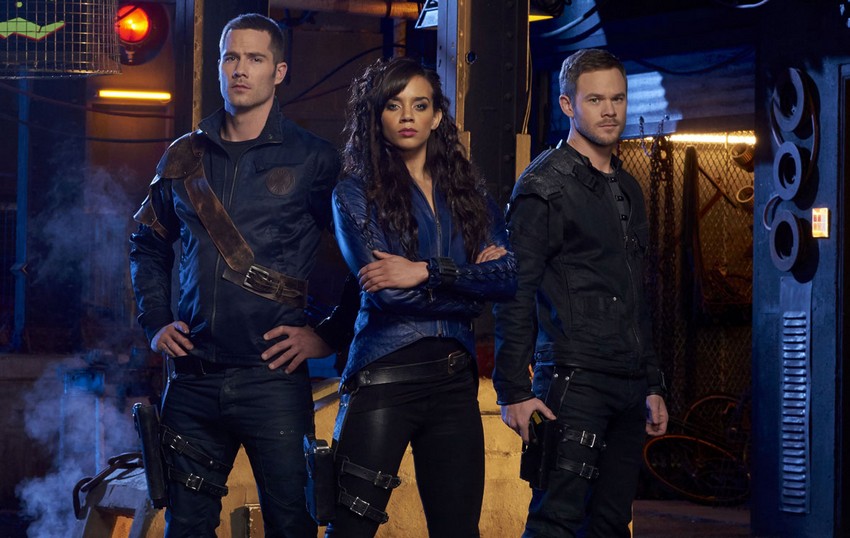 And speaking of wrapping things up, it would appear that while SyFy didn't care so much for Dark Matter getting to do that, they are offering it to Killjoys (which is a SyFy original, as I have to point out). The more lighthearted sci-fi show about a trio of bounty hunters caught up in a class-based, interplanetary feud that leads them to uncover a deep conspiracy that reaches back decades, Killjoys has seen roughly about the same ratings as Dark Matter. However, before airing its third season finale this Friday past, SyFy announced via press release that the show had been renewed for another two seasons. This two-season, 20-episode pickup will be the show's last, giving Killjoys creator Michelle Lovretta time enough to wrap up its sprawling narrative which in the finale has left the J Star System on the brink of war.
While I enjoy watching both Dark Matter and Killjoys, it's the former that is definitely my favourite. Killjoy's narrative is far too convoluted for its own good sometimes, whereas Dark Matter offered me that awesome episodic space opera escapism that nothing else has really matched since the cancellation of Stargate Universe. Also, while both shows are led by women of colour, it's Dark Matter's Melissa O'Neil who I feel is the bigger badass and potential breakout star (sorry, Hannah John-Kamen supporters, she's cool but doesn't quite do it for me). If nothing else, she deserved more time to get even more fans. Alas, that's not happening now.
I'll be keeping my ear to the ground on this one, as I really hope that Mallozzi and co find some way to salvage this situation and not just leave fans dangling in mid-air. I mean, if Stargate can come back after more than half a decade, then no situation is truly hopeless.
Last Updated: September 5, 2017