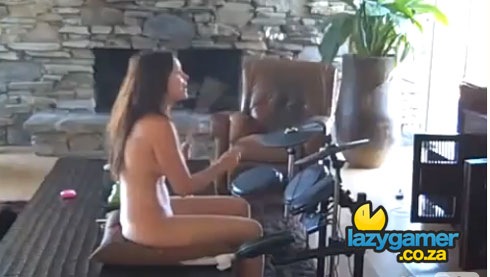 Hey! Somebody else plays Rock Band and Guitar Hero exactly the way I do – completely naked. There's just something so incredibly liberating about flailing my arms around wildly while the wind breezes through my matted chest hair.
I'll leave it to your imagination what it looks like when I play Van Halen's Jump. To cleanse that image from your head, hit the jump fro some brain bleach. Watch a pretty hot mom playing rock Band in what can only be described as liberal attire. She is, in fact, stark naked. It's a little awkward – depending on just how conservative your own upbringing was – considering there are children running about, but still – it's a chick playing rock band in the buff.
Also, if you noticed she's rocking out on one of the ION Rock Band kits, you're a giant nerd.
Last Updated: June 25, 2010