AMD's new Polaris 10 architecture is aimed squarely at the budget conscious gamer, the "99%" as AMD calls them in reference to providing a VR capable graphics solution "for the masses". Once you put down AMD's GPU Manifesto of "Das Graphik" you realise they were almost on point by spinning Polaris into something that sidestepped the fact that Vega is many months away. They have to offer the market some appealing products in lieu of directly competing with NVIDIA's Pascal  GP104 line-up.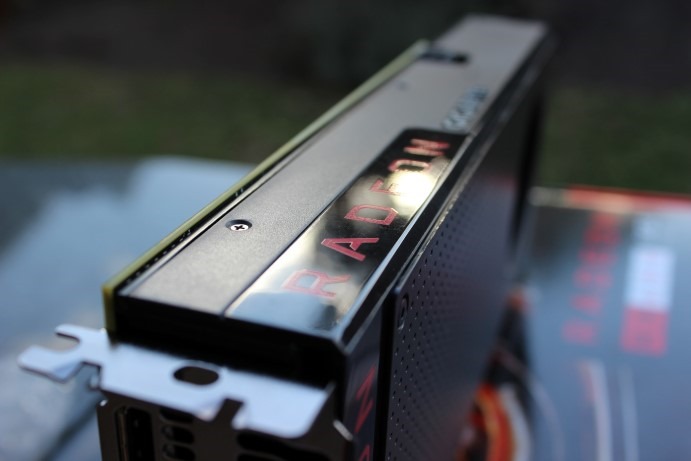 Offering a mid-range and "power conscious" spin on their Polaris architecture makes AMD's target market for 2016 the mid -ange 1080P gamer. However, with the GTX 1060 release Polaris is definitely on the back foot when it comes to 1080P and 1440P gaming.
Before we carry on, Lazygamer would like to extend our heartfelt thanks to Rune at Rebeltech for arranging this review sample! Go give their site a visit and wonder at the worldwide shortage of RX 480 cards!
Ploughing through Polaris
The mid-tier focus of the RX 480 is reflected in its specifications, sitting between the specs of the R9 380X and R9 390. It has 32 ROPS, 2304 Stream Processors and 144 Texture units. This sample is a 8GB unit operating at 8000MHz over a 256bit-bus, delivering a total of 256GB/s of memory bandwidth. On the surface the RX 480 is trying to juggle three different core objectives: be a direct competitor to the GTX 970 (although the GTX 1060 now exists), offer a power conscious replacement of the R9 390 and achieve this at an R9 380X price point of around ~$230. Although the RX 480 contains fewer Compute Units, ROPS and less memory bandwidth compared to the R9 390, it has the benefits of a revised 14nm FinFET GCN architecture and ships with much higher core and memory clock speeds to help make up any performance gap people might see in pure specification equating. Speaking of clock speeds, for the first time AMD has offered both a base and boost clock, pegging the base at 1120MHz and the boost at 1266MHz
Plainly Polaris
AMD and Gigabyte are keeping it bare this time round, as the packaging contains just two items: a quick start guide and the card—what happened to the days of including a DVI or HDMI converter cable or a driver CD?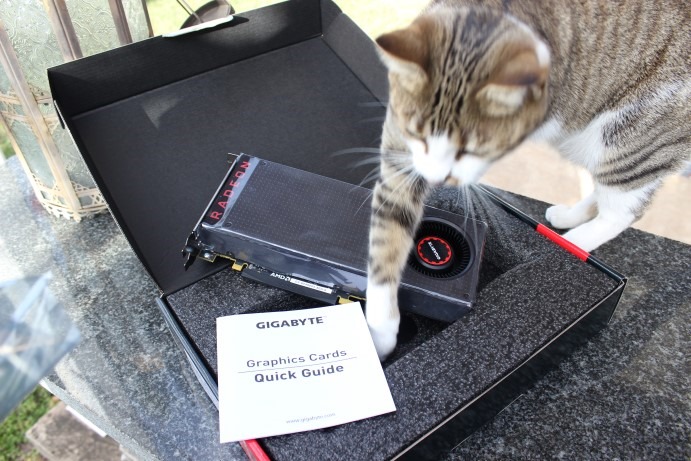 I've always fancied the new minimalist looking AMD reference card look, and since the horrors that were the  R9 290/290X reference cards, the new design is more appealing in look, form and functionality. The black with some subtle red Radeon logos and Gigabyte stickers make this a non frilly looking card—no glowing LEDs or angled designs here.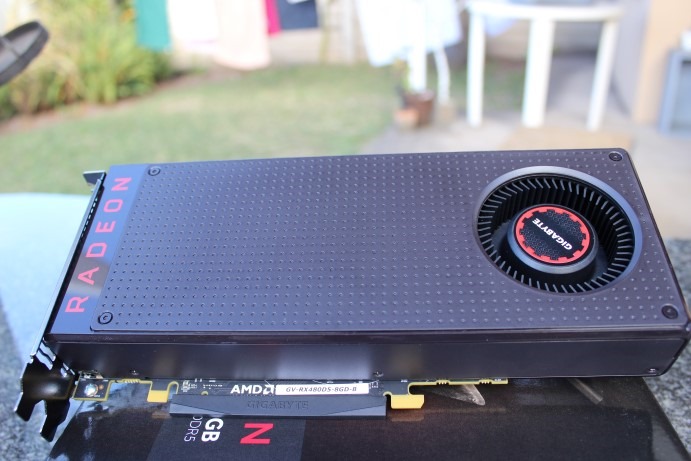 Sporting a reference blower design, the card's simple, lean looking matte dimple design just strikes home in my opinion. The total length of the card only comes in at 24cm, while the PCB's length is only 18cm, with the rest made up of the fan extension and intake area.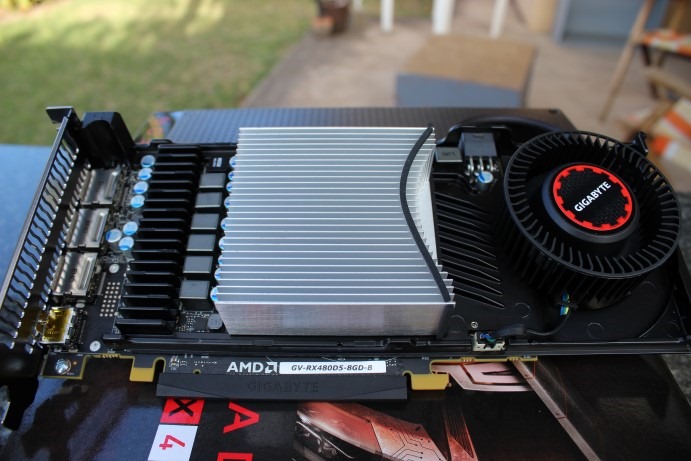 The cooler houses a standard a primary GPU heat sink and a smaller black heat sinks to take care of the VRMs. We've seen what happens when AMD skimps on a proper cooling, but the cooler was capable of keeping the 150W TDP in check…mostly. While the blower styled cooler extends past the PCB, AMD have left the 6-Pin power connector at the end of the PCB.
The card comes with HDMI 2.0b and 3 DisplayPort 1.4 HDR ready connectors, which is probably one of the most apparent disconnects I've ever seen between display connectivity and target market. Why discard the venerable "99%" of your target market who most likely have a 1080P monitor with a DVI port? If you're not going to provide the port, at least give us a converter!
Compatibility Controversy
Before we delve deeper into the review, it stands to reason that you've at least read about the compatibility kerfuffle regarding the RX 480. The "compatibility controversy" refers to the RX 480 card using more than its "official" power consumption rating of 150W TDP. This in itself is not too controversial, as most quality 6-pin power cables are able to deliver above their 75W specification. However the PCI-Express slot is not designed to take over 75W for sustained periods of time, and testing by other review sites show that this happens consistently with the RX 480. This could, if done for prolonged periods of time, lead to degradation and malfunction of the PCI-Express slot on a motherboard.
To avoid potential blowback and a string of customers claiming their RX 480 broke their motherboards, AMD released a hotfix in their 16.7.1  Radeon Settings. This hotfix more or less solved the PCI-Express issue by shifting more power through the 6-Pin power cable to make it more or less "safe" to use. They also introduced a "compatibility" mode which basically forces the card to keep to its originally intended 150W TDP. Our testing  shows some interesting results affecting performance; but we'll get to that later in the review.
General Performance
Temperatures, Noise and Clock Speeds
AMD has learned a lot since the debacle that is the reference cooling and temperatures on the R9 290 series. They know that a terrible reference cooler can set the tone for the entire series; and when I say tone I mean that horrible animalistic whine coming from your computer. The Radeon  RX 480 is a more refined beast and for the most part deserves a "slow clap" for AMD finally making an okay  non-water based reference cooler. Idling in desktop it hums along at 19% fan speed while temperatures mill around 40 degrees Celsius mark. Under load it keeps the fan speed around 60%, which results in manageable levels of noise while maintaining the card's default 80-90 degree Celsius temperature window.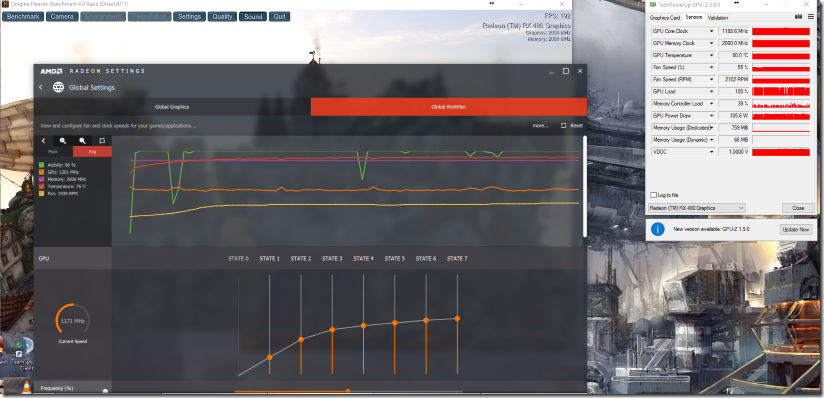 There are times when the card makes a run for 90 degrees that the old AMD brand loudness which envelopes you. At 75% it's bearable, but at 100% fan speed it's a different kind of loud, not merely fans moving faster; almost like galaxies colliding. Essentially, using the card at 100% fan speed is not at all feasible if you enjoy hearing other things besides your ear drums popping.
If there is one thing that's clear about the RX 480, it's that performance  is intimately tied to thermals and power limits. Testing of clock speed consistency showed that under normal 1080P and 1440P gaming loads the card averages above its base clock.
To have clock speeds remain close to or at boost clock speeds, increasing the power limit slider to 30% will do the trick, just with a sacrifice in noise and temperatures. Ignore the large frequency drops in the Time Spy—it's just the benchmark loading new tests. For clarity, all of our standard testing is done without adjusting power limits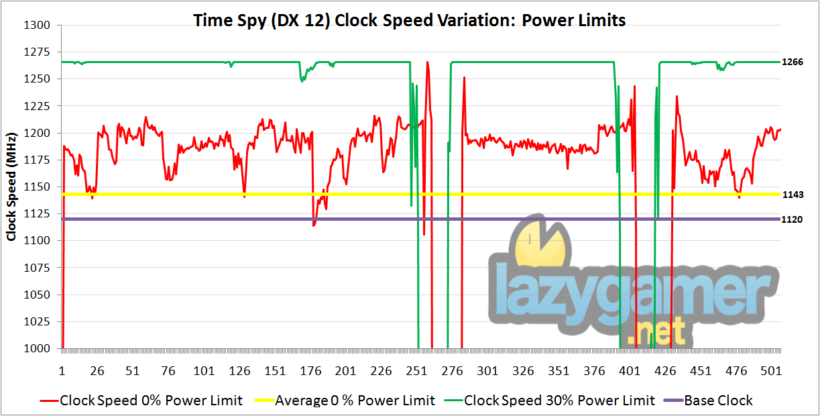 Gaming, Synthetic and Overclocking Performance
I ran through a familiar set of gaming and synthetic benchmarks, with two new additions being Futuremark's TimeSpy DX 12 benchmark and Total War: Warhammer. Testing of most games was done using either their in-game benchmark, or doing repeat runs of pre-set sections in games. For example, Star Wars Battlefront data was obtained playing the Speeder Tutorial mission on Endor, while Witcher 3 was a pre-set run across the same path you take at the start of the game heading into White Orchard and then towards some forested areas.
The system used to test the Gigabyte RX 480 was:
Core i7 6700K @ 4.2GHZ
Asus Gene VIII
4x4GB G-Skill DDR4 @3200MHz
OCZ Vertex 3 120GB SSD
Windows 10 X64
Radeon Software Crimson Edition 16.7.2
Synthetic Testing:
DX 11 Testing
We can see here that the card manages to achieve playable 1080p/60FPS and 30FPS/1440p across most games, barring GTAV and Witcher 3 at 60FPS/1080p. 4K does not really offer any semblance of playability, unless you take settings way, way down.
DX 12 and DX 11 Comparison
Moving from DX 11 to DX 12 definitely boosts AMD's RX 480 performance, providing minor gains in AOTS, massive gains in Total War: Warhammer and minor losses in Tomb Raider: ROTTR. A point of interest regarding Tomb Raider is that although the RX 480 seems to perform worse on average under DX 12, its higher minimum FPS over DX 11 should mean smoother gameplay overall as your minimum frames, at 1080p and 1440p, don't drop below 30 FPS.
GTX 1060 and RX 480 Comparison
Although I do not have the GTX 1060 for testing, Alessandro's review shows how the GTX 1060 candidly outperforms the RX 480. I've added a few more benchmarks for comparison, but please note the pre-set section in Witcher 3 I used earlier in the review is different to Alessandro's. So for this comparison I ran the RX 480 through the same section of game as Alessandro's 1060 review.
Overclocking, Radeon WattMan
Until recently Overdrive was AMD's driver bundled overclocking tool; but with the release of the RX 480 replaced it with one of the worst names I've come across: WattMan.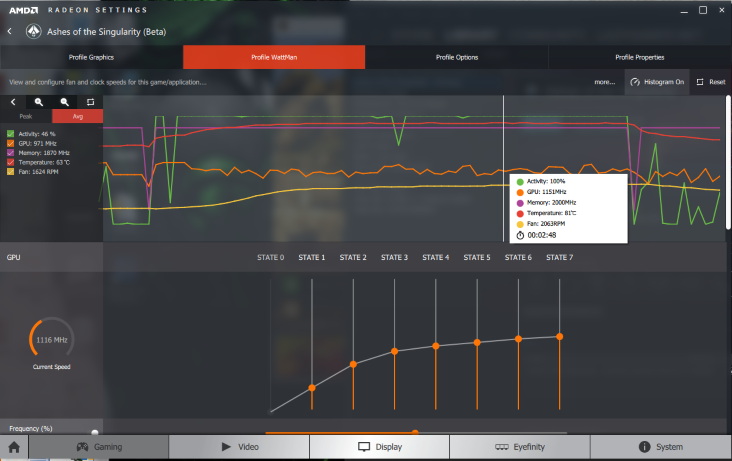 WattMan brings useful tech nuggets like per-application profiles with individual histograms to capable of recording 20 minutes of GPU data  like clock speed, temperature, fan speed monitoring.  It certainly helps visualise and pinpoint a specific point in time regarding a change or affect one parameter has on another, such as temperature increases resulting in reduced average clock speeds for example.
AMD have also produced a similar version of NVIDIA's overclocking Offset mode in which you can adjust frequencies at set voltage stages. This can be done in a  percentage based "curved" manner or in a more "traditional" manual adjustment of frequency and voltages along its 7 states. Importantly AMD are actually providing *Gasp*  real voltage adjustments. Granted it's only within 7 predefined "States" but it does allow you to extra fine tune your clock speed and voltages up to 1.15v.
As an extra bit of overclocking software bundled with the AMD driver stack, it's mountains ahead of anything NVIDIA has. That being said, it still needs simple things like the ability to create and save profiles or have percentage based fan speed dials instead of a simplistic "Min/Afterburner. Target".
Even though WattMan is handy and overclocking is dead simple, the results are deflating. While slightly boosting operating voltages (since we didn't want to chance damaging my PCI-Express slot) we were able to manage 1340MHz core and 2200MHz memory.
The increased performance is marred by pretty heavy noise due to the extra heat generation. This is not comforted by the fact that GPU-Z reveals a worrying amount of power draw. The reference RX 480 is just not an overclocking friendly card, so hopefully AIB's can turn it around.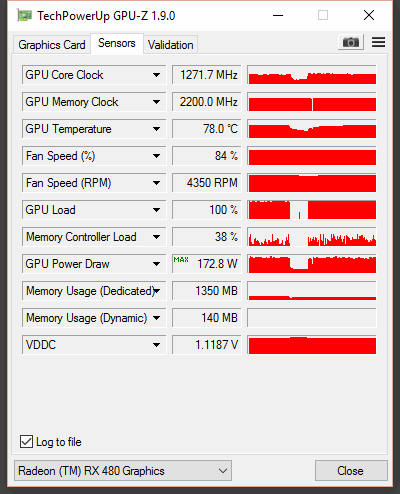 Compatibility Results
Applying the compatibility mode to keep the RX 480 within its original 150W TDP definitely affects the card's performance; noticeable in some games, while less so in others.
These numbers got us thinking about what's happening behind the scenes to reduce power consumption on the card beyond simply driver optimisations, so using GPU-Z we recorded frequencies in some gaming benchmarks.
Unsurprisingly there is a general reduction in the average clock speeds across the board under compatibility mode in order to get TDP of the card down to 150W
Less frequency naturally means less FPS. Well, notice that there is an increased "volatility" in frequency ranges—that affects gameplay more than simply a reduced average FPS. The increase in clock speed volatility made gameplay in Witcher 3 feel a lot more choppier than under stock "non-compatible" performance.
One we up the resolution things start to get both interesting and concerning.
The increase in power draw kicks the card's compatibility mode into full throttle, literally throttling the card to perform on average under its official base clock in The Witcher 3 and Star Wars. Running Total War: Warhammer in DX 12 does not seem to impact the performance as much, so at least AMD seem to be able to leverage DX 12 in their favour.
Capable but Compromised
At the end of reviewing the Gigabyte RX 480 I have one word to describe the experience: Frustrating. Not because I abhor tinkering or finding the best power to frame rate balance, but that you feel forced to make it run a certain way because AMD tried to cram a 180W TDP card into a 150W one. Running it at its "compatibility" 150W TDP introduces reductions across the board, although less so in 1080P than 1440P. Forgetting compatibility mode, the card achieves mostly strong 1080p/60FPS performance and playable 1440P/30FPS performance while the move to 14nm has allowed AMD to make one of their quietest non-water cooling reference cards—although it can bring the ear pain if you dare it to.
The real problem is that the GTX 1060 exists, and going by Alessandro's review, it has buckets more performance under the hood, especially when you lend yourself to overclocking it. Before being cleaned out of stock, the RX 480 had a local pricing between R4800 (Out Of Stock at Wootware) and just under R6000, with the reference Gigabyte RX 480 sitting at around R5500. With pricing on GTX 1060's still mostly dictated by short supply, you could have gotten one between R5100 and over R6500.
Last Updated: July 28, 2016
Gigabyte Radeon RX 480

AMD has once again left it to their AIB partners to fill in the performance gaps to bring out RX 480's with more robust power delivery designs, and hopefully more overclocking headroom to help it compete with the GTX 1060. As it stands, the reference RX 480 is a compelling card for 1080P gaming but I'd say to wait for non-reference AIB cards of the RX 480 to drop before deciding to buy any.