I've never really understood the appeal of gaming laptops. They're large, bulky and heavy – making them impractical as functional portable computers, and usually have shoddy battery life and underpowered hardware, making them terrible for actually playing games.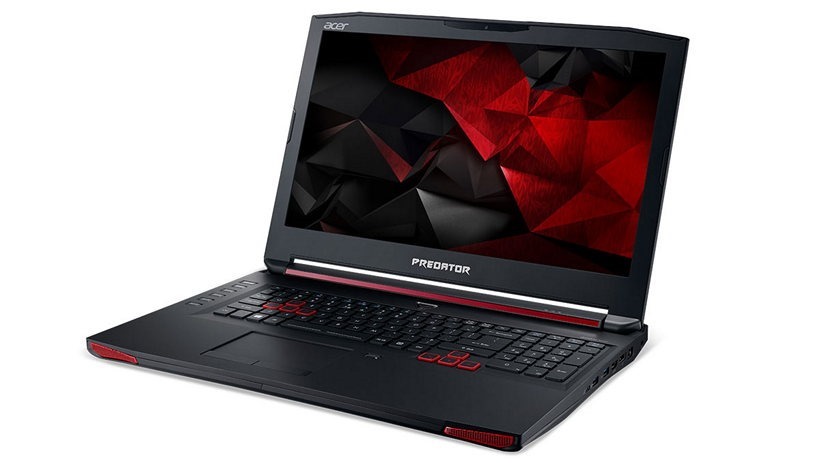 In a similar vein, Acer's probably not the name that immediately springs to mind when considering such a machine – especially in a world dominated by the likes of MSI, ASUS and Alienware. Acer's released its Predator 17, which challenges both of those notions. In fact, it's very probably the best gaming grade notebook I've used.
Acer's real push in to the gaming segment came last year at IFA 2015, with a slew of new products directly targeting the hardest of the core gamers. We've already taken a look at one such product; the Z35 monitor; a hulking, ultra-wide, curved monitor that demands attention. The Predator 17 is even more commanding, and immediately impressive.
Though perhaps a little derivative in its design – featuring the same angular edges and matte black exterior complimented by red accents and the same sort of tried and trusted red lighting that's so commonplace in the gaming market – it manages to appear sleek, given its hefty 5.95Kg weight. With a logo swop, you'd be forgiven for mistaking it for one of MSI or ASUS' top-end gaming laptops.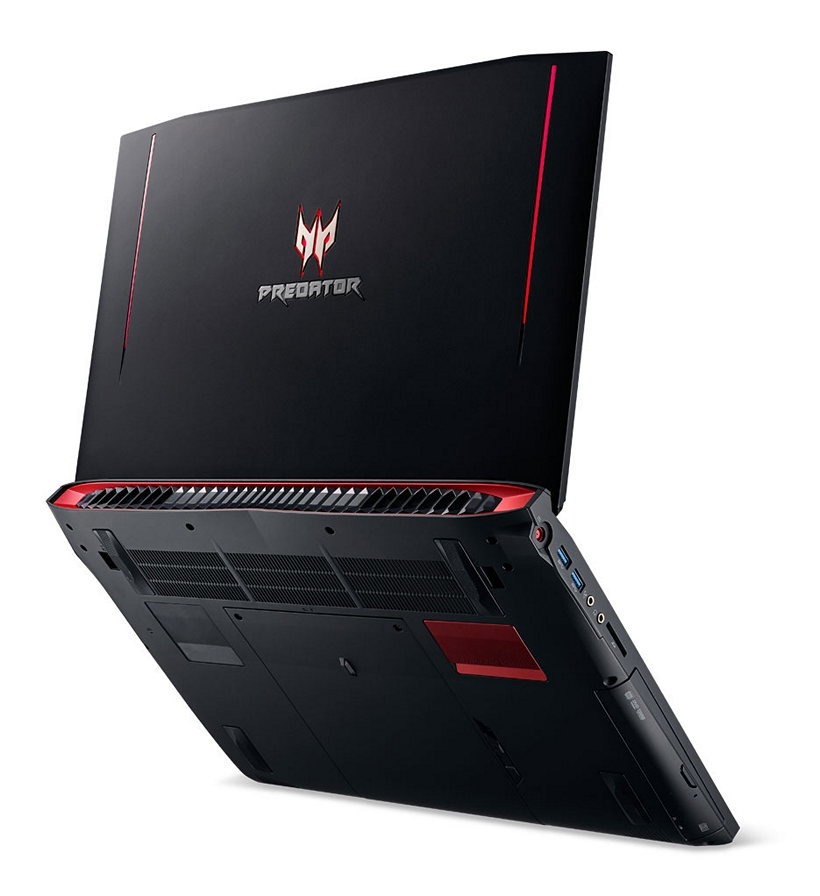 That frame packs quite a hardware punch though, with innards that should have you playing current and future games at 1080p for ages to come. The version we were sent was on the lower end of the range, sporting just 8GB of 2,133 Mhz DDR 4, but it's available with more, and it's expandable up to 64GB. Powering its general computing is an Intel i7-6700HQ, a more than capable quad core chip running at a stock speed of 2.66GHz.
Its graphical prowess is also driven by some beastly hardware; the mobile version of Nvidia's GeForce 980. That GPU is accompanied by 4GB of GDDR5. While we lament the fact that it's not 8GB of VRAM, the combination more than suffices for just about any modern game – so I've forgone the usual game benchmarks here.
If you are interested in synthetic benchmarks though, the Predator 17 does a pretty good job with 3D Mark: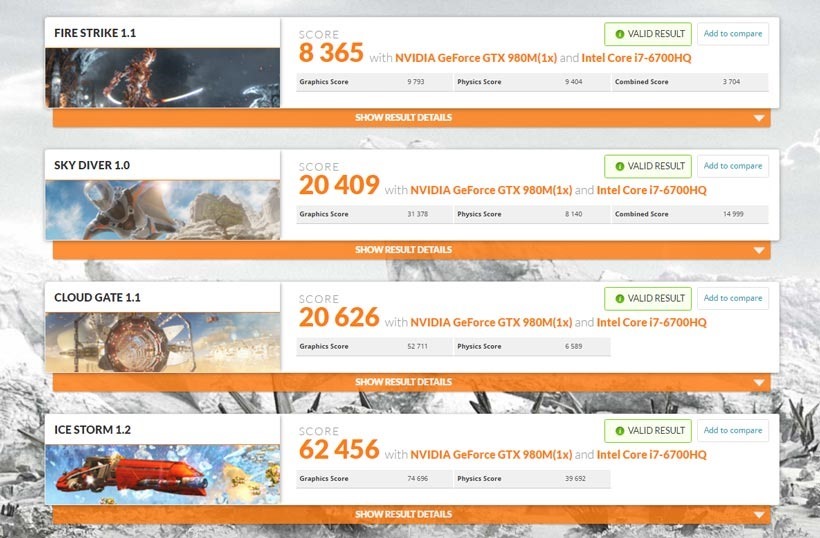 The 980M is a phenomenal mobile chip, offering around 70% of the performance of its desktop counterpart. It also comes equipped with an Intel HD Graphics 530 integrated GPU, for when you don't need 3D processing. You can, if you wish, turn the IGP off completely using the PredatorSense (TM, probably) hotkeys on the side of the laptop's spacious keyboard.
As far as ports go, the Predator 17 is generous, offering a wealth of ports, all cleverly placed on the side of the unit. You'll find 4 USB 3 ports, a single port that functions as both USB 3.1 and Thunderbolt 3, an HDMI port, a Display Port, a "Killer" Ethernet port (joined by 802.11ac Wi-Fi and Bluetooth 4.0) and your usual headphone and mic jacks; no SPDIF or digital audio connectivity. They're all located on the side, possibly to be more easily accessible – or because the back of the thing is stuffed with exhaust grills. There's a pretty clever bit of tech at play here as well, with something Acer calls the Predator DustDefender. It uses dual high-speed fans that reverse their direction on a schedule to minimise dust build up.
Cooling is indeed very important in the Predator 17, and to that end it does one of the more interesting things I've seen in a laptop in ages. You can unclip the optical drive (because honestly, who still uses those things?) and replace it with a Coolermaster designed extra fan called the FrostCore, which slots right in to the optical drive bay. In my own testing, it didn't really have all that much of an effect on temperatures (around a 3 degree drop), but it wasn't too noisy either. I'm not completely convinced that there's any real point in installing it, but frankly, I'd rather there be extra airflow than be stuck with the appendix of the modern computing world.
It's not the only innovation either. The Predator 17 sports some of the best sound I've heard coming from a laptop – even if the tech driving it has been given the silliest name. The laughable unfortunately named SoundPound system features four speakers and two subwoofers, which – though perhaps a little bass heavy – do sound incredible, and are capable of outrageous volumes before approaching distortion.
The 17.3" screen itself, though good, doesn't quite hit the bar the audio system does. At 1080p (though a 4K version is available) the screen is crisp and clear – with pictures as vibrant as you'd expect. The contrast ratio is on the excellent side. It does, however, stumble a little in its black reproduction and colour delta – so it's not really suitable for high-end, colour-perfect photo editing. It's not really aimed at that segment, so its "games and movies" focus is perfect.
As for storage, the Predator 17 comes with two drives built in. The model we had had a 128GB Lite-On SSD, which is a bit of a middling model, offering decidedly mediocre read and write speeds – but it's good enough to run Windows off of. It's bolstered by a 1TB mechanical drive for storing all of your por…err games and movies on it.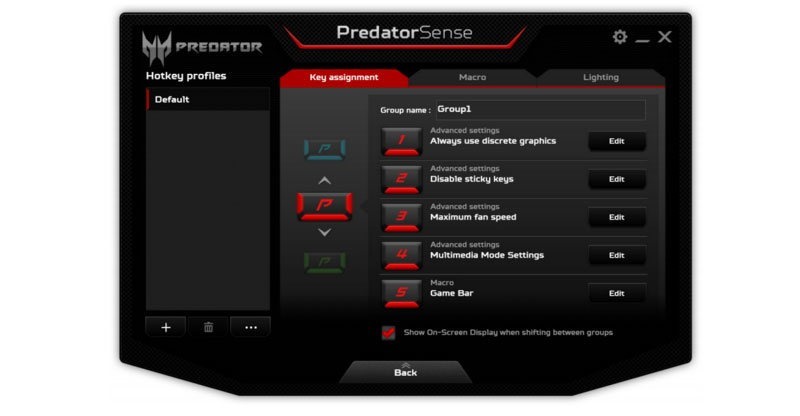 When playing with gaming notebooks, I always prepare to be disappointed by the battery life. The Predator 17's 90w battery gives the Predator far more life than it rightly ought to. Using synthetic tests that simulate web browsing and general use, the machine lasted for just under 6 hours, which is beyond impressive. Unfortunately that didn't carry through much to gaming application, but I hadn't expected it to. Running the Unigine Heaven benchmark on a loop, I timed just over an hour before the machine warned me to plug it back in.
It's not the fastest laptop in its class, but – critically – it is one of the most affordable, even if in the current economical climate that's a relative term. It's currently available from Takealot for R31,999 – which is a tad cheaper than some of its similarly specced competition.
Last Updated: March 16, 2016
Acer Predator 17

If you're looking for a gaming notebook, Acer's Predator 17 could well be one of the best ones your money can buy. It's backed with features, quality built, and most importantly, a little cheaper than its rivals.