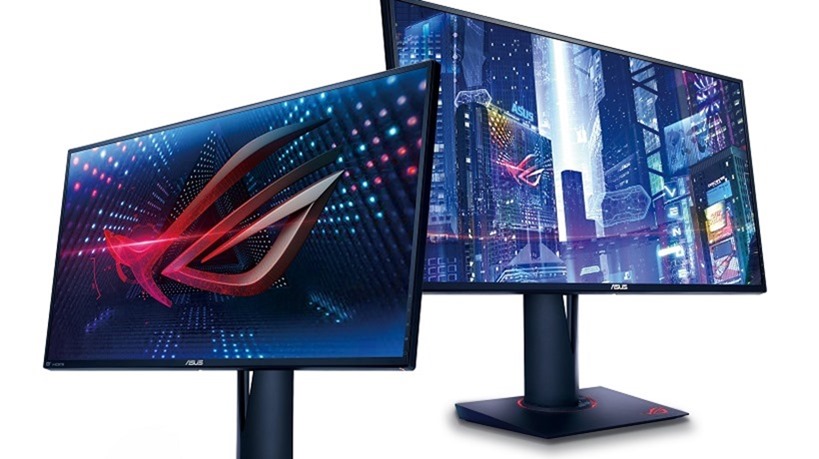 As much as gaming on a PC is about learning to love and let go there are a few components that usually survive a couple of builds. While you're pressed to upgrade your CPU, GPU and the rest on a fairly frequent basis, certain accessories to the experience are best bought for the longer haul. One such accessory (and requirement) is a monitor, and it's important when buying one to choose for not only now, but five years from now. That means looking at features that you might not be able to support yet, but that in a few years might be a staple.
It means looking at monitors like the Asus ROG Swift PG27A.
Asus isn't shy with their Republic of Gaming branding on products they deem to be in the top tier of gaming performance, and the PG27A is no exception. The 27" monitors brandishes a 4K LCD IPS display, equipped with all sorts of features above and under the hood to set it apart from the competition. It's a monstrous monitor that demands your attention when propped on a desk, with deep colours inviting the eye in from all angles. And that's before you've really messed around with it at all.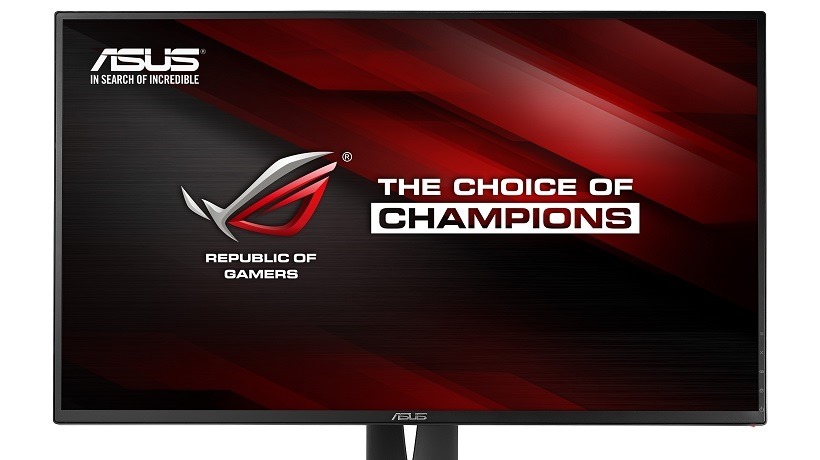 Keeping things upright
The Swift PG27A comes as sturdily built as one would expect for a monitor of this size. The supporting dock screws in with four screws at the back of the monitor, attaching it to a rather heavy stand that gives the screen various different easy to slide into positions. The Swift can swivel vertically, be tilted back quite a bit and pivot – allowing you to use it in any really configuration on your des. The base lights up too, with the ROG logo pulsing a specific colour based on the mode the monitor is currently in.
The entire thing is finished off in a matte black plastic that feels thick and durable, while the metal columns inside do a good job of keeping everything sturdy. The monitor itself features a really thin bezel (which to me is key in a great monitor), although it is rather bulky going backwards. That's excusable when you see why though, with Asus formulating a clever system to keep all out input cables nicely hidden and wrapped at the rear of the stand.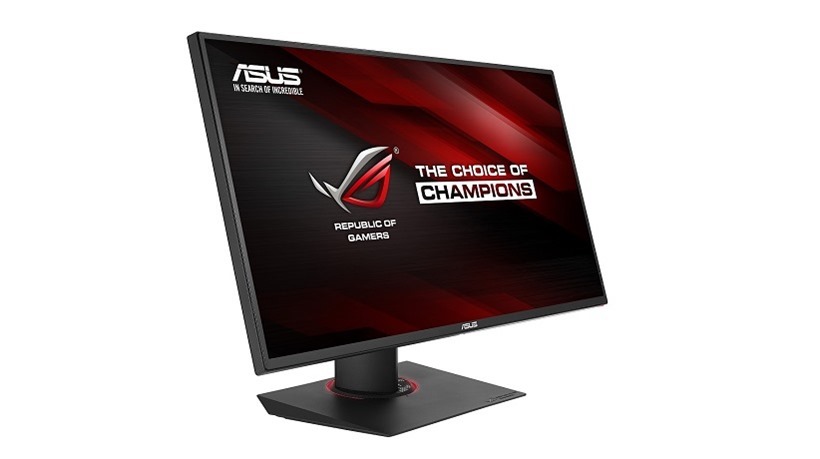 It's an imposing figure on your desk, but one that allows you to meddle with it with the grace of one finger. And that's something special.
What to pick, what to pick
It also, predictably, comes packed with features. The 27' display features a stunning 4K (3,840 x 2,160) resolution on an LCD IPS display, which allows you to view the monitor from angles up to 170 degrees without colours or picture distortion. I'm a huge fan of the image reproduction on IPS panels, but it does mean that this gaming monitor is restricted to a refresh rate of only 60HZ. That doesn't help competitive play all that much in terms of response, but it does mean that games will look far better than on a standard TN panel. Especially with a pixel density of 163ppi.
In terms of connectivity you're limited to just a single HDMI plus a DisplayPort connection, the latter of which will be required for 60FPS on the 4K display (HDMI doesn't cut it anymore). Alongside that there are two USB ports, an audio out 3.5mm port, the power adapter port and two 2W speakers for some relatively decent audio when not using headphones. The rest of the magic lies inside as one would expect, but there's a decent amount to complement this monitor's claim to gaming fame.
First and foremost is G-Sync, the proprietary technology from NVidia that aims to eradicate screen tearing from the face of your games. It goes without question that you'll need an NVidia G-Sync capable card to make use of the lauded feature (most modern cards are), otherwise you're paying a premium for a chip that will just go to waste. The On-Screen Display also opens up even more gaming features, with the two single buttons on the side of the monitor complementing the five-way joystick that provides the easiest monitor menu navigation I've ever used.
This allows you to get down and dirty with both GameVisual modes and GamePlus functions. GameVisual is just a bunch of preset modes that tweak brightness, contrast and colour settings to try and suit a particular genre of game. That's not entirely possible all the time, and I found myself sticking to the RPG setting a lot of the time during testing. But if shooters are your game then GamePlus might come in handy. Aside from throwing up a framerate counter, this feature draws a crosshair onto the middle of the screen so that you have some help with those no scope kills. It's a small addition that you're likely to never use, but it's there if you need it. Even if it is cheating.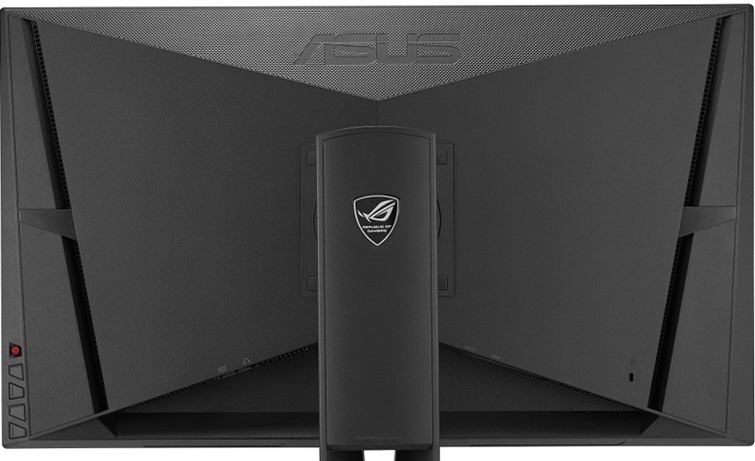 These are all box quote worthy features, but it makes no difference if they're useless in practice. Thankfully the PG27A is a marvellous monitor when eventually turned on, even if the default brightness setting is enough to burn a hole in your retina. Colours are rich with some incredibly deep blacks, softened only by a matte finish on the screen itself that leads to a little graining. Regardless, it's the IPS Panel that shines here though, with the viewing angles associated with the panel living up to their billing. It's just a shame that a gaming monitor isn't able to surpass 60HZ – which is a deal-breaker for competitive shooter fans.
Looking for greener pastures
Still it's the G-Sync technology that really sets this apart. Shipping with many monitors in the top echelon now, this Nvidia chip syncs with your GPU to provide stutter-free gameplay when using (and not using) in-game V-Sync. With V-Sync off you'd traditionally get terrible screen-tearing in games as the monitor is simply unable to keep up with the frames being drawn by the GPU, leading to overlap and cut images when moving the camera rapidly within your game worlds.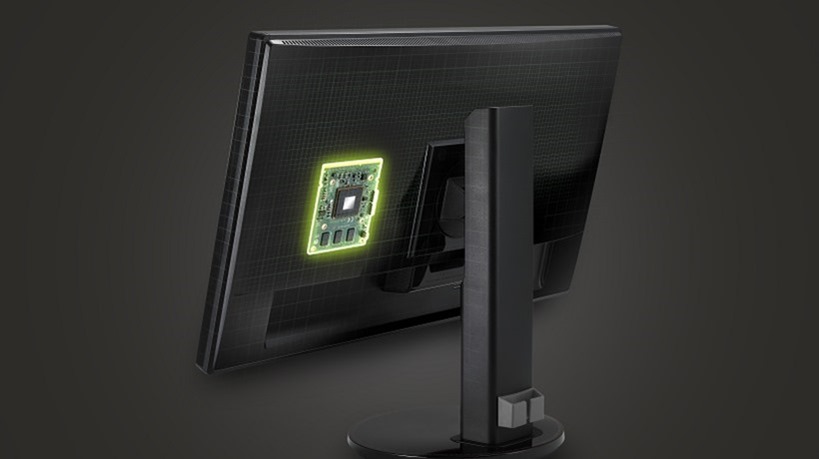 Not only does G-Sync smooth it all out, but it makes slight frame dips a lot more bearable. Playing Metal Gear Solid V at 4K I momentarily had some drops into the 40FPS region, which felt almost unnoticeable with G-Sync active. The feature works with V-Sync on or off, and in both cases smooths out the image quality across the board. There's an unmistakable sense of fluidity to games that I'm seriously going to miss when I give this back, but it also cemented that my next monitor will definitely be on equipped with it. And I'm betting a monitor with even higher refresh rates would be even more sublime.
Last Updated: January 28, 2016
Asus ROG Swift PG27A Monitor

And that's what you get with the Asus ROG Swift PG27A – a truly future-proof, robust monitor that will stand the test of time. It might not be the fastest or most responsive for competitive paly, but the IPS panel ensures crisp, beautiful images with the ability to display 4K images for your next PC build. Right now Windows (and a few applications) still struggle with scaling that properly on such a small panel for the native resolution, but it should scare you off. Support will come soon, especially with so many displays choosing 4K as their preferred resolution. But it's really G-Sync that seals the deal here, along with the most user-friendly controls for a monitor I've ever encountered. Getting the best out of it is easy, and tinker with it you should. The Swift PG27A mighty be pricy, but it's an investment you're probably going to be happy you made.