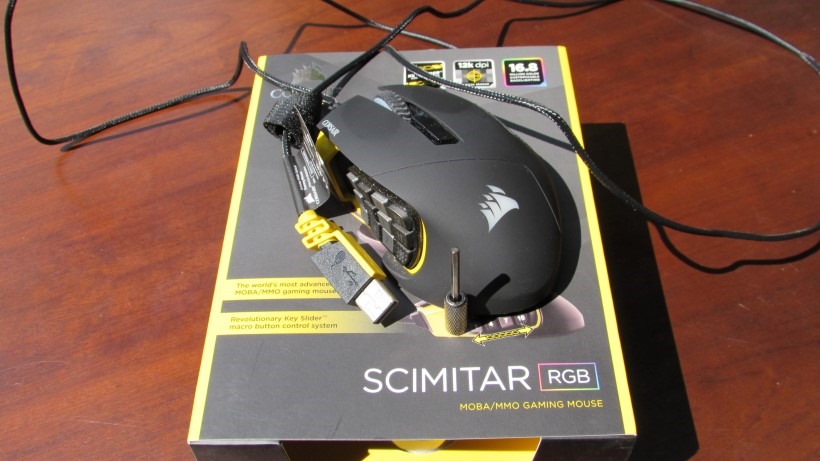 Ever since WoW became responsible for a lost generation of gamers, the need for more buttons grew as the phrase "emptying shit buckets" became an endearing way to describe a non-stop weekend of gaming. For me there's always been an aura of awe surrounding an MMO gaming mouse–maybe it's the plethora of buttons and hint of infinite macros we'll never use, but there's just something about them that speaks to the serious deep geek in me. No longer just a regular mouse with more buttons bolted on, MMO mice are becoming popular and established peripherals, having developed ergonomically, and integrating features to cater to the core of its prime market – those macro melding wizards who want everything at their literal thumb tips. Looking at the Corsair Scimitar RGB and its designation as an MMO/MOBA mouse makes the MOBA gamer in me is very sceptical for a number of reasons, and when spending R1271 on a mouse, we want to be sure what we're paying for.
So. Many. Buttons.
This is not the first time Corsair has ventured into MMO territory, but it's the first time they've adopted a standard thumb-breaking 4×3 grid of square buttons placed on the side of a mouse. The Scimitar, though, is anything but standard.
Corsair has implemented a Key Slider system in which the position of the 12 thumb buttons can be adjusted backwards and forward using an included Alan Key. It's not only about accommodating varied hand sizes and thumb positions but is also Corsair's attempt to solve the MMO mouse problem—the inability to easily access all thumb buttons. Together with these 12 mechanical thumb buttons, there are five other buttons: 2 mechanical main buttons and 2 DPI switch buttons behind the beautifully LED lit rubber coated scroll wheel, which sadly does not have a horizontal tilt capability. This brings the total to a staggeringly ridiculous 17 programmable buttons. True to marketing form, the mouse sensor is labelled as a 12, 000 DPI capable optical sensor, which is all but useless unless you have three 4K screens and the twitch reflex dexterity of a world class brain surgeon.
Aesthetically the Scimitar embodies the familiar Corsair class of smooth edges, minimal branding and well placed effective LED lighting. The Scimitar has 4 RGB LED lighting zones and a fifth RGB zone in front of the 12 thumb buttons only designated for DPI/profile change notification lighting. We love the use of visible and functional LED lighting, so kudos to Corsair. The entire mouse is coated with that tasty soft touch "baby seal" coating, but as is tradition, the sexy coat succumbs to oily fingerprints. This, coupled with a lightly textured rubber coating for the ring and pinky finger makes the mouse feel grippy enough.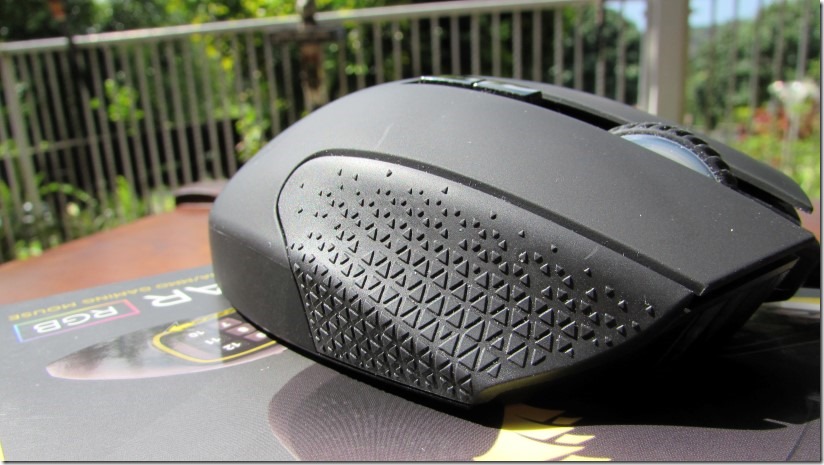 The Scimitar has a long 1.8m braided cable, with the signature yellow moulded USB connector to help mark it off from other USB devices you have plugged in. Like the VOID headset, Corsair has taken to using aluminium in their premium products, and you'll find an aluminium core in the center by the sensor and a slab of aluminium on which the slider mechanism operates. In Corsair form their signature yellow coating is used and gives the mouse a very bold aesthetic among many drab "all black" mouses. All this dressing up means if you fancy some light weightlifting while gaming, the Scimitar is for you. Coming in at a hefty 147g  – with no way to reduce it – if you don't like a heavy mouse, palm grip or have small hands, stay well clear of this chunky behemoth.
Software: Cutting To Cue
Corsair's CUE software(V 1.15.36) is the glue that holds the Scimitar together. For the uninitiated, the software may appear clunky and unintuitive in some aspects, but once explored it should all come together nicely – still, it would be nice if Corsair added an in-depth tutorial link in the software.
Besides the excess of button assignments options greeting you on the profile tab, the most useful feature is the "profileception" ability, which essentially means you can create multiple "modes" within a profile that have their own macros, buttons assignments, lighting and sensitivity settings. This feeds remarkably into the mouse's focus on MOBA/MMO gaming in that different "modes" in a game profile can be assigned to different characters or styles of play. I know every Dota player reading this is about to spit in my general direction, but for Science I created a separate "Invoker" mode within my Dota 2 profile, and created a few macros to string together some popular Invoker combos. I now only slightly suck at Invoker.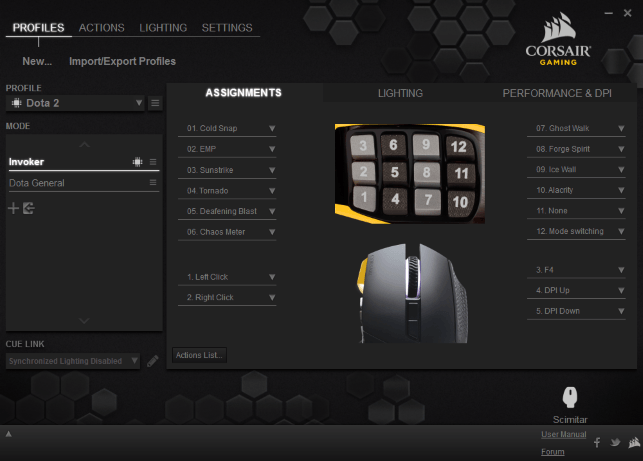 The lighting options tab is pretty basic with some simple options for choosing colours and speed settings or applying the same settings to all lighting zones. Under the performance and DPI tab you get your sensitivity settings, angle snapping, LOD or enhance pointer precision (acceleration) across 5 DPI choices.The Actions tab is where you'll go to get busy with the arcane arts of macro recording and the depth of other options the CUE software offers. All user created actions are all indexed into one tab, which acts like a quick reference list and summary of all your user created actions. For those who create lots of macros or action, this organisation and collation into one easy to read list is incredibly time saving.
For those who feel the need to create some in-depth lighting, timer and sounds for your gaming exploits, CUE has you covered. You assign a button a timed action or have a timer initiate that alerts you at set intervals for any repetitive time based action you can think of in a game—in my case I had an Aegis expiration timer.
The only disappointing oversight from Corsair is misinformation around the mouse's onboard memory. The memory is only used to store the default colour and DPI settings, which means no user generated profiles and settings can be stored on the device – even though there is a drop down option to do so. You can only save profiles to your computer so for a mouse at this price, no usable onboard memory is quite upsetting. Overall, though, the more we've come to use Corsair's CUE software, the more we want to use it. It's an incredibly powerful suite of macro editing, lighting, timers and a mash up of all the above into well crafted macros for .
Performance: Breaking Thumbs and Taking Names
Although Corsair has used the exceptional ADNS-3988 optical sensor, there are some performance concerns I have regarding tracking performance at higher DPI settings. Performance from 800 DPI to 2500DPI is great with no noticeable tacking errors, but to clarify my concerns I've included a simple "Circle" test done on a Cooler Master Swift RX mouse pad to show instances of jitter, angle snapping and tracking differences between the Scimitar and my personal ASUS Gladius, which also uses the same ADNS-3988 sensor.

The results are disconcerting as Corsair's Scimitar (right) shows a telling amount of jitter and tracking issues at 3000 and 6000 DPI when compared to the Gladius. Although few gamers would make use of 3000 DPI this comparison illuminates that Corsair's firmware, MCU or sensor implementation is just not making the most out of the ADNS 3988 sensor at higher sensitivities. Thankfully some sensor traits do cross over and the mouse has no default acceleration, no angle snapping (unless you choose it) and very manageable lift off distance.
Moving to gaming performance, with only the right side containing some rubber textured and curved nook for your ring and pinky finger, I thought comfort and grip would be an issue. Not so as the downward sloping palm grip design of the mouse along with the slightly concave 12 button slider was very effective at enhancing grip and made the mouse mostly comfortable for long gaming sessions. I say mostly since your thumb still has little support and is often left rubbing against whatever mouse pad or surface you're using.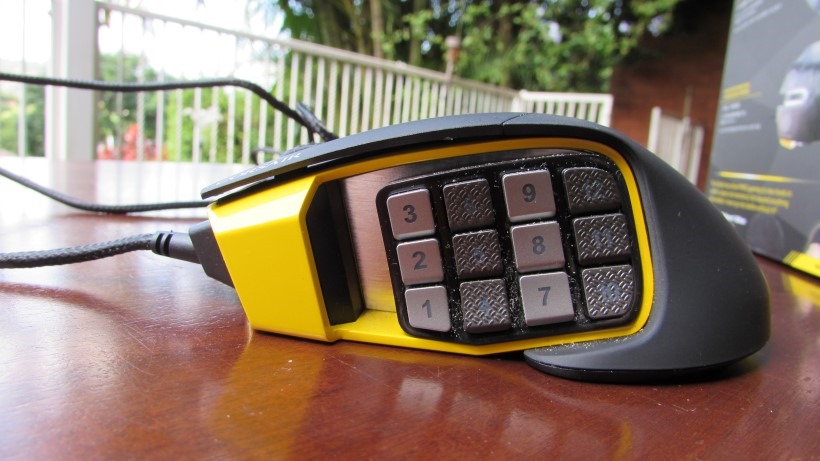 A few years ago Corsair's RGB Scimitar would simply be called an MMO mouse, however, with the increasing popularity of MOBA gaming, Corsair have deigned to label it an MMO/MOBA mouse. The connection is not totally random–both MMO and MOBA gamers require a lot of keyboard input, however, the difference is the velocity of input. The 12 buttons to a single thumb created a sort of "bottleneck" in fast paced Dota 2, which is usually much faster than RPG gaming.
Not only is it heavier than what MOBA gamers might enjoy, but trying to use all 12 buttons with one thumb in Dota 2 proved challenging and confirmed my suspicions of its dubious MOBA-friendly designation. Adding to this is the button spacing; even with varied textures, it still made it hard to exactly know which button you are pressing, which in a fast paced Dota 2 game is the difference between getting a ultra-kill or featuring in a segment on  Dota Watafak. In contrast, playing The Witcher 3 and assigning Signs and other inventory items made me enjoy the mouse much more in that game genre. Besides these specific genre use cases, all of the buttons worked flawlessly. The microswitches in the primary buttons have a good travel distance and feel, although because the actuation zone is closer to the front of the button, they did require more force to press.
Conclusion: A Good Non-MOBA/MMO Mouse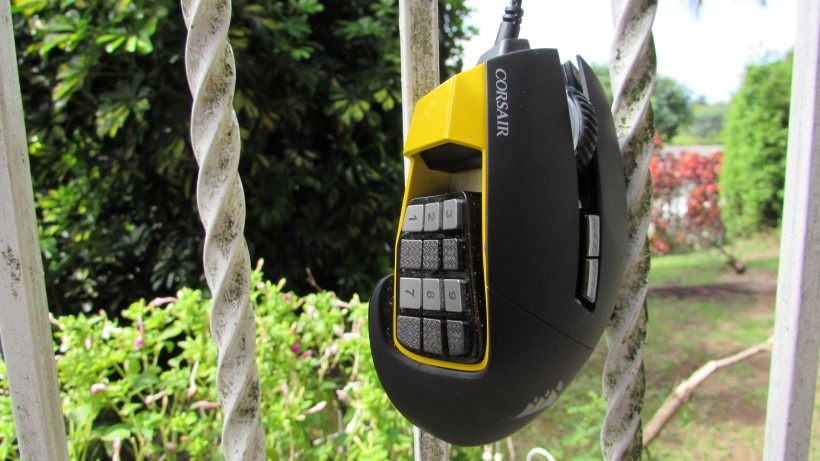 Corsair has created a unique gaming mouse with some strong features on which to build from. From a comfort, aesthetic and build quality standpoint the mouse does not disappoint. I have my reservations about the seemingly inconsistent performance of the sensor at higher sensitivities, but at "common" settings the sensor worked well so it may not be an issue.
Last Updated: March 24, 2016
Corsair Scimitar RGB MOBA/MMO Mouse

The software delivers and although the options might seem obscure or superfluous to most gamers, the RPG target market for the mouse will most likely enjoy it.  It's here, though, where Corsair has misstepped—this mouse is not friendly for the MOBA gamer, or many other game genres outside of RPG. It's far too heavy and has too many buttons in one area which causes button bottlenecking in fast paced gaming. If you are in the market for an RPG mouse, we think the Corsair Scimitar is just a very good contender among others, just possibly not the best.