Every now and then we get a bit of hardware in for review that makes us want to cry when it gets hauled away. It last happened to me with the Logitech MX Master, a wireless so nice it made me consider ditching cords forever. And it's happened again. It is, curiously, once again a Logitech product.
This time though, instead of an input device, it's an output one – and what it outputs is superbly clear sound, right in to your ears. It's the Logitech G633 Artemis Spectrum, the cheapest of the new 7.1 headsets from the company.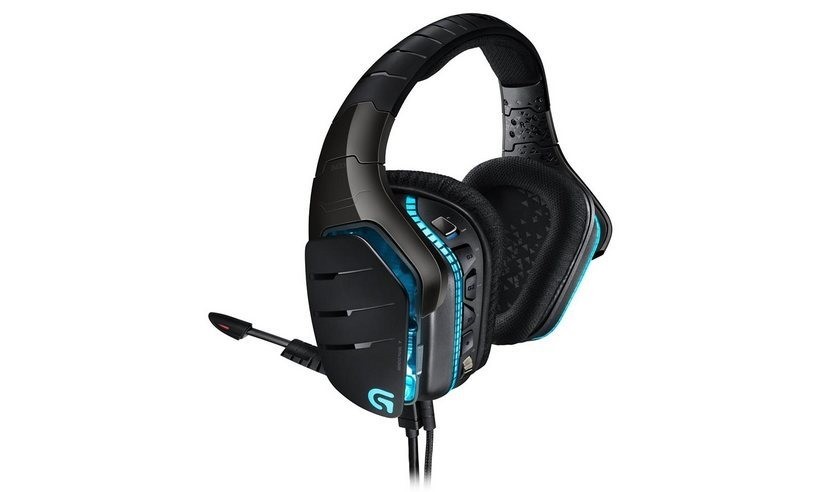 It's an aesthetically beautiful set, which looks like it's plucked from a futuristic videogame; black, shiny and industrial looking, with metallic-looking, faux-chrome finishes. With large, rectangular ear-cups, full spectrum lighting and a sort of future-tech, alien-plating design, it's certainly visually appealing – but who buys headphones for what they look like?
It's all about features, comfort and most importantly, sound, right? Thankfully, the G633 succeeds there too. With its meshed, breathable cloth cups, the Artemis is comfortable for exceedingly longs periods of wear. They manage to be both plush and supportive, with adjustable bands that make it suitable for just about any but the largest (or smallest) of craniums.
The actual cups swivel in place, supported by what seems to be a thing bit of plastic and metal, so I worry about their longevity. The set itself is a bit on the large, unwieldy side, and does seem to be a bit top-heavy, so can slip off if you lean too far back – but it was only a problem when I was actively trying to make it one. Once the set it wrapped around your head, it's comfortable and mostly secure.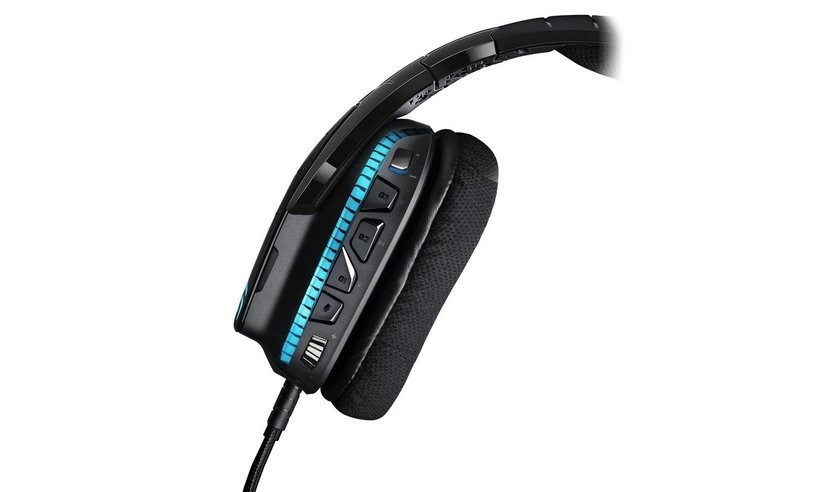 One feature that I rather liked about the Artemis is that it has, at default, zero cables stuck to it, offering two different ones for you to plug in, with the option of even using both. It comes with a long, thick Micro USB cable for plugging in to your PC, which opens up most of its feature-set. Optionally, it can also be used with the included 3.5mm cable for use with just about everything else; your phone, your PlayStation 4's DualShock controller, or your Xbox One – provided you have the Stereo adapter or one of the newer controllers. There's a little toggle on the headset itself to allow you to switch inputs.
Having two separate cables here is a bit genius, like it was designed specifically for my needs. I could have the headset plugged in to the PC in my office, to later detach and carry the unit to the lounge to play on my consoles, without me tripping over the cables like the often clumsy chap I am. The 3.5mm cable in-line mic, a mute button for it and a play/pause button, which is all handy stuff. Plug the USB cable in to a PC, and the other end in to the headset and it comes alive, thanks to its use of Logitech's sometimes-wonky software. The USB cable itself is plain, with no in-line controls. Those are instead placed on the headset itself – with a little volume knob on one of the cubs, accompanied by 3 "G" buttons which allow you to switch audio profiles on-the-fly (or program them to do whatever you like, really).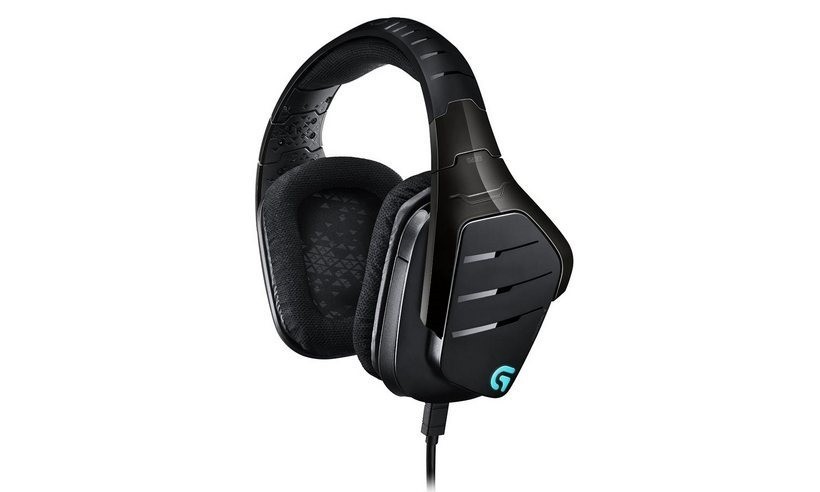 There are a number of game-specific profiles available in Logotech's gaming software, but for gaming audio purposes there are three profiles that cater to the most prolific game genres. You've got an FPS setting that highlights footsteps and gunshots, a MOBA one which sacrifices audio quality for vocal quality, pushing team chatter to the front, and a Cinematic option for action games, that's mostly highlights the sounds of explosions. They work as advertised, I suppose – but I don't like software making my equalisation choices for me, so I preferred fiddling with my own profiles and saving them to the headset.
On PC, you'll get decent, 7.1 sound out of the Logitech Artemis. Of course, it's a sort of simulated, software-driven emulation of 7.1, and you can use Dolby Surround or DTS Headphone X. I personally find Dolby to be a bit of a wash, with positional audio on the muddy and indistinguishable side. DTS X though? That's much better, offering sometimes exemplary, quite impressive surround. Of course, it's sometimes best to go with the native stereo.
Sound quality within games is on the pretty damned good side, and while it won't appease those who favour themselves as audiophiles, they do a good job for gaming purposes. I also used the Artemis for music, and found it to produce warm tones, and suitable highs, though its low frequencies weren't as rattling as I'd have liked.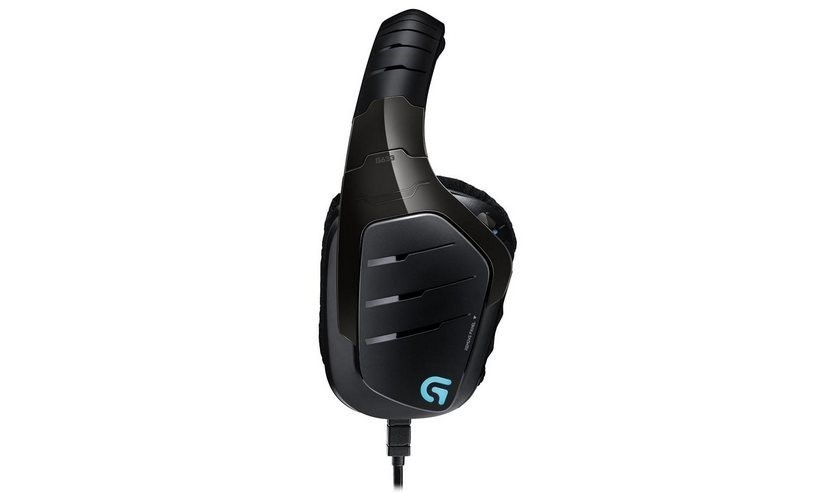 Like the Skullcandy SLYR's I reviewed not too long ago, it's got a microphone that tucks away neatly in to the left cup, pulling down like a boom, and extending like a Xenomorph's tongue. I love that the microphone can be tucked away like this, but its performance isn't ideal. While it's clear enough for gaming communication, it's prone to picking up bit of unnecessary, unwanted sibilance, making it less-than-ideal for Let's Players or those looking it use its microphone for any sort of recording purposes.
Like most gaming peripherals these days, you can customise the headset's lighting to your own preferences, picking from one or more of the nearly 17 million colours in the human visible spectrum, set it to pulse, or breathe or whatever you fancy. I find this terrible pointless, because with them wrapped around your head it's quite hard to look at unless your mom's part chameleon.
Still, despite its minor issues, I love the thing – especially as it feels like it was custom made for my needs, and I'd happily pick the unit up for its $150 US retail price. Unfortunately, its local pricing leaves a lot to be desired, with the exchange rate and that logistics nonsense souring prices once again. The retail pricing here borders on the absurd, with the Artemis Spectrum G633 retailing for R3299. It's a little too rich for my blood, with better audio options available for less of your money.
Logitech G633 Artemis Spectrum Gaming Headset Features:
Expansive cinematic gaming: Advanced Pro-G audio drivers
Easy access controls: Audio controls and 3 customizable G-Keys
Customizable lighting: Up to 16.8 million colours
Foldaway, noise-cancelling mic
Simultaneously game, answer calls, and more: Mix audio from two devices
Works on PC with USB and mobile devices with analogue cable
Software equalizer and custom sound profiles
Swappable backlit custom tags
Logitech G633 Artemis Spectrum Gaming Headset Specifications:
Headphone:

Driver: 40 mm
Frequency response: 20Hz-20KHz
Impedance: 32 Ohms
Sensitivity: 107dB SPL/mW

Microphone:

Microphone Pickup pattern: Cardioid (Unidirectional)
Size: 4mm
Frequency response: 100Hz-20KHz
Last Updated: November 12, 2015
Logitech Artemis Spectrum G633

Logitech's new headsets offer rather good sound and a decent array of features and multi-platform support - but all of this comes at a price. While ther Artemis G633 is spectacular, there are better options available for less money.