MSI's impressive range of well-engineered laptops has a model to suit just about every requirement and budget. If gaming grade desktop replacement laptops are what you're after, the GT range is probably what you're looking for.
If you're anything like me, you don't want something quite as large, bulky or heavy; you need something that's sleeker and slimmer and more importantly, lighter. You need something you can carry around all day without putting out your back. You need something that's a workhorse, but has the necessary gaming prowess should you want to play a round or two of Overwatch when you're not busy moving something three pixels to the left in Photoshop. You need something very much like the GS72 6QE I've been running for the past few weeks.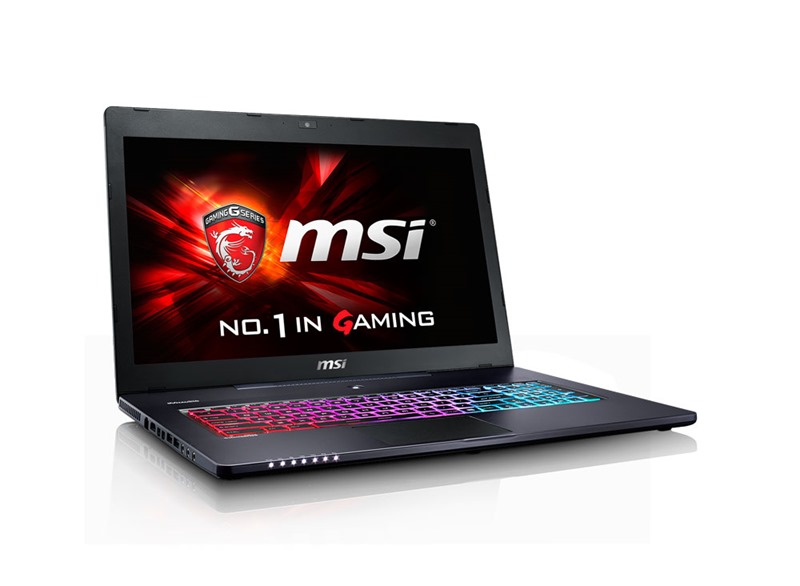 It's most certainly both sleek and slim, just 19.9mm high when closed, making it one of the lowest profile gaming-grade laptops I've ever used. Made of a brushed aluminium, the machine is prone to fingerprints but they wipe off easily enough to not matter. With the battery connected, it weighs just 2.6Kg so it's light enough to lug around too.
The GS72 6QE Stealth Pro sports a quad-core, Skylake Intel Core i7-6700HQ based on the HM170 chipset. The CPU runs at a base clock of 2.6GHz, running up to 3.5HGz boost. That should provide enough horsepower for the avid video editor or graphic designer – especially coupled with the vibrant and crisp 17.3" 1920×1080 IPS screen. The screen comes pre-calibrated to hit 100% SRGB, with a number of other colour profiles available for your viewing gaming or designing pleasure. The system also comes equipped with 16GB of DDR4 memory clocked at 2133MHz.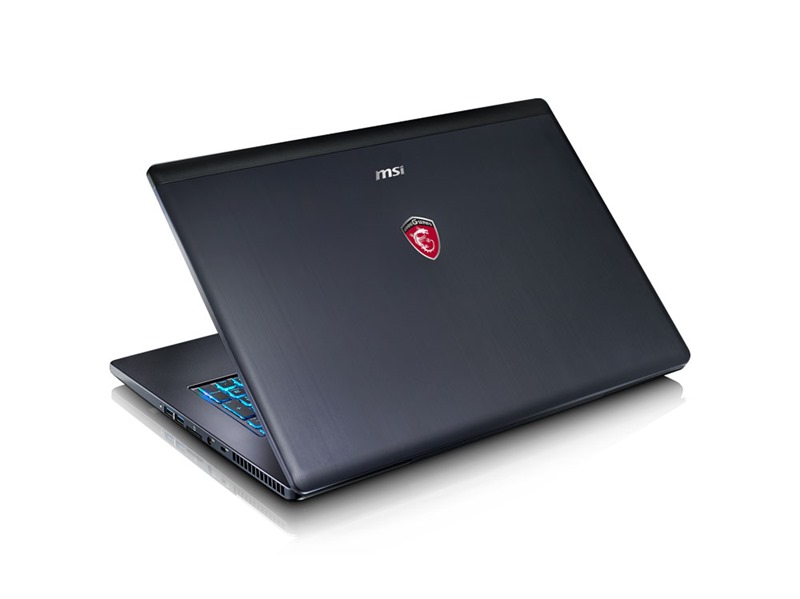 For those keen to use the system to play games, it's no slouch at all thanks to the 3GB variant of the 970M in our review sample (though a 6GB variant exists too). In terms of internals, it's not too different from the GS60 that Matthew reviewed late last year. Like that machine, one of its most impressive features is the integrated NVMe interface, slotted here with a 256GB Samsung SM951 – still one of the fastest drives in its class. It regularly breaks the 2000MB/s mark which means that the GS726QE cold boots to a functional Windows operating system in roughly 14 seconds. The 1TB mechanical drive is no slouch either, but a direct comparison should show just how damned fast it is.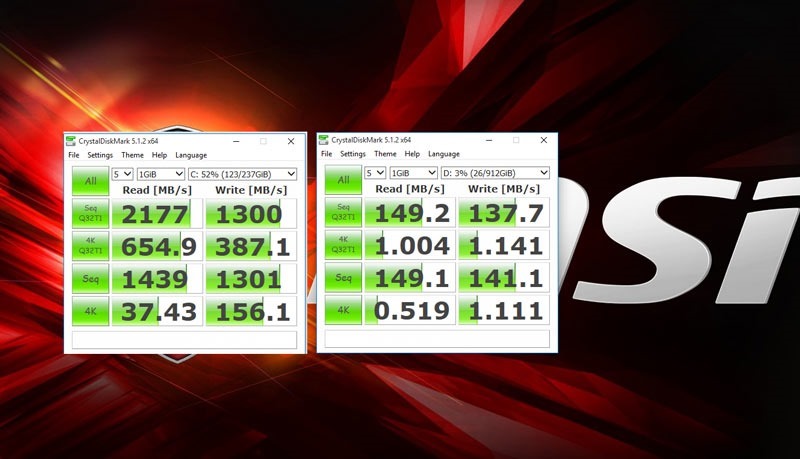 As for other specifications, the GS72 6QE Stealth Pro has the exceptional ESS Sabre HiFi Audio DAC coupled with a Dynaudio system to give you far better acoustic results than you'd typically find in a laptop. It's still a far cry from the sort of sound you'll get out of something like the larger Acer Predator 17 however.
The keyboard is a chiclet type and is made in conjunction with Steelseries. Beyond the low profile and low actuation, there's nothing exciting about the keyboard save for its multi-layered RGB lighting system, which lets you set it to any colours you'd like across its three zones. It's really quite robust – but I'm not really a big fan of flash so I tend to keep lighting off.

As for connectivity, you're more than likely sorted. On the one side you'll find an RJ45 port, one HDMI 1.4 port, two Mini-DisplayPorts, two USB 3.1 ports, a headphone jack, a mic and unusually, a line out as well. On the other end of the machine you'll find a Kensington lock, two more USB 3.0 ports, an SD card reader and the DC in. It features both Killer Wi-Fi (Wireless-AC 1535) and Killer Ethernet along with Bluetooth 4.0.

There's honestly very little about this laptop that's worth complaining about – and whatever negatives there are, are inherent thanks to its sleek profile. The 6-cell 5000mAH battery is small by design, so doesn't quite last as long as many would hope. For standard work usage, it soldiered on for just over two hours before giving up the ghost.
The other problem is the acoustics of the fans. While the machine is close to dead silent at idle, once you start ramping up the processing requirements the fans can spin up to a piercing hum. It's the bane of low-profile, high powered laptops – and not something that's going to be going away any time soon.
Another problem is that though this laptop is wonderful, and one of the finest portable machines I've ever used, it's soon going to be superseded by an iterative upgrade that ditches the Maxwell-based 970m for a faster, more efficient and possible cooler-running 1070. The impending version of the GS72 also increases the number of heat pipes and fans by 50%, solving one of the current GT72's problems.
Synthetic and gaming benchmarks
Equipped as it is, it'll handle current games pretty well on very high presets – and should continue to do so for a while yet. GTA V, which is an exceptionally well tuned game, running above 50fps for the most part with most of the bells and whistles set to very high. Metro: Last Light still prides itself to be quite a power-hungry game – but it runs fine on the GS72. Lowering settings a little should net framerates at a stable and constant 60fps. Batman: Arkham Origins, as you'd expect, runs smooth as silk unless you enable Physx, which still has its way with many GPUS especially integrated ones.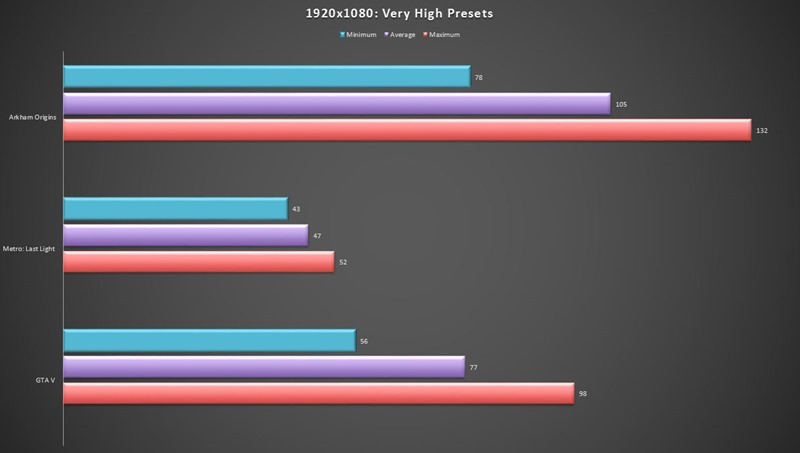 I'm not much of a fan of synthetic tests like 3DMark, but I've included the one that matters. The GS72 isn't quite ready for 4K gaming or even VR, but performs rather admirably in Firestrike  1.1, attaining a respectable score of 6672.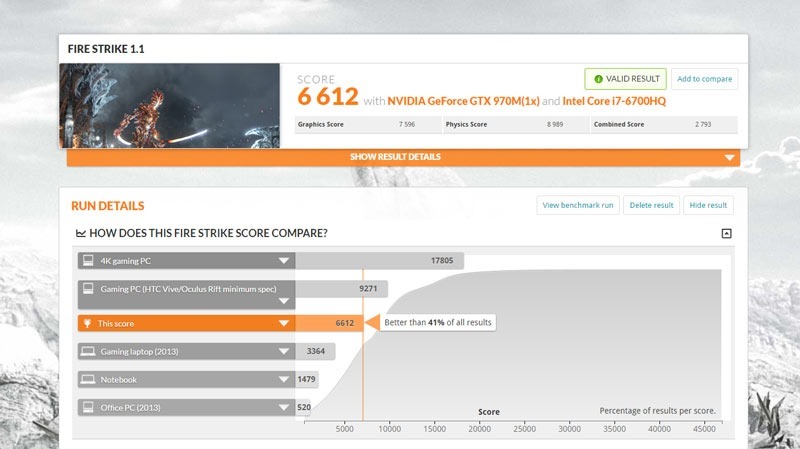 Name: MSI GS72 6QE Stealth Pro
Processor: Intel Core i7-6700HQ 2.6GHz Base, 3.5GHz Turbo
System Memory: 16GB (2x8GB) Dual Channel DDR4 2133MHz
Main Boot Drive: 256GB Samsung SM951 NVMe SSD
Additional Storage Drive(s): 1TB HGST 7200RPM HDD
Graphics card: NVIDIA GeForce GTX 970M 3GB
Display: 17.3-inch 1920×1080 IPS
Battery: 6 Cell 5000mAh
Dimensions: 418.5(W) x 287(D) x 19.9(H)mm
Weight: 2.6Kg
Optical Drive: N/A
Wireless: Killer Wireless-AC 1535
OS: Windows 10 Pro 64-Bit
Warranty: 2 Year Global Warranty
Price: R32,499 at Evetech
Last Updated: July 11, 2016
MSI GS72 6QE Stealth Pro

It's more than just specs and benchmarks. The MSI GS72 6QE is just a delight to actually use. The keyboard's keys feel fantastic to use, the trackpad is precise (though I'd still plug in a mouse) and it's slim and light enough to carry around for work needs. Plug it in at home and you've got a pretty capable gaming grade machine too.