Nvidia has had an exemplary year with their Pascal range of graphics cards. Power efficient and effective, these cards have ranged from the enthusiast to the mid-range, with cards such as the GTC 1080 and 1060 taking up positions on either ends of the scale. There's still more to be squeezed from the chip before Nvidia moves on to something new, and the GTX 1050Ti is just another example of that. Although it's not the headline performance you might expect, this little Pascal package packs a punch for its form factor.
The first thing you'll notice when looking at the GTX 1050Ti (or the MSI version we received, since Nvidia isn't doing their own reference model to keep costs down), is the lack of any power connectors. Both the GTX 1050 and 1050Ti are powered exclusively using the PCI-e connectors on your motherboard, with a recommended TDP of just 75W. Besides being ridiculously power efficient, this makes both versions of the GTX 1050 the easiest Nvidia cards on the market to use. Simply plug it in and play, which is an alluring aspect for those not keen on the nitty-gritty of PC hardware.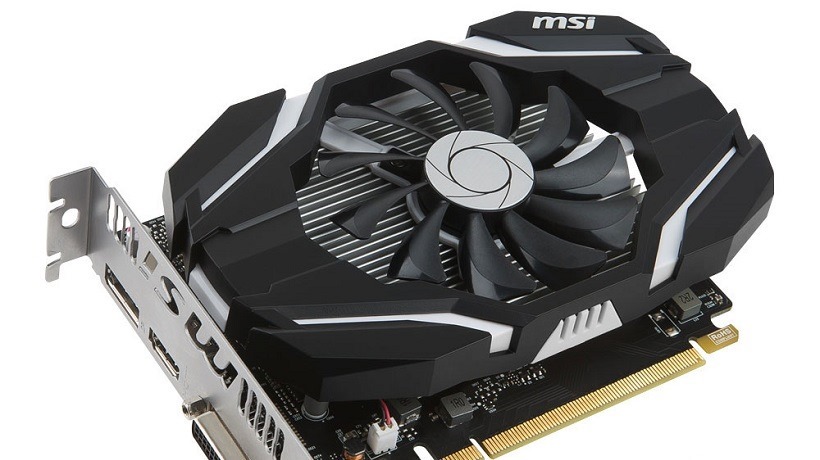 Of course it's those same people that will likely not truly understand some of the concessions made to make that reality possible. The GTX 1050Ti we tested features only 768 CUDA Cores, coupled with a full 4GB of GDDR5 memory across a 128-bit bus. That's a small amount of memory for modern games that are already asking for more, and it was evident in testing that even this Ti version (which features 2GB more memory than the smaller 1050) couldn't keep up at times.
But thanks  to the advances of Pascal, the 1050Ti features rather admirable clock speeds. With 1290MHz and 1392MHz for both the Core and Boost clocks respectively, the 1050Ti was no slouch in speed. Those types of frequencies would almost be unheard of in a card this small just a few months ago, and it's a testament to the design versatility of Pascal and its architecture. But all of that means nothing to the person hoping this small investment will ensure smooth 1080p – as Nvidia so forcibly marketed.
The proof of that lies in testing, and in a way the results were unsurprising. It's clear that for its form factor, power requirements and ease of use, the GTX 1050Ti makes a very strong impression. Especially when looking at its performance with some of the year's best looking titles.
Metro: Last Light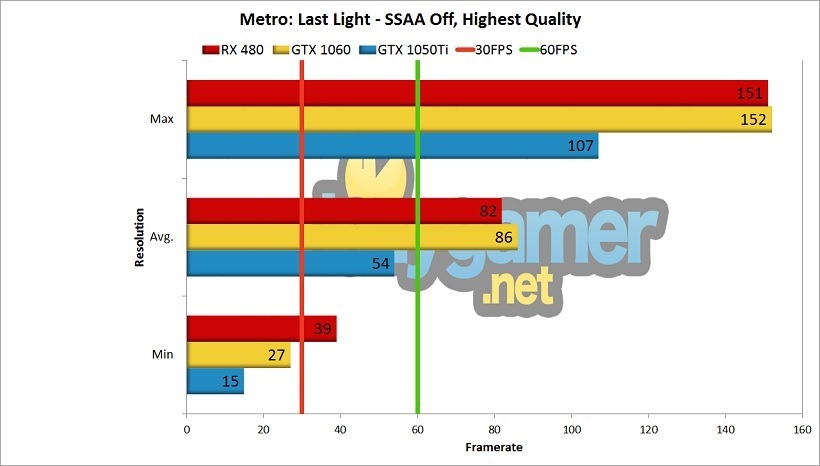 Metro: Last Light still provides a powerful benchmark that really pushes even modern cards to their limits with its bevy of graphical settings. Running exclusively on 1080p (because this card really isn't capable of pushing beyond that), it's clear that the GTX 1050Ti really managed to hold its own. When compared to other mid-range cards we've tested the results might seem to pale in comparison, but there's a lot to be said about what the GTX 1050Ti achieves in its price bracket
The Witcher 3: Wild Hunt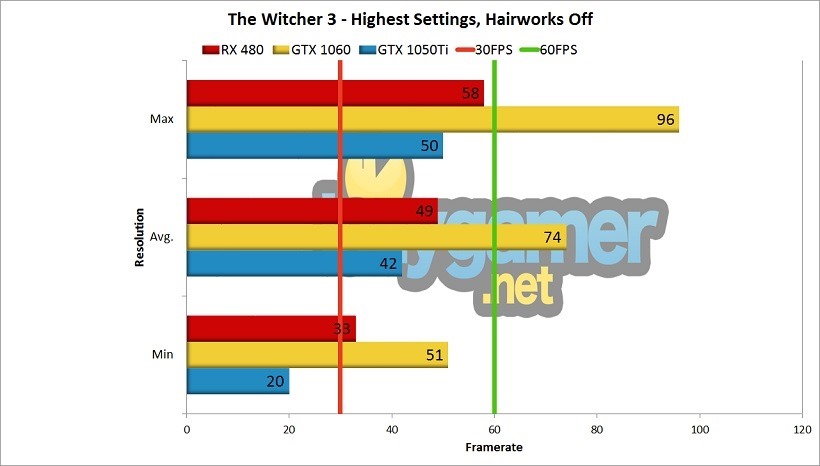 That extends to testing in The Witcher 3, which is arguably one of the most stunning games still on PC. At 1080p the GTX 1050Ti brought in some respectable numbers, which could easily push into a 60FPS lock with a little tinkering down to medium here and there. That's a common thread in most testing, with the low power requirements and limited performance meaning full 1080p gaming is sometimes just a reach too far.
Grand Theft Auto V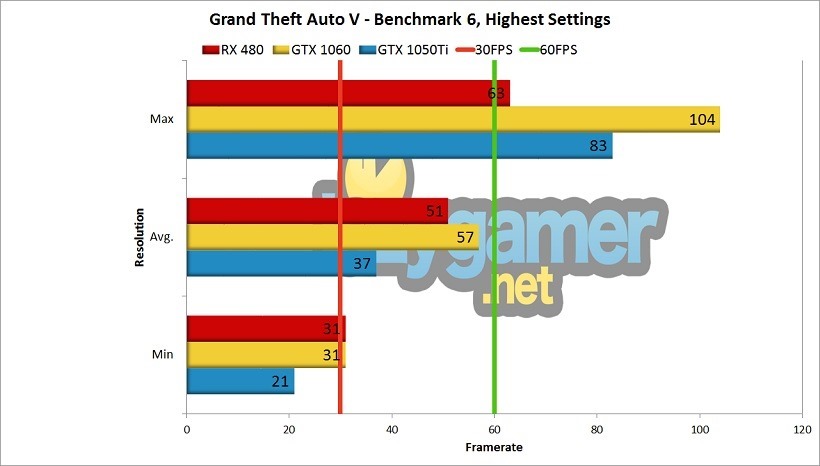 That's no more evident with GTA V, which really pushed the GTX 1050Ti when running its own benchmarks at the maximum setting (MSAA included). Still, the GTX 1050Ti manages to keep things mostly above 30FPS, and bringing down a few settings here and there easily brought that figure close to 60FPS. If you're looking for slightly better than console performance at that point, the GTX 1050TI manages that with relative ease.
DOOM (OpenGL)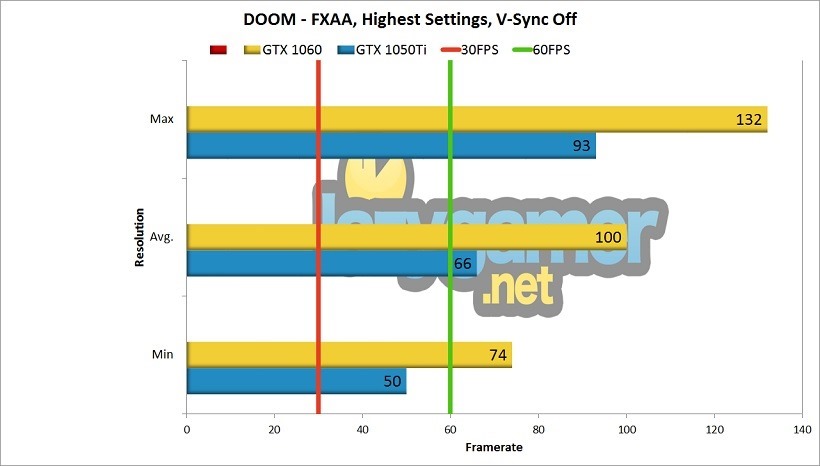 DOOM is where things get really interesting though. One of the most gorgeous games of the year, the fast-paced shooter also manages to be delightfully well optimised for PC. And in the case of the GTX 1050Ti, that really worked in its favour. With an average above 60FPS at the highest graphical settings the game has to offer, this really made a compelling case for the smallest Pascal card as a good entry point for PC gaming.
Overwatch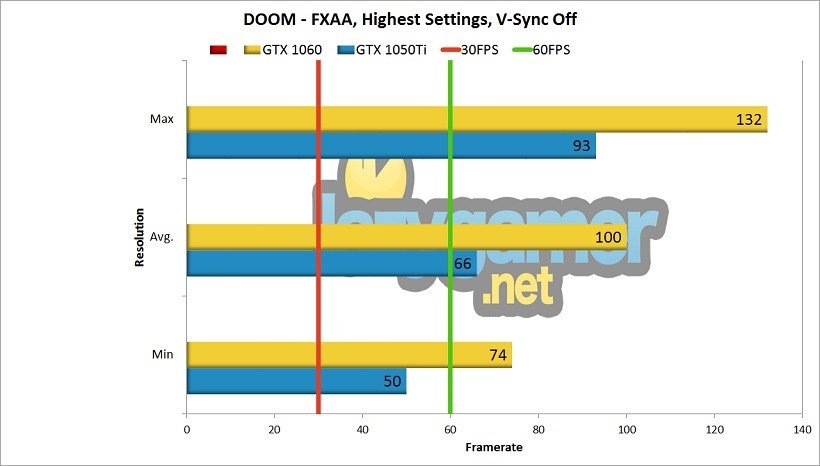 Of course the GTX 1050Ti isn't only for hardcore 1080p gaming. Nvidia understand this, and have attempted to encapsulate the eSports market into their own marketing. Looking at its performance in Overwatch alone, there's really no reason to dispute that either. This card will manage all competitive games out there without flinching, so if that's the only reason you're looking for an upgrade, there's really no reason to look any further.
FireStrike/TimeSpy Benchmarks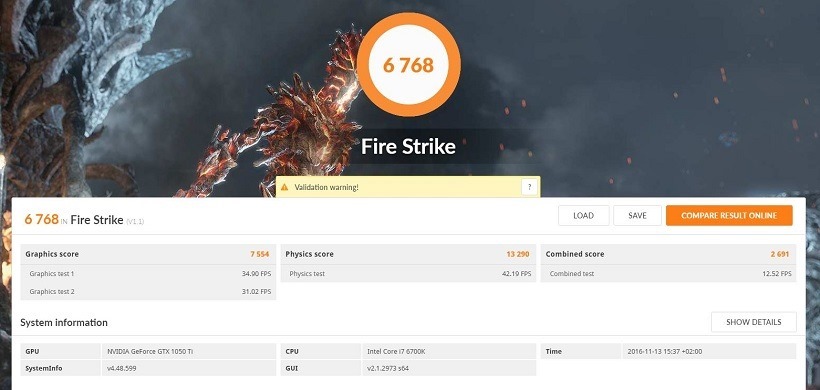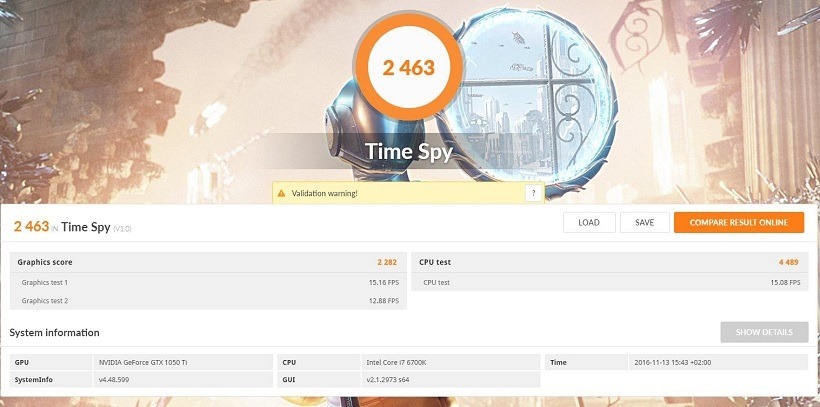 Excluding the more strenuous Extreme and Ultra tests, the GTX 1050Ti brought in decent test scores cross the standard FireStrike benchmark. DirectX12 performance in TimeSpy was also not too bad, although given the power behind the card its unlikely that you'll be looking at future iterations and implementations of DirectX 12 for increased performance.
During all testing the card itself was incredibly quiet under load, with the core temperature never exceeding 60 degrees Celsius at its peak. The fan itself really never got called in to too much action, and it's clear that the power drawn from the PCI slot is more than enough for the card to hit its boost clocks and stay relatively cool. Overclocking performance is limited though, and Nvidia have put in some heavy restrictions to ensure you don't draw too much from your board in the process.
But again for the market that's being aimed for, that's not even a selling point. The idea behind the GTX 1050Ti is simplicity at a low cost, and Nvidia have really check all those boxes in terms of performance per watt and compact design. Pricing is a bit of a touchier subject, especially with local pricing brought into the fold.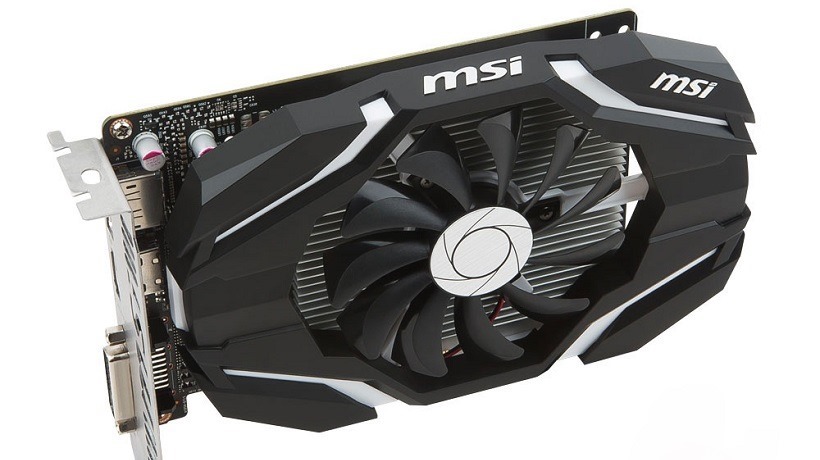 Recommended retail pricing is usually a guideline instead of a rule, but locally the price for a GTX 1950Ti can vary wildly. MSI usually comes in the cheapest with cards just over R3000.00, but fancier cooling spikes that well into R4000.00 territory. In that space the GTX 1050Ti is directly competing with local pricing of the AMD RX 470 – a superior card which isn't as easy to use, but will certainly boost framerates in all departments. On the lower end it competes with the RX 460, which is more in-line with what Nvidia is offering. In that race the GTX 1050Ti would be the better choice, so it's really down to what third-party you choose.
But in any case you'll be hard pressed to find a card this easy to use with the performance that it boasts, and I came away pleasantly surprised without how capable such a tiny card could be. The GTX 1050Ti isn't the benchmark-breaking Pascal card you might have hoped for to finish up the 2016 year, but it's certainly a card that could open the doors for far more PC gamers in the future. With an entry price that isn't prohibitive and performance to match, it's an easy sell for some old-fashioned 1080p gaming.
Score 4/5 Stars
Last Updated: November 28, 2016
MSI GTX 1050Ti

Ease of use, price and performance all contribute to a card that shows off just how versatile Pascal can be. The GTX 1050Ti isn't the fastest card on the market, but it's the one most new PC gamers are likely to pick up.