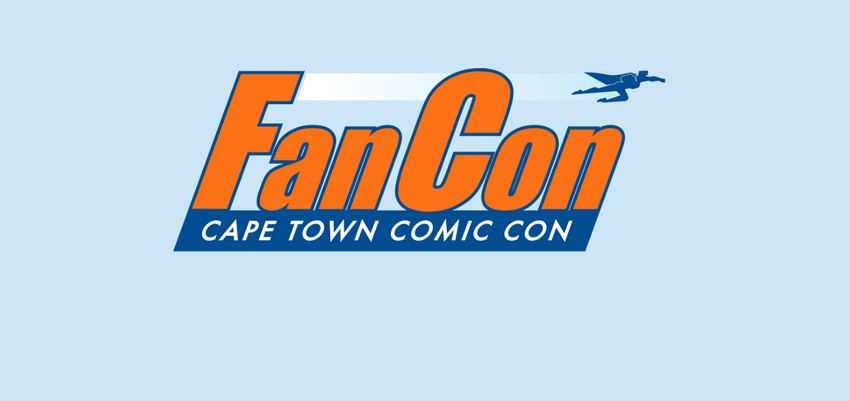 In the first part of our interview with Nizar and Mahdi Abrahams, the organizers behind the upcoming FanCon 2017, we spoke to them about how the origin of the highly anticipated comic book convention started with their Readers Den Free Comic Book Day events. We also learned the key role that the local cosplay community played in giving Cape Town its first event of this nature and size, and the lessons learned from their inaugural FanCon last year. Now in the second part of our interview, we look ahead at what's to come at FanCon 2017, and discover just how they're managing to get so many big time comic book celebs on board.
FanCon 2017 boasts a massively attractive line-up of talent who will all be engaging in panel discussions, workshops, signings, meet-and-greets, photo opportunities, etc. This extensive roster includes the likes of veteran fan-favourite writer Ron Marz of Green Lantern and Witchblade fame; world-famous comic creator Eric Powell of Goon fame; multiple Eisner Award winning Chew creator John Layman; Top Cow Comics boss Matt Hawkins; DC Bombshells and Punisher fan favourite Italian artist Laura Braga; and German based cosplay superstar Calsarra who won the 2012 European Cosplay Gathering competition. A bit closer to home, but still international you have the duo of Mike Kayode and Somto Ajuluchukwu of Nigeria's Vortex Inc., a multifaceted initiative that produces a prolific assortment of comic books as well as running an animation studio arm.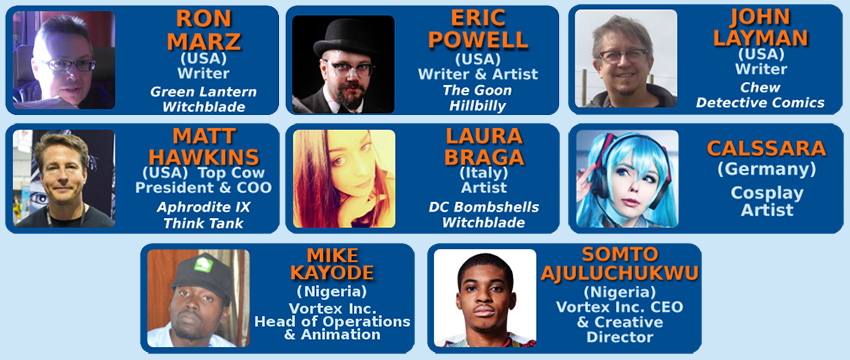 On the South African front we also have internationally renowned author and comic book writer Lauren Beukes and her frequent artistic partner/co-writer Dave Halvorsen aka Joey Hi-Fi; Johannesburg-based artist Sean Isaakse, who has broken into the international scene with runs on Marvel's Deadpool and Thunderbolts; local cosplay star Kinpatsu Cosplay (aka Tayla Barter); freelance illustrator Warren Louw, who has done work for UDON; and Eastern Cape based artist Loyiso Mkize of Supa Strikaz (which is actually one of the most widely published comic in the world thanks to distribution in 25 countries worldwide resulting 1.9 million copies being printed per month). Local artist Jason Masters, who is penciling Dynamite's James Bond book by comics legend Warren Ellis, was supposed to follow up his FanCon 2016 appearance with another this year, but he has unfortunately needed to cancel.


Even with that latter hiccup, that is still a ridiculously exciting line-up, with the amount of A-list international guests even eclipsing last year's fantastic trio of writer Jason Aaron (Thor, Star Wars), artist Jamie McKelvie (The Wicked + The Divine, Young Avengers) and artist Ian Churchill (Teen Titans, Supergirl). No other convention in South Africa can boast that type of international renown, so how is it that a relatively fledgling outfit like FanCon is pulling this off? Nizar and Mahdi wouldn't divulge all their secrets, but they did share one major attraction to these guests: "Cape Town! Cape Town is the seller"
Nizar: "So now we can talk a little bit about going back. Jason Aaron was totally closed to doing cons, he doesn't do cons. He does San Diego Comic-Con because he's under contract with Marvel, SDCC doesn't even invite him. He's never been invited to SDCC, but he goes every year because Marvel brings him out. And then he only does his two [hometown] Kansas stuff, and maybe adds one for the year, depending on the invite or if he's up for an award.

We had somebody at Image that we were liaising with with all the guests. And it came up, 'We're asking for one of your big names here', and she said its not likely. Then she herself came back and said, 'I did not expect this but Jason Aaron is actually interested here are his details.' And it was like, this is the only con he was going to do besides the ones he's contracted to do, the only con invite he's accepting this year.

But it was to do with… we sent him a brochure. It was a custom brochure. He said 'I just saw this lion there and I had to go.' [Laughs] But it boils down to: It's Cape Town. A lot of them want to come to Cape Town. We also obviously sweeten the deal. It's about adding on the extra days for these guys, so they do get the Cape Town holiday out of this. So we don't want to make it all work for them.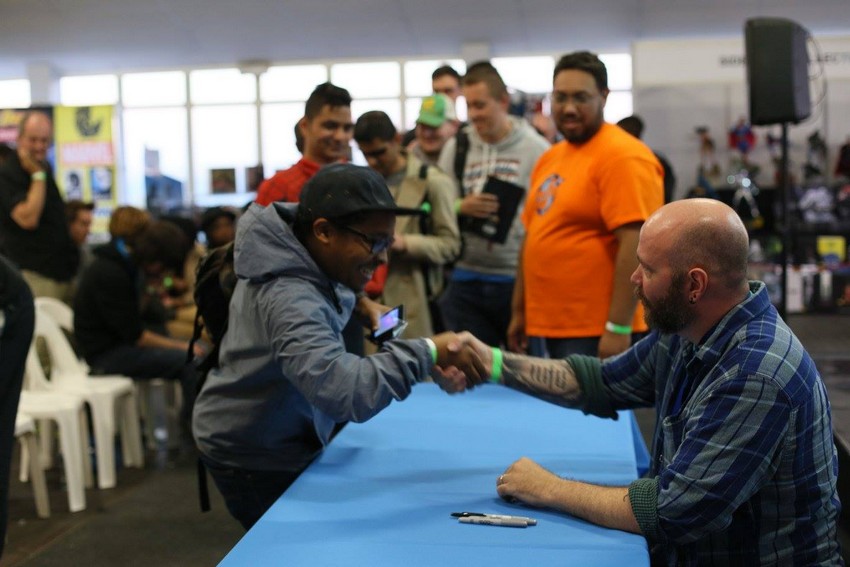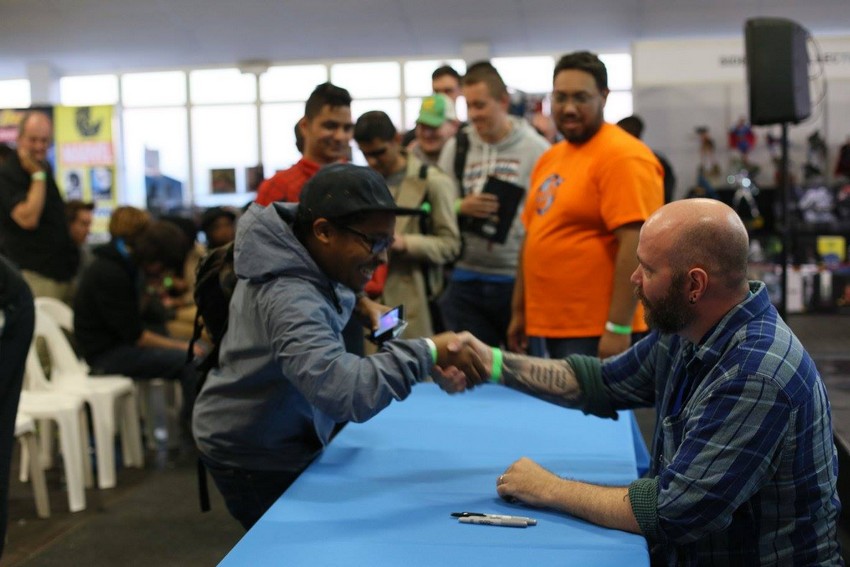 The work still happens though, as during last year's FanCon Jamie McKelvie actually worked throughout the weekend in between meeting all his convention commitments. And that's a common thing, which makes getting these people here even more impressive.
M: "Getting artists is definitely more difficult. You bring out a guy from the US that's an artist and you ask him to come here. You're not just asking him for the three days that they will be at the con. It's about the travel time. To some it means 8-10 days is gone from your schedule of work, and for an artist that's a hell of a thing. We had people who said 'I'm actually really interested. I just can't fit it in. You can invite me next year, but I can't do it this year.'"
N: "But these are things that can happen obviously down the line. And it's nice that we've built up contacts. And the guys who gave us positive response as "Future shows? Definitely" And that's the nice thing. Makes our lives easier down the line knowing who can invite and who is available."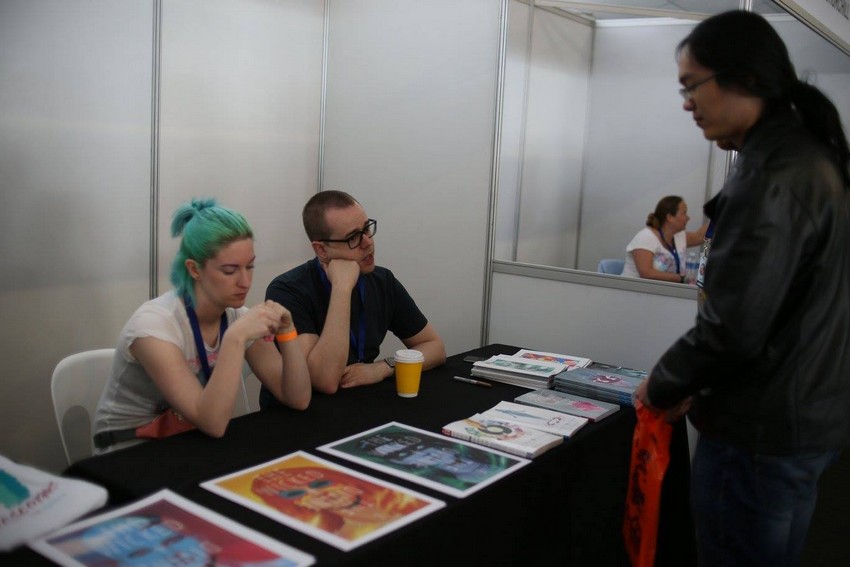 Nizar wouldn't reveal who these potential future guests were, but rather just that they "have quite a few pencilled in". As for the ones that would be appearing at FanCon 2017, there are a few highlights, with one of the most intriguing being Vortex Inc. The Nigerian based company may not be as well known as Marvel or some of the other bigger entities, but their work is very impressive.
N: "Their output is extensive and the amount of readership they got. So if people have any myths about comics not being read in Africa, these guys are going to break this."
M: "They have 15 characters in terms of the comics they publish. They have an animation arm. Mike Kayode is the head of that. I think it's called Dream Network"
N: "They're actually going to be representing both companies, Dream Network on the animation side and Vortex for the comics."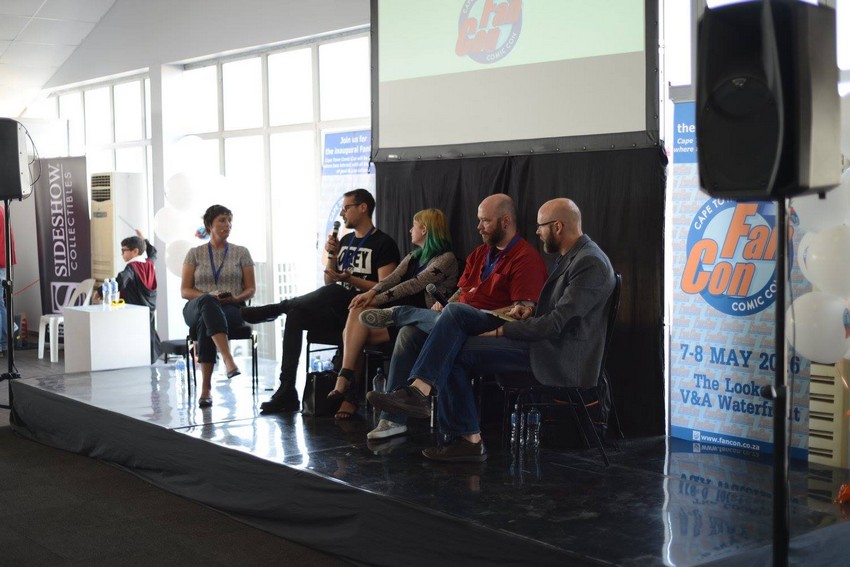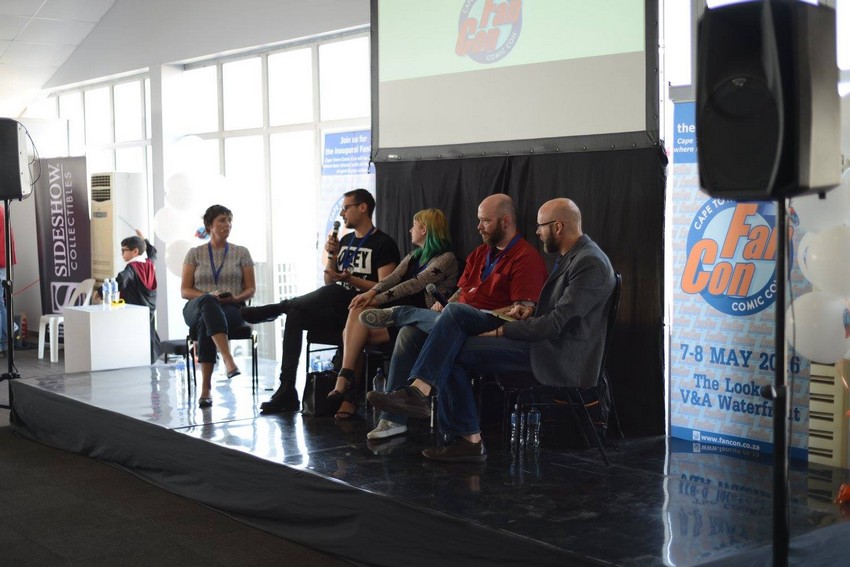 A number of the local SA-based guests also have "big international street cred", and according to Nizar that this was a very important angle to show off. With the digitization of comics production, the industry has become far more readily accessible internationally than ever before.
N: "It's an incentive for our local talent to see that there's potential here. And for overseas companies to take note also that we've got the talent here."
N: "Guys collaborating have never met. Jason Masters has never met Warren Ellis. In person they have never met. But there is back and forth, every panel, what's happening. It's amazing."
And sometimes it's not just about locals getting to meet international superstars, but even international superstars meeting international superstars.
M: "Speaking of not meeting, John Layman actually mentioned that he's American and Eric Powell is American. They're big guys in the world, but they've never met. He's excited because he's probably sitting on a panel with Eric Powell who he's never met in the States."
N: "We put together this opportunity where these guys can actually meet. But they have to fly all over the world to do it [laughs] It's kind of weird."
So what do you get though when you stick all these people into the same room?
N: "Once you have so much talent, and each guy has done so much, the gist of what makes our show different to any other show is the programme. And the programme is centered around what these guys have done. So we have panel talks where we nitpick and we go through what these guys have done and what they've worked on to get unique content out in terms of what they've done, advice points and what're doing. So I think, it's fine having a show full of exhibitors and these guys are sitting there, but once you put on a panel program, and especially when your guest list is that broad, the type of content that you're going to get out of a show like that is going to be so unique and so much.

And once we pair up people also… because we don't typically pair up the obvious. Last year we paired up Jason Aaron and [BitterKomix creator] Anton Kannemeyer, something you'll never experience with both answering questions on the same topics and their individual work. And that was a unique experience. You're never going to get that anywhere else again repeated.

So that's actually what you can take away. There are going to be those unique experiences coming out of the show. 
And everything that was at FanCon 2016 will be back again this year, just bigger and better.
N: "All of that comes back. Signing sessions, meet and greet… because of the cosplay system, you have more of a meet and greet where you have a photo op with them. We don't sort of promote the photo op with the regular artists and writers, but they are open to it. But we will set up proper meet and greets for the cosplay people, because they are in costume and they will sign prints for you.

There's a signing and meet and greet area that's together. There will be the main stage for obviously the larger panel talks as well as activities. There will be a panel room talk – it's going to be quite a big panel room compared to last year. Double the size of last year so we can accommodate a bit more people.

Then obviously there's just the programme of events in terms of activities. We have big performances that opens the show every day. The cosplay event is now over 3 days so you have different levels of cosplay."
That last point regarding the cosplay is a particularly important one, as this year sees the traditional competition running over multiple days and being split into Advanced Cosplay and Open Cosplay categories. We'll have the full breakdown of what this means in a separate focused piece later, but for now you just need to know that every cosplayer – whether you're somebody who bought an outfit off the shelf, or spent hundreds of hours making everything by hand – will get fair representation this year.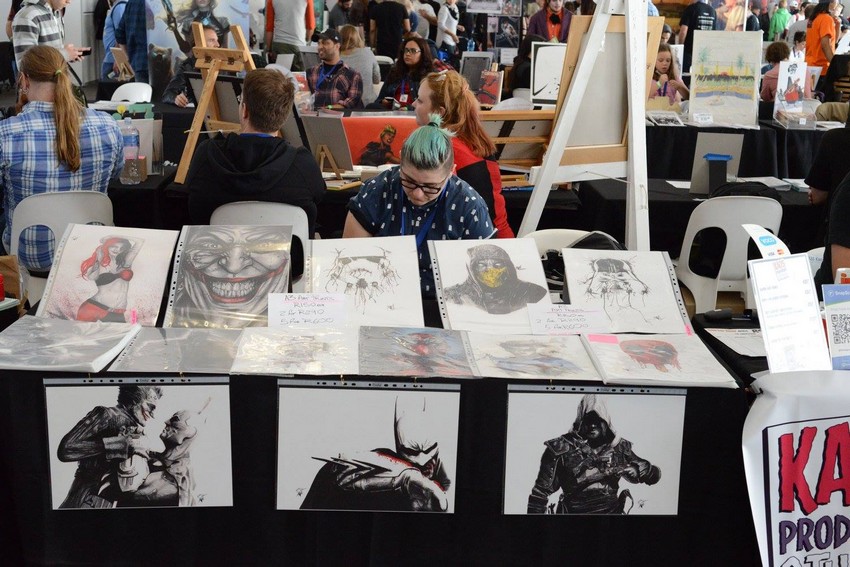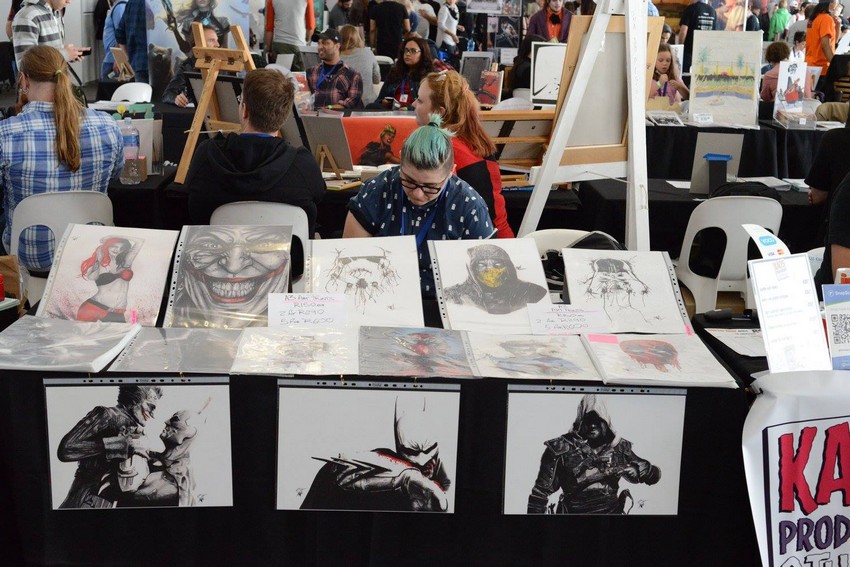 On top of the cosplay competitions, they will also have over 90 exhibitors in the venue. Nizar and Mahdi do stress though that "it's not about it being an open door where you can sell anything… It needs to fit in with what we do. So everything there would be geared and centred with what you would expect at a Comic-Con. No beans or deodorant unless there's a geek angle to it [laughs]".
All the guests will also be very accessible, as they will have tables or booths where you can meet up with them in between their panel/competition appearances. And in a groundbreaking move, Top Cow's Matt Hawkins will actually be at their booth doing artist portfolio reviews.
N: "To have a pro come over and do that, I think it is [a first for South Africa]. The idea is to give them your portfolio… It's not to say you'll necessarily come out there working for Top Cow, but you'll get invaluable advice that you will get nowhere else. But it doesn't mean that it can't happen."
The previously mentioned local artist Jason Masters, actually had his work spotted by famous Green Lantern and The Flash penciler Ethan Van Sciver at a convention. That led to him penciling Batwoman for DC Comics and James Bond for Dynamite, so these things can definitely happen.
As for the venue change for FanCon from last year's The Lookout to the CTICC this year, Mahdi sums it up best as "Much bigger. Much more expensive [laughs]". It's because of this way bigger facility that they can actually have these many guests and exhibitors. It also means access to a world-class facility and all the services – including security, accessibility, etc – that come as part of the package.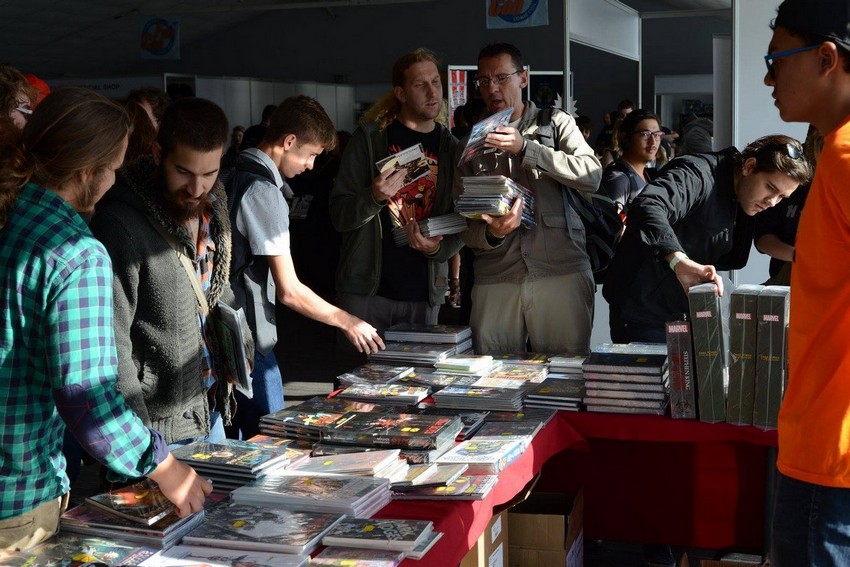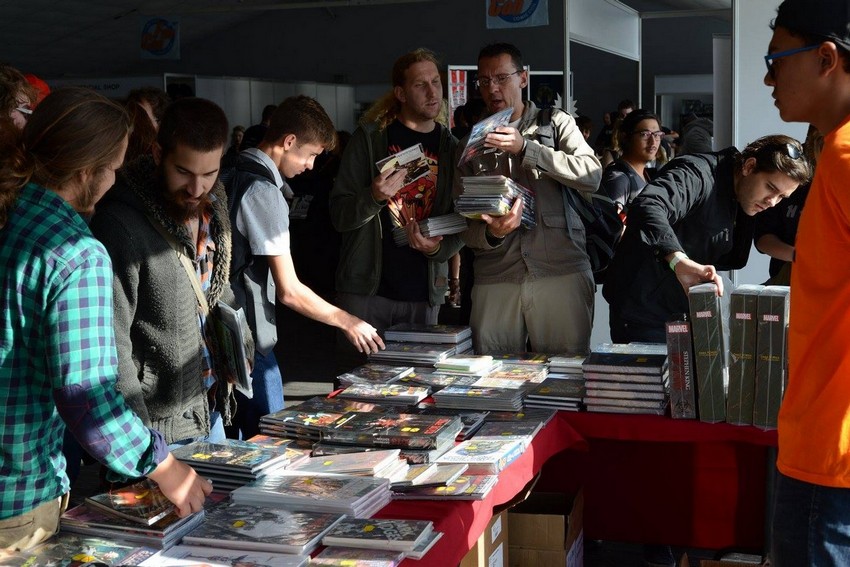 With that kind of backing and the support the community has already shown, it's a fair assumption that FanCon will continue to grow. Maybe even grow so big and popular that it will be able to take the show on the road and put on an expo in Johannesburg?
N: "We haven't really discussed it that far. We really want to get this baby off the ground. But I don't think so. Comic cons are about the city."
M: "It is about the city. 99% of comic cons in the world is named as part of the city. Dallas Comic Con, New York Comic Con, Baltimore Comic Con. It's about that. Unless you have deep pockets and you maybe buy up the cons in the states. That's different. Then you do Wondercon and SDCC. But that's different when you own shows. That's the business of events. But we're not in the business of events. It's a Cape Town thing. It's supporting the community that always supported us."
M: "You probably won't get half the international visitors if they don't see Cape Town on the invite."
N: "What I must add is that Joburg already has something in that they're pushing ICON to be the Joburg convention, and we back those guys 100% in what they're doing. The last ICON last year, I actually went up and they stepped up big time. And they took it to the Ghallager from where they used to be… And that was a big step up. It's going to a convention centre. It's inviting international guests, so I think they will take up that mantle of giving SA the other con that they need.
As fantastic as ICON is though, it does have a much broader geek appeal though, whereas FanCon is a bit more niche.
N: "Ja, we want to be THE comic con. It's not only comics but comics is the heart of it, then we add the other elements that work. Their heart is the gaming, and they add the cosplay, comics. It seems like that. But nothing wrong with that. It's nice that one is strongly focused on something. And if you do the gaming, then go to ICON. We happily send people there. We promote ICON as the other big sort of comic con to go to.

So I don't think we will step out. We would rather want to build this and put our efforts in this as far as we can. But you can never say never also. You never know how things change and what will happen, but for now we don't foresee it."
M: "Not in the short term at least."
As for actually attending FanCon 2017, you'll pay R120 for a single day pass on any of the three days, but can get a full three-day pass for R240, while children 12 and under get free entry with accompanying adult. All tickets will be available at the venue or you can purchase them online at Computicket.
However, it has to be pointed out that those three-day passes have a limited number, and the sales for them will close before the show for obvious reasons (can't sell a three-day pass on day two). The limits on the three-day pass are for both time and the quantity of tickets, and the FanCon organizers will alert the public if they get close to selling out. Just to be safe, I would book ahead.
To keep up to date with the latest developments around FanCon you can check out the official website, like their Facebook page or follow them on Twitter (@FanConComicCon). And be sure to check back here on Monday when we unpack the controversy surrounding rAge Cape Town and its scheduling clash with FanCon 2017.
Last Updated: April 21, 2017