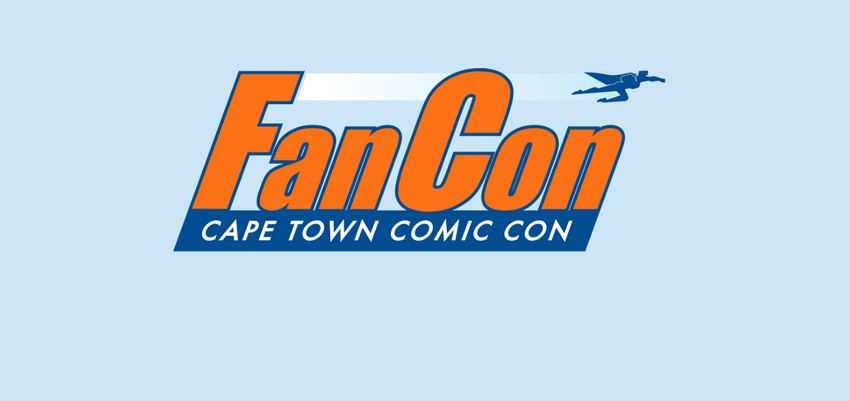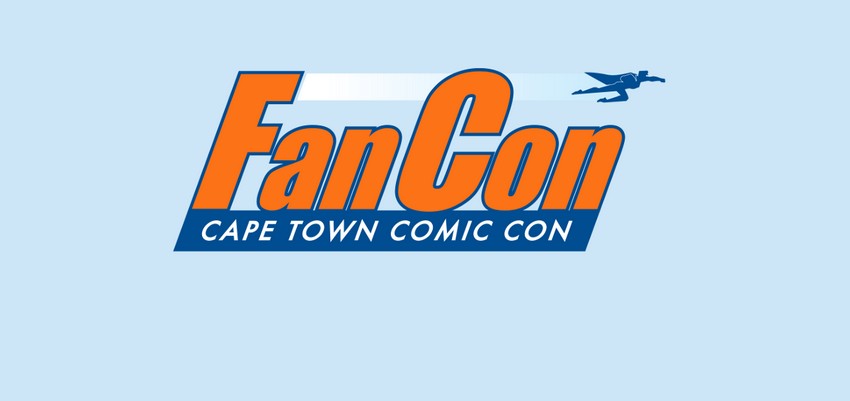 In just over a week, from Saturday 29 April to Monday 1 May, thousands of brightly-garbed fans will be descending upon the Cape Town International Convention Centre in a rabid geek frenzy to attend FanCon 2017. Only in its second year, FanCon is a relative newbie on the South African geek convention scene, but it has already left a monumental mark with its blockbuster inaugural showing.
South Africa already has a well-established geek convention calendar with trailblazers and mainstays like ICON and rAge, but what sets FanCon apart is its primary focus on the world of comic books instead of just general geek culture or gaming. As such it is South Africa's very first proper comic book convention, as opposed to previous attempts which tried their best at putting the "con" in convention.
FanCon 2016 was of course everything but a con, as fans were treated to an unprecedented gathering of both A-list international and local comic book talent to interact with, and the result was an utterly fantastic show that exceeded everybody's expectations. Even the expectations of Nizar and Mahdi Abrahams, the two brothers behind this breakout success. If those names sound familiar, it's because the Abrahams siblings are the proprietors of Readers Den, Cape Town's preeminent specialty comic book shop.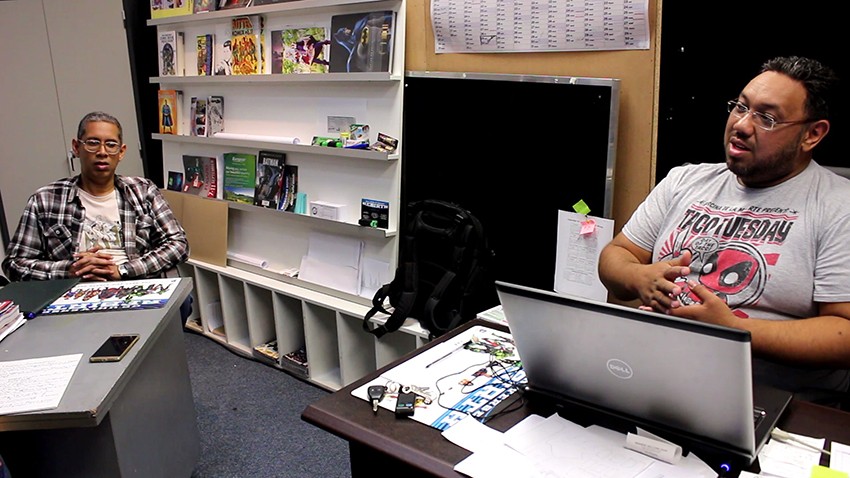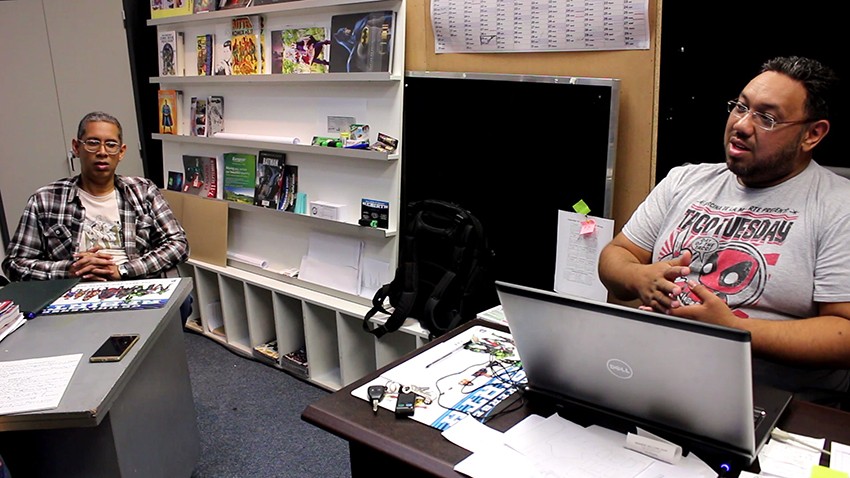 In anticipation of FanCon, we sat down with the two brothers at their shop premises in Stadium on Main, Claremont. In Part 1 of the interview we look back, discussing just how they ended up running one of the most exciting geek conventions around, the huge role that cosplay played in making that happen, the unexpected boom of FanCon 2016 and the lessons learned from that experience.
Lifelong comic book fanatics, the Abrahams brothers' business started out as a used book stall in Green Point Flea Market in the 1990s. Eventually they moved into a shop in Long Street in the Cape Town CBD. However thanks to their month-to-month lease ending rather abruptly in 2002, they scrambled till they found their now more well-known spot in Stadium on Main in Claremont.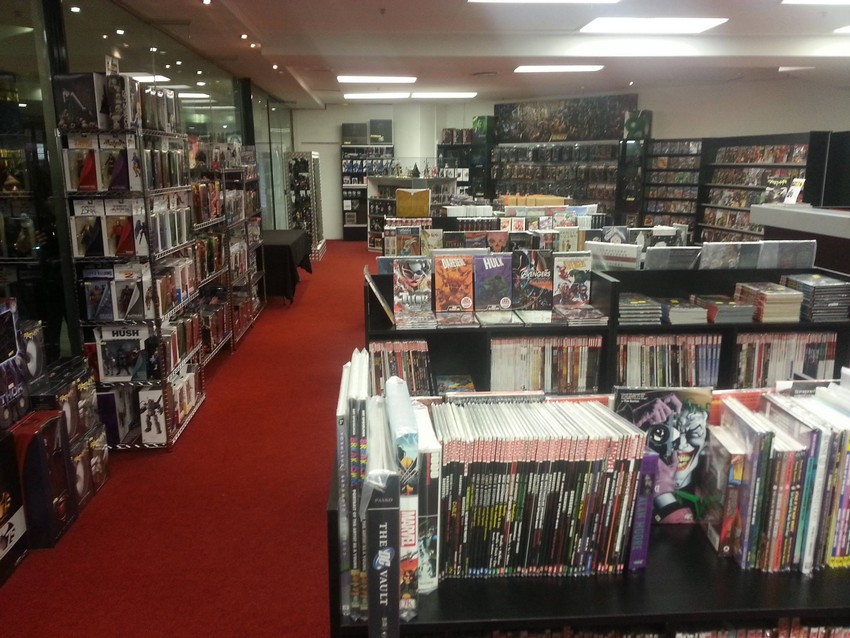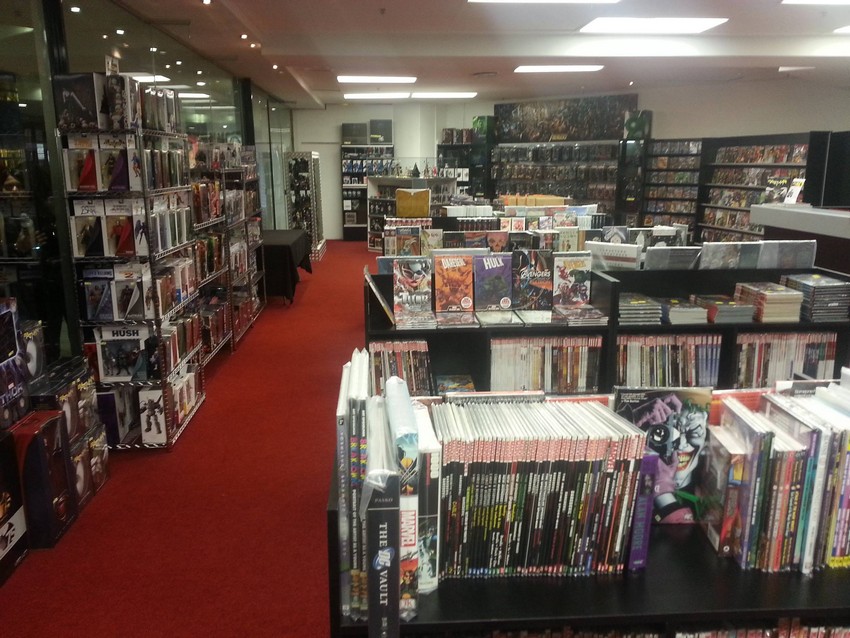 That was in the same year that the international Free Comic Book Day first launched. It was also when Nizar and Mahdi got to realize the dream of visiting San Diego Comic-Con, the largest and most renowned comic book convention in the world. However, the SDCC of 2002 was a lot different to the SDCC of today. And for Nizar and Mahdi it was a bit of a shock, but also a key bit of education.
Nizar: "

I think what's different is, a lot of people now go into it a bit more knowing what it's about because of social media and what's happening. Back in 2002 it was [different]…

There's no expectation in terms of what you're going to see visually, how much people are into this. So that's a shock to the system obviously when you rock up there. And at that time they were screaming 'Yoh, 60000 or 80000'. They claimed 'insane numbers' that is now only a good con but still on the small scale. So it was obviously amazing… The difference is somebody going now would have seen so much. And they're buying into it because they've seen it. For us, as comic fans, we just knew we were going to meet those guys, we didn't know what we were going to see.

That was also our first major exposure to stuff like cosplay. That there's this side element to this culture that's happening. Because we just went there focusing on the comics."
Mahdi: "2002 actually the cosplay scene here was basically non-existent at that point."
N: "But over there, that was one of the first things that [left us totally shocked]. We were like those typical geeks hounding these people, and hounding these famous comic writers."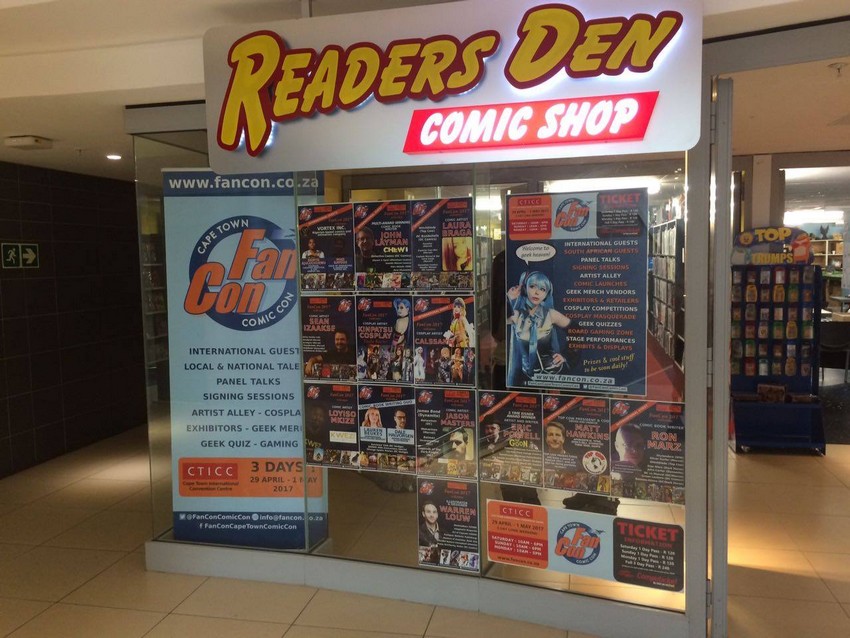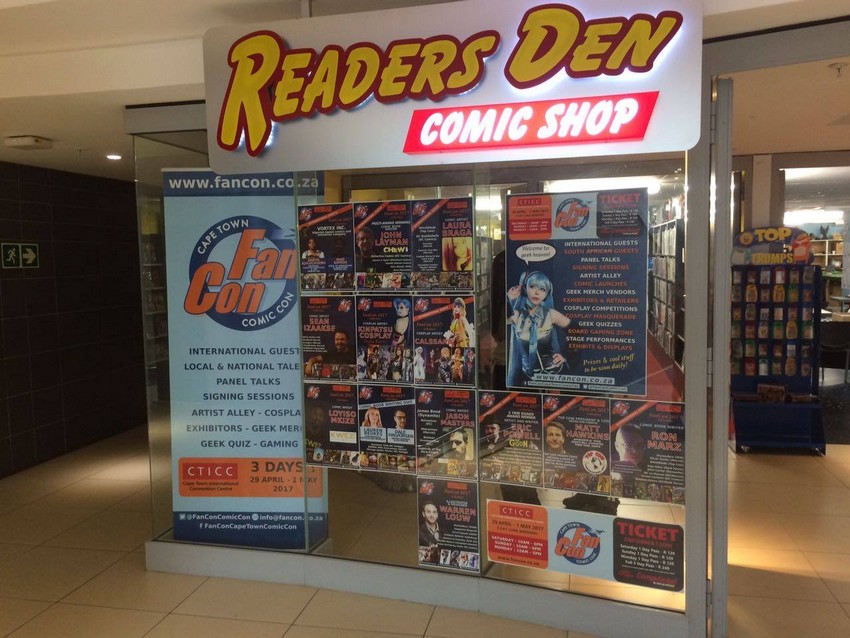 Along with the exposure they got over at SDCC, Nizar and Mahdi also hosted their own FCBD event, which involved them handing out the bundled free comic books to any visitors to the store… and that's it. It was a massively far cry from the mini-convention the Readers Den FCBD would eventually evolve into a decade-and-a-half later with throngs of cosplayers, local comic creators, artist alleys, and barely any room to move in Stadium on Main as you stood elbow to elbow with fellow geeks.
N: "That wasn't instant. It was a few years of nothing, a few years of us trying to put out as much as we possibly could about this event. At that point, Facebook was kicking in and we could see things were happening in other stores in the US, but it wasn't happening here. And we were pushing for people to dress up and stuff."
M: "I think it was the 10th show where we upped the scale deliberately because it was the 10th one. So this is where we set up the screens, the artist alley, the tables to create this other zone in that space. That one was a step up."
N: "You could feel the difference. [It was more than just handing out comic books] That was the first feeling of a con."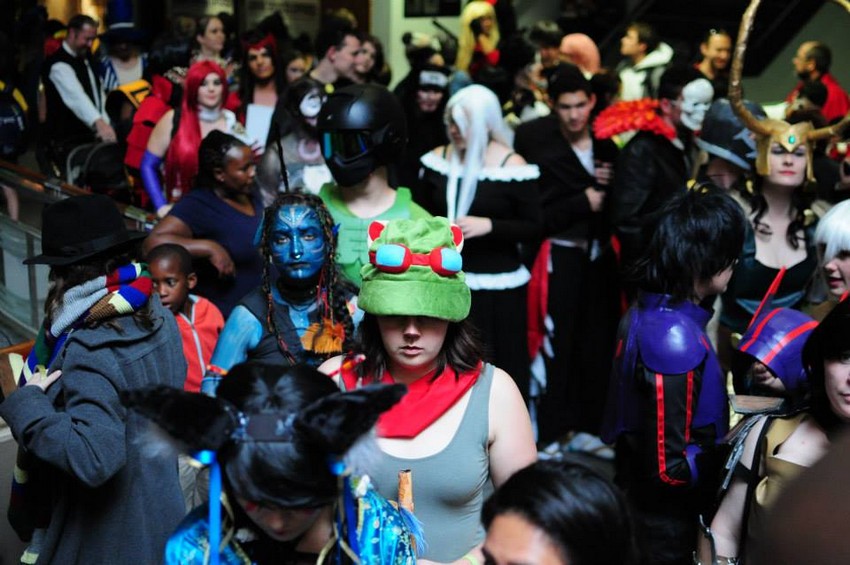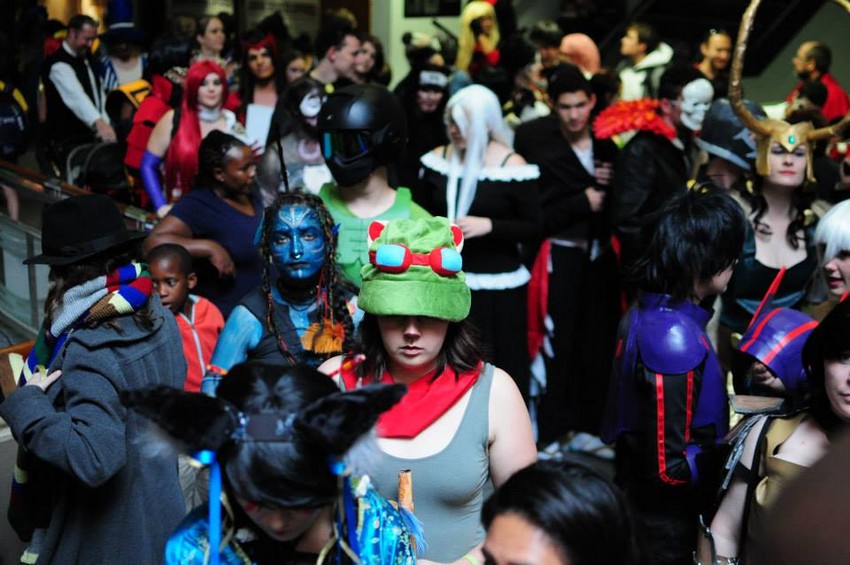 I attended that 10th anniversary FCBD celebration at Readers Den in 2012, and it was indeed a colourful escalation of geekdom beyond anything we had seen before. And just like Nizar and Mahdi experienced in SDCC, it was the eyecatching pageantry of cosplay, as fans dressed up in elaborate self-made reproductions of their favourite characters, that played a major role in selling that "convention" feel.
M: "At that point there was enough cosplayers for them to actually make a point of dressing up and coming to this event. And that created this whole visual element."
N: "Cosplay was the lure and it was also the visuals that went out about this thing. When somebody talks about it or when they send out a picture, it's really about the cosplay. As much as everything is happening, the attraction and the visual image of what it's about came just from the cosplay side."
M: "Any convention… the biggest cons in the world… whenever there's even one picture of the show, it's about cosplay."
N: "Or they do an album and it's 80% cosplay and artists are like 'Where is my picture?'"
M: "When we interact with non-comic book/non-geek people, the one thing they do seem to be aware of is this thing called cosplay and they actually enjoy it. They don't know anything else, but the cosplay part is the one thing that kind of clicks with them."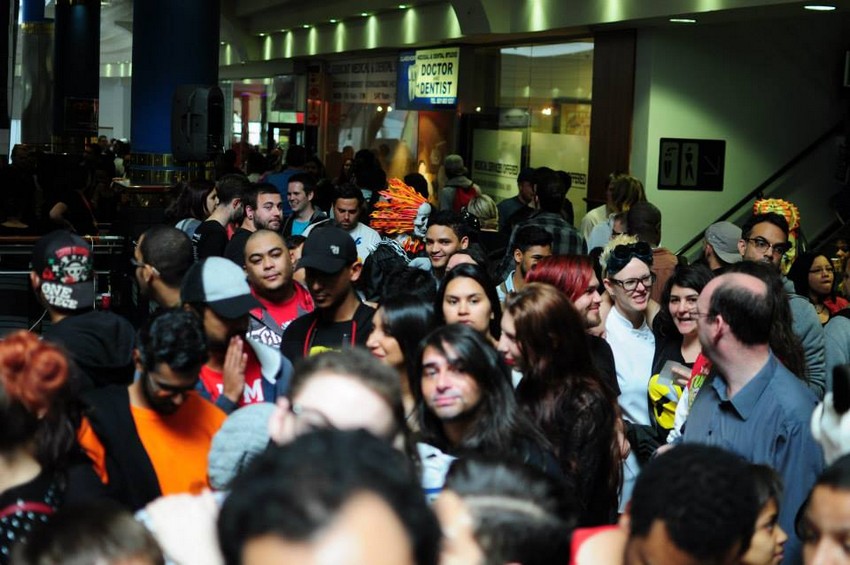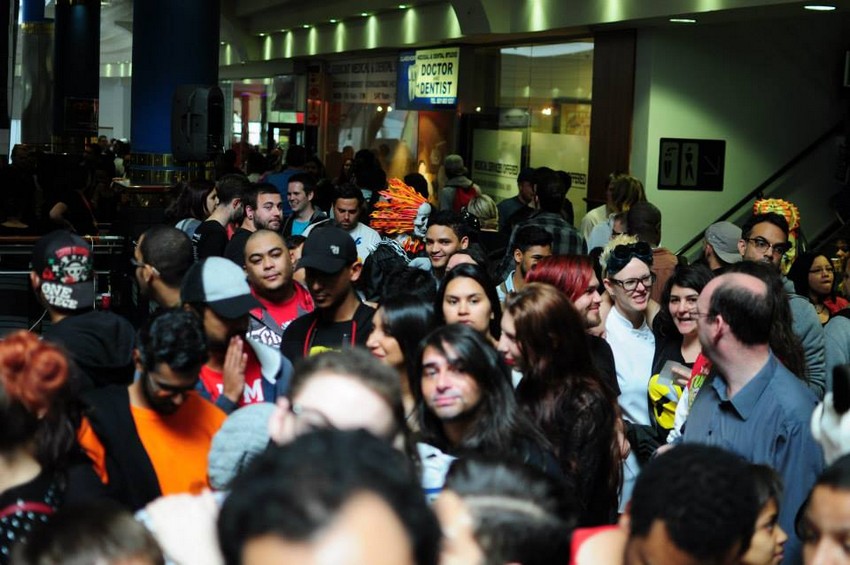 Unfortunately, it was clicking with just a bit too many people. The FCBD celebrations had rapidly outgrown the Stadium on Main atrium outside Readers Den where the event had always taken place. Just getting into the store to get your free comics  involved you joining a queue that had already begun forming in the wee hours of the morning and which physically almost snaked out the doors. Something drastic needed to happen.
N: "The last two [FCBD events] was actually already too cramped. Don't put that in there [laughs]. It was too cramped, it was too full. More people were going to come. Everybody who came said 'I'm definitely coming again next year'. And then it was about bringing more friends and more friends. So there's no way we were going to squeeze in another one in this location.

But also there was this murmur for the last few years while this was happening, that 'We need a con. We need a con'. There was that fake Comic-Con thing. But these things, it shakes you up to see that people are going to use it and maybe do it wrong or somebody is going to jump on it for their own benefit.

So we were pushing for it… I even approached people to say let's do it, and we will back you. At that time we couldn't do it. Financially it was impossible. It was a big investment. So we actually said we would back the right people, if there was an event organizer. I actually spoke to people and there was no takers. As time went on, going over two or three years, where either the wrong people are doing it or people don't want to do it even though we will help them as we have all the contacts and we can at least get this thing going.

Eventually it came down to, well this thing is growing and we are organizing, we're getting the experience of organizing. Let's just step it up. Let's just do it now, you know?"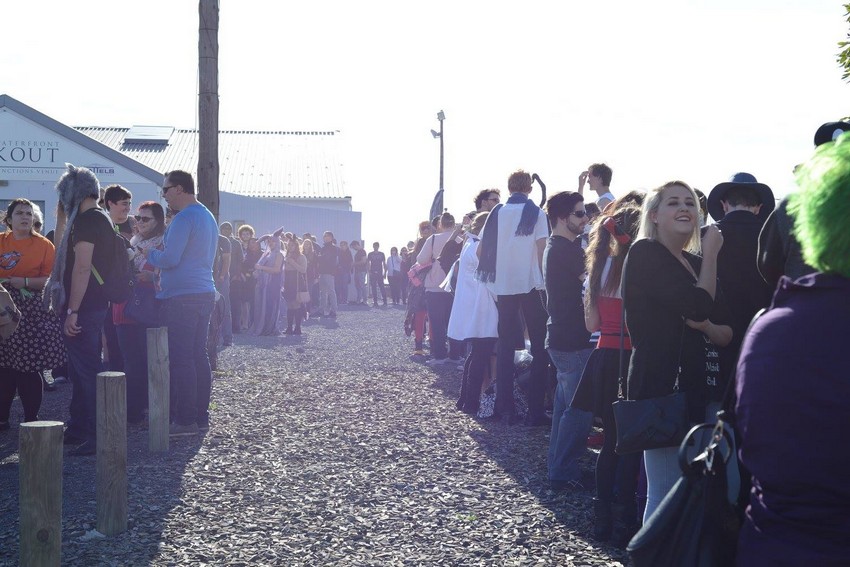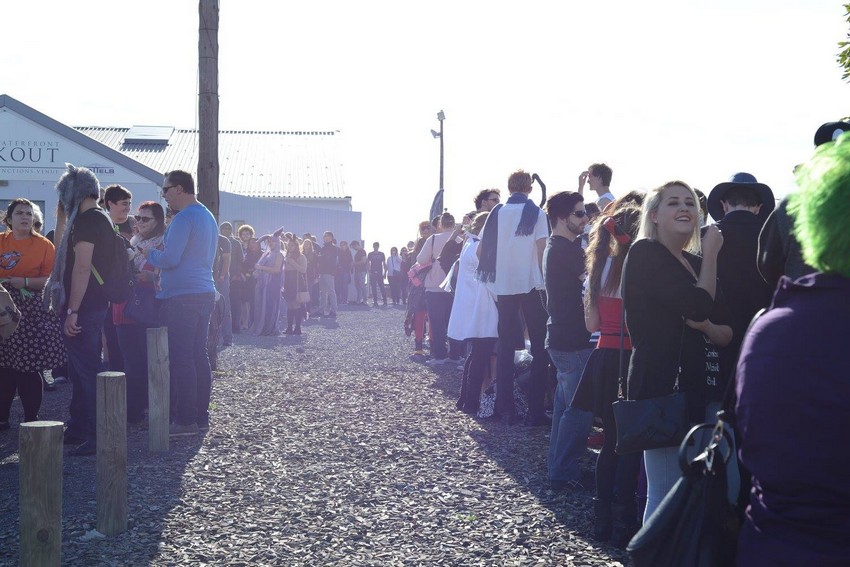 However, just doing it now, despite all the right reasons, was not an easy thing to do as the brothers already had something that worked but they would instead be throwing their energy behind something that had never really been done.
M: "It was a bit of a risk, I must say. We actually sat down long and hard to think about what are we doing. We could be throwing a way a fantastic, successful FCBD event that we built up."
N: "We love the event, we loved the space. We love what's happening here, and we're actually saying let's not do this. Because it's established and successful – people will come here without us even telling them.

And to say let's not do this, that was probably the scariest. To say, 'Lets not do something successful, but rather something that could have the payoff and be more successful.'"
And successful it certainly was. When I showed up at FanCon 2016, hours before the event opened, there was already a lengthy queue undulating down the road next to The Lookout at the V&A Waterfront. And the queue almost never let up for most of the first day, as more and more people tried to get in. About 3,000 people on the Saturday, with another 1,000 added to that number on the Sunday, to be more exact.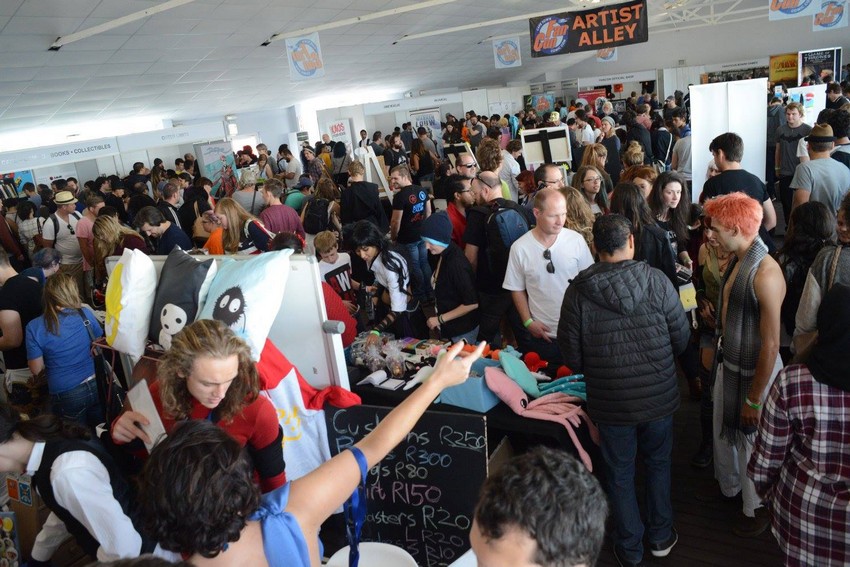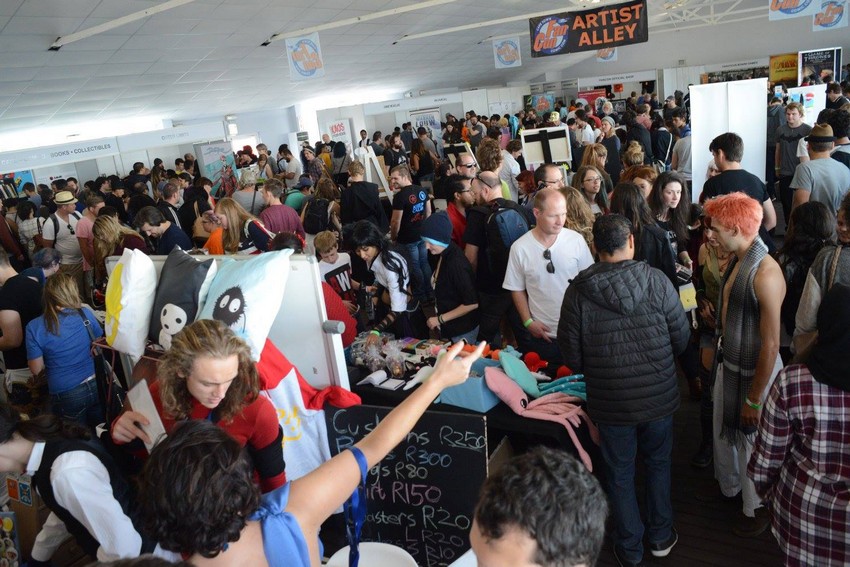 According to Nizar, that was basically the max capacity of the venue which is what resulted in them having to close doors earlier than anticipated as the line sluggishly crept along. There was a very valid reason for the delay though.
N: "The safety officer really was slowing it down. Some things we couldn't control at that point. We saw the queue, we knew what was happening, but it was out of our control. Security was looking at how full it is and then slowing down the door. So it wasn't just 'Why can't people walk in?'. You would expect that there's a certain rate that people can go through a door, but if you slow that rate down, where you let a batch in and then you're at capacity, then wait to let another batch in, then you're at capacity again. Then you've got an issue where the line starts building. It has a ripple effect on the line so it stays like that. It's not ideal, but it's sort of not uncommon at conventions."
This had both a positive and negative impact, as the huge throng of people – many of them in decorative cosplay – attracted the attention of onlookers, but this in turn meant more people trying to get in which resulted in Nizar having to take matters into his own hands.
N: "'Yes, why were people queuing? It must be something important'. So there's a plus side. But I still feel bad for people who waited extremely long. Queuing is okay, but not excessive queuing. I would be frustrated. 

The plus side was that once you were in it paid off. It's just the people that turned around. We feel bad for those guys. If you did turn around if you didn't get in.

Fortunately what I did, I said anybody with a ticket must get in. This was my no compromise. I said to security on the day that if somebody had bought a ticket before, they're getting in no matter what. Tell me when I must close these doors to the casual person. If that be it, rather do it now. And that's what I did at about 2 PM. I went outside and started managing the line for people who came up and said 'Well I don't have a ticket, can I still go?' And I said 'No. We're closing Computicket. But if you have a ticket you will get in, stand in the line'. That's what I did personally outside on the afternoon, because it got to a point where you have to manage this thing or it could get out of hand. It could go into the negative. In the morning, I think it was a bit of a negative on social media. But it's things that were out of our hands and things we didn't expect."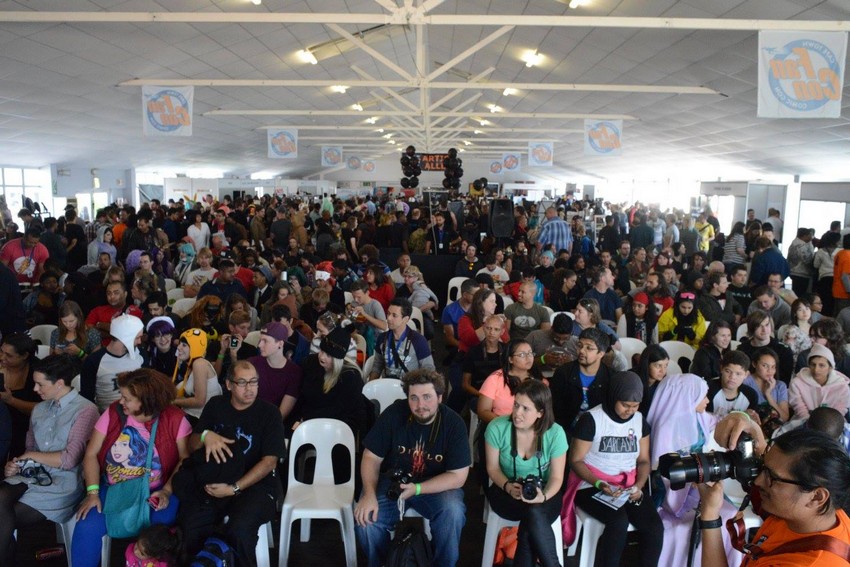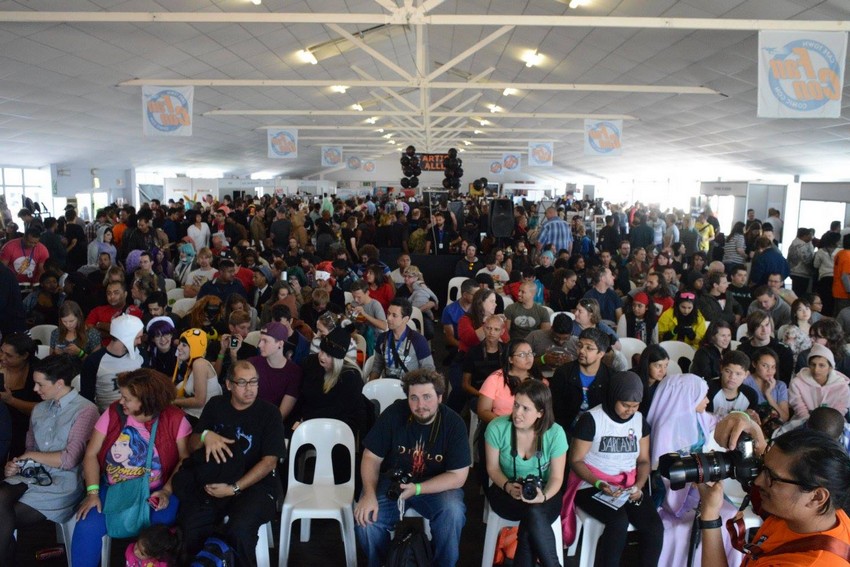 The biggest unexpected thing? Just how many people actually did show up on the day.
N: "

You know ticket sales before wasn't that good. So it wasn't to say there was a sign that it was going to explode. And we didn't know how much media buy-in there was. Media buy-in really happened in the last week or two and that obviously jumped it also."
M: "We were thrown a bit of a curve ball because your ticket sales don't give you that unique head count."
N: "Two weeks before it was just a blip on the Computicket system. It was nothing. Then a few days before we checked… Yoh, there was a big jump. Then on the day it was just more insane. Then from there we could see that within a week ticket sales had skyrocketed. So something had obviously happened, media had picked it up and word gets out, there was articles on stuff. I think we were on TV a few days before and there were newspaper articles. And this was all just a few days before. So it's things you can't account for, in the sense of 'Are these things going to happen? Will there be coverage? And what is the response of the public to that coverage? Will they react? Will they come check it out?' There's a surprise element."
It was also surprising that this many fans were willing to jump on board with this, seeing as FCBD – which had previously been held on the same day in May every year – had not charged a cent before.
M: "The thing you must remember, FCBD was a free event right, and we were telling people that at least we are stepping up this whole thing, but now you suddenly have to pay. We had about 2000 people for FCBD, but now we're saying we want more people and we also want them to pay. You got to really now ask if this is going to work. 

We had people asking 'Why must I pay for FCBD now?'" 
N: "But the elements… we still were going to give out free comics, but it's not FCBD anymore. Hence the brand change [to FanCon], not to confuse everything."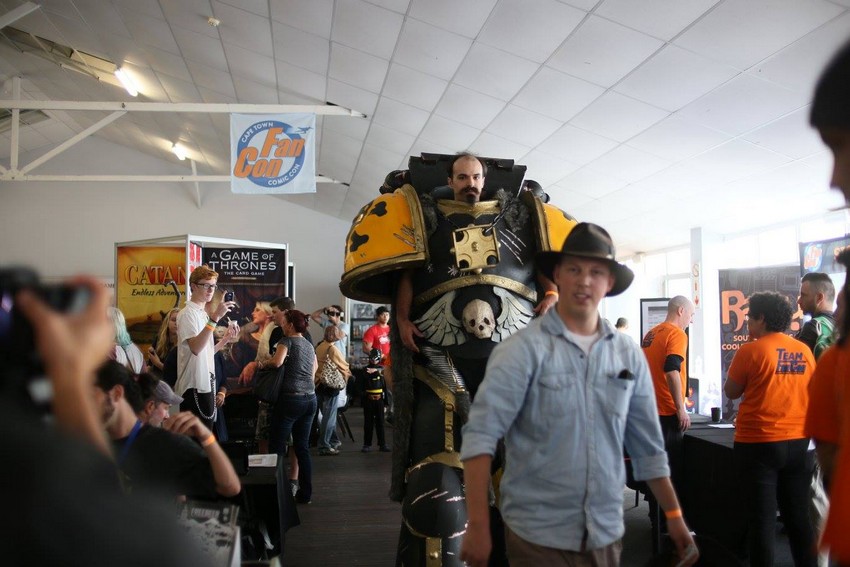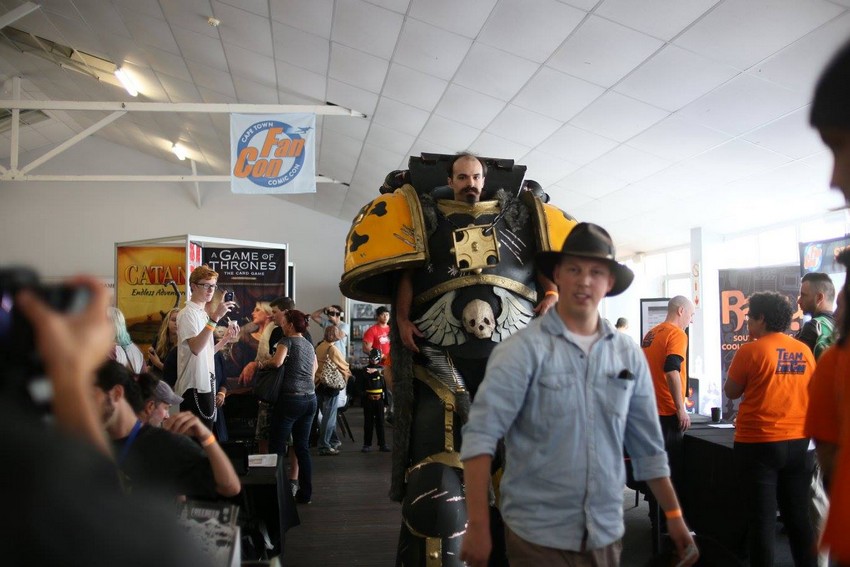 M: "That's why this year, we deliberately did not choose the date to be on the FCBD weekend. Last year that was deliberately done to bridge the gap. To use the platform of FCBD to kick off… To carry over those people, we had to pick the same date on that first year…

But from the start the idea was, after that year, after last year, the idea was not to mix up the two dates. They will never be the same dates again. We want to make this two separate events
N: "[So FCBD is still] going to happen the next week. But it's more the handover of free comics and your store discounts is there. And little incentives when you purchase a certain amount, like you had in the store in the old FCBD, but none of the outside activities, which is available to you at FanCon basically."
As to what is available to you at FanCon 2017, you'll have to check back tomorrow for Part 2 of the interview. Nizar and Mahdi also detail their new approach to cosplay competitions, and let us in on some of the trade secrets of how they're luring these big name comic book celebs to our shores. And finally we'll have an exclusive on the brief controversy surrounding the mixup with the now cancelled rAge Cape Town 2017.
Last Updated: April 21, 2017