You may recall an unfortunate incident from 2013, where South Africa was promised that its very first proper comic book convention would be hitting Cape Town, only for us to discover that the organizers of said event were firmly putting the con in Comic-Con. But when the folks at Readers Den – who have been putting on incredible, constantly larger Free Comic Book Day events for years now already – announced that they were going to give us a comic book convention, we were pretty excited. And damn, it really did not disappoint!
Hosted at The Lookout events venue at the V&A Waterfront, FanCon 2016 (as it came to be called) ran this Saturday and Sunday, drawing in a massive crowd. No, seriously, nobody thought it was going to be this massive, as queues started forming two hours before opening at 10am and stretched out in front of the venue, snaking a few times around the assembled food trucks outside, and then going around the corner and off into the distance down the road! And the queue stayed that long until well into the afternoon. In short: it was jam-packed!
And for very good reason, as the venue was stacked to the brim with all kinds of exhibitors and vendors, selling and showing off their geek paraphernalia, from jewellery to clothes to classic action figures and more. And in-between these were found the local artists and comic book creators showing off their amazing creations as well. Not to mention the boardgame and collectible trading card game section that took up one whole corner of the event, as well as the comic book vendors like the aforementioned Readers Den and more selling their wares.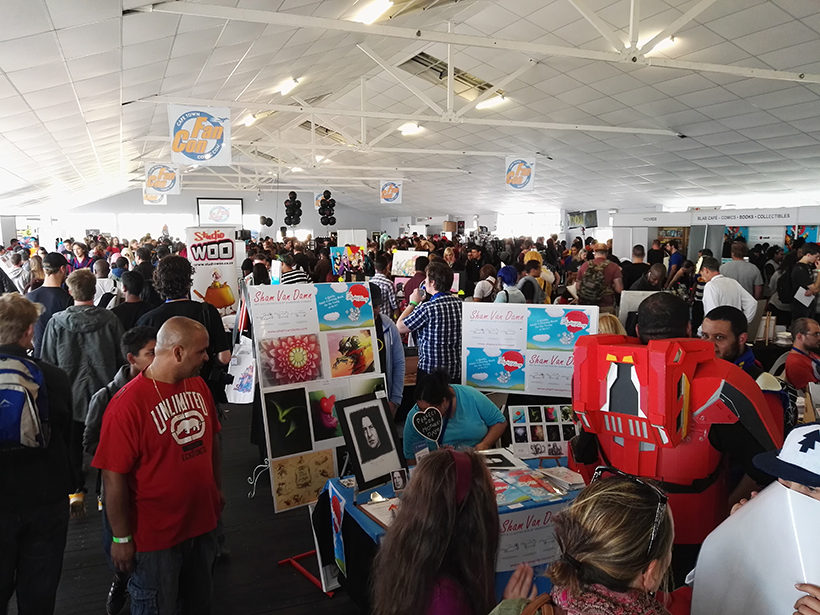 There was literally something for everybody, and I saw plenty of people walking out with custom art prints, graphic novels, action figures/statues, clothing, etc. But as good as those were, the main draw of FanCon was undoubtedly the unprecedented amount of comic book talent the organizers had managed to secure for the event's numerous panels and signings.
The top attraction of this group was definitely the trio of acclaimed international comic book creators Jason Aaron (writer: The Mighty Thor, Scalped, Star Wars, Wolverine), Jamie McKelvie (artist: Phonogram, Young Avengers, The Wicked + The Divine) and Ian Churchill (artist: Teen Titans, Supergirl, Marineman). These are bona fide A-list comic book celebs who have done extensive work for Marvel, DC, Image and more over their careers.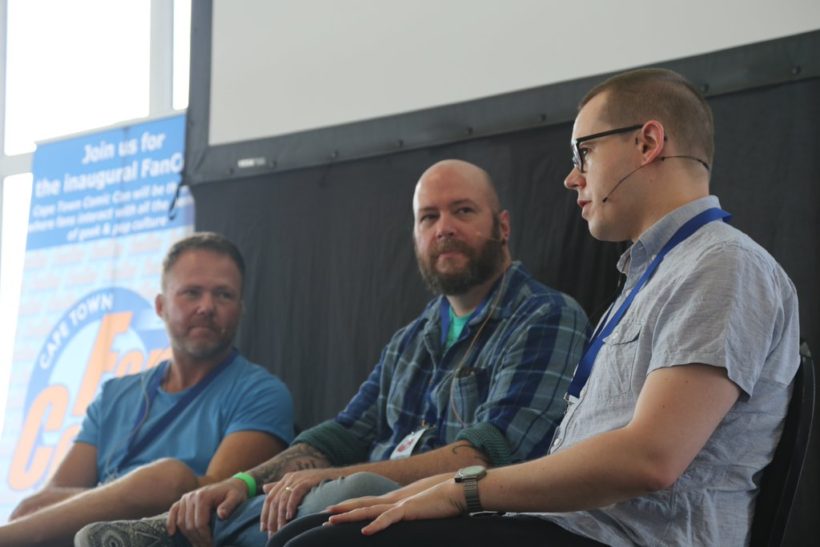 Bolstering their star power was a list of local creators who have also broke out on to the big international scene, like bestselling author Lauren Beukes who has also been writing comics like Vertigo's Fairest, and who with frequent collaborator Dale Halvorsen created Survivors' Club. There's also local artist Jason Masters, who has been quietly making a huge impression on the international scene with his work in James Bond 007, Batwoman and more. Fan favourite artist/writer Sean Izaakse of Stray and Pathfinder fame, was also in attendance, alongside Anton Kannemeyer, the legendary co-creator of South Africa's famous Bitterkomix and illustrator Warren Louw, who has done work for Udon's Darkstalkers graphic novel and DC's Power Girl. And those were just the people whom I had time to see, as there was still a whole lot of others!
Happy #FCBD from Cape Town, South Africa. @FanConComicCon is packed. pic.twitter.com/NHSblHY96g

— Jason Aaron (@jasonaaron) May 7, 2016
All the guests participated in a series of highly informative, and often very entertaining panels and workshops, talking about a range of topics. These include Aaron, McKelvie and Churchill discussing their creator owned work at Image Comics, Izaakse and co breaking down and providing insight into the process of creating comics in South Africa, artists elaborating on how working digitally has changed the industry, Beukes and Halvorsen discussing how 1980's horror movies influenced their comic, and a whole lot more.
The panels were split between the Lookout's main stage area and a smaller, more intimate panel room, but were all led by great local moderators, engaging their guests with much success, and also allowing Q&A's to allow the audience to ask some of the favourite comic book creators any burning questions. Out of these Q&A's we also actually learned a few interesting tidbits of info:
If you were wondering what happened to the Odinson after the events of Secret War, Jason Aaron is working on something big in the pages of Mighty Thor to happen soon
Aaron also intends to write Star Wars as long as possible, but he doesn't know what they will do once they exhaust the stories they can set between Episodes IV and V
The Wicked + The Divine should run for between 30 and 50 issues (probably somewhere in the middle) and will be the last big comic book thing Jamie McKelvie and Kieron Gillen do together. McKelvie wants to branch out into other avenues and is working on directing a music video
Jason Masters broke into DC Comics just by being lucky enough to meet artist Ethan Van Sciver and impressing him with his portfolio
Bitterkomix vol 17, the first edition in years, was unveiled at FanCon. It will be featuring a list of fan favourite returning creators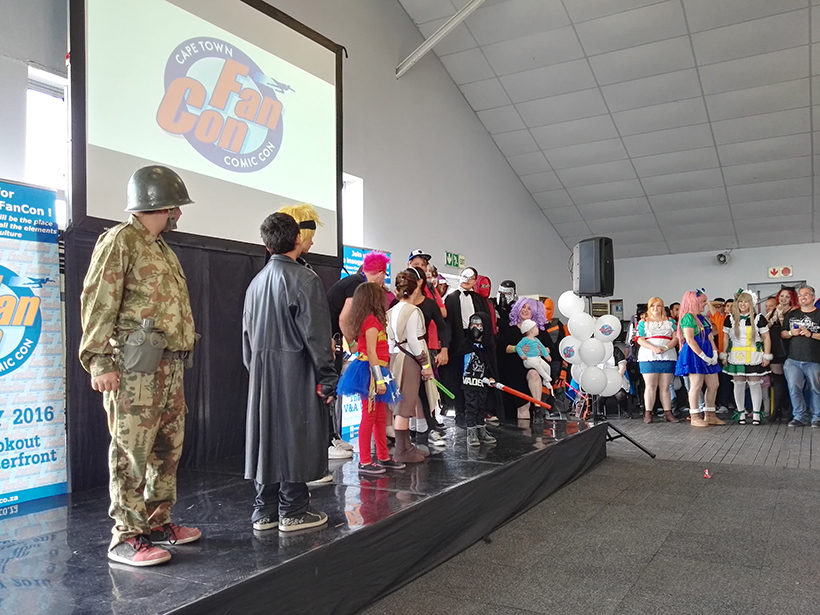 Those were only some of the highlights, with plenty more cool moments peppered throughout the two days for fans to pick up on. That is of course when they weren't too busy ogling all the incredible cosplayers and their colourful creations. The Reader's Den FCBD cosplay parade had become an institution over the years, and this year, on the biggest stage it's ever had, it didn't drop the ball at all. Cosplayers of all ages packed out the venue with their oftentimes crazy but always highly creative costumes, with some even being lucky enough to meet the actual folks who created their characters. And for newcomers, there were even cosplay panels held to teach folks all about how to get into this fun pastime.
On top of all of that there were still geek quizzes (with the lucky winner walking away with a brilliant Boba Fett Sideshow Collectible statue), anime screenings, dance displays, an artist alley and signing booths where you could meet and greet the creators and get them to autograph your books for you!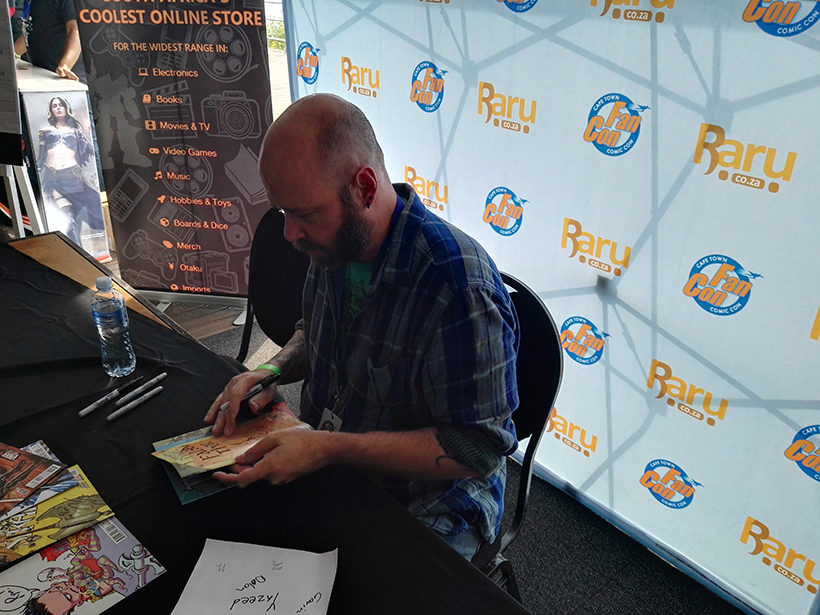 There were a few minor technical glitches experienced in the day with the main stage's audio setup, but barring that, the inaugural FanCon was a smashing success! The coup of nabbing so much international and local talent really elevated this event to unlike anything of this nature that we've had grace our shores before. My only criticism is actually the one type of criticism the event organizers probably want to hear: They are definitely going to need a bigger venue next year as this thing is undoubtedly just going to keep getting bigger!
Last Updated: May 9, 2016