WWE Smackdown Live took place from the Spectrum Center in Charlotte, North Carolina. Here's all the action that went down ahead of Sunday's Survivor Series event.
Daniel Bryan returned to welcome new WWE Champion AJ Styles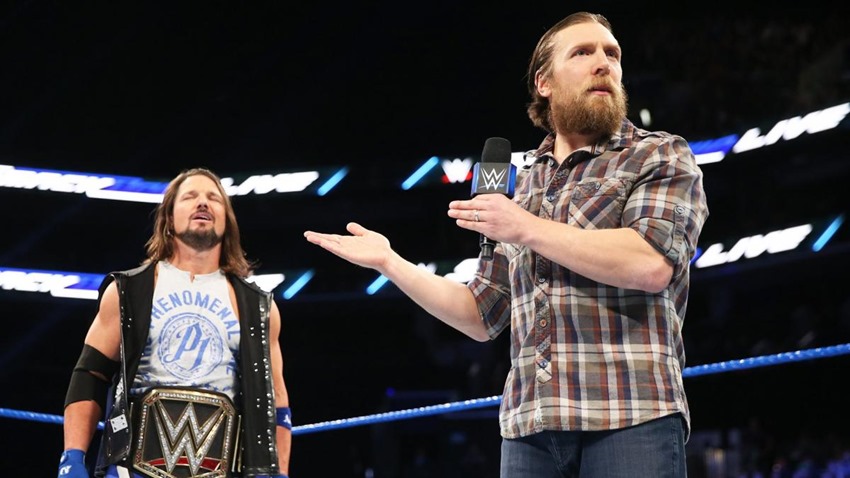 Three weeks after falling victim to Kane on RAW, Smackdown LIVE General Manager Daniel Bryan was back and ready for action in the war against Team Red, as he assured the audience that the blue brand would be ready for any counterattack and would emerge victorious at Survivor Series. Bryan then brought out new WWE Champion AJ Styles, as the two discussed their game plan for dealing with the beast incarnate known as Brock Lesnar in the champion vs champion match that kicks off this Sunday.
Styles admitted that even as WWE Champion, many saw him as the underdog but he wasn't going to turn tail and run away. Something that Lesnar will learn the hard way when the two clash this Sunday.
Baron Corbin def. Sin Cara to retain the United States Championship
After duelling back and forth in explosive matches that had no definitive outcomes thanks to disqualifications and walkouts, Baron Corbin and Sin Cara finally settled their feud in the ring to discover who was truly worthy of being the United States Champion. With an End of Days finisher, Corbin came out on top and will now head to Survivor Series to face RAW's Intercontinental Champion The Miz.
It's Lone Wolf vs the Miztourage however, because the A-Lister seldom heads into a match without backup.
Charlotte Flair def. Natalya to become SmackDown Women's Champion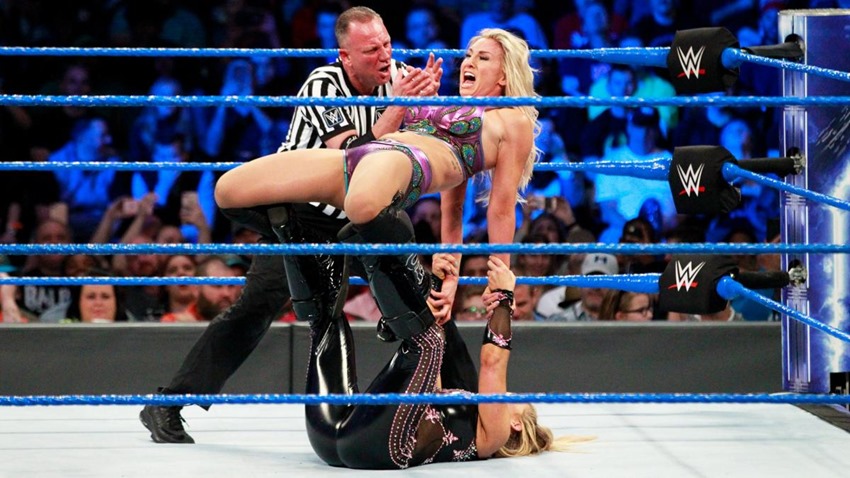 Smackdown LIVE needed a women's champion to face off against RAW's reigning champ Alexa Bliss at Survivor Series, and Charlotte Flair answered the call. Once again battling her eternal nemesis Natalya, Charlotte Flair fought tooth and nail against her rival, eventually trapping the Queen of Harts in a Figure-Eight Leglock to secure the win and the belt via submission.
An emotional match, Charlotte Flair's victory wasn't just dedicated to her father Ric Flair, but was celebrated with him when the Nature Boy appeared on the stage.
Jimmy Uso def. Chad Gable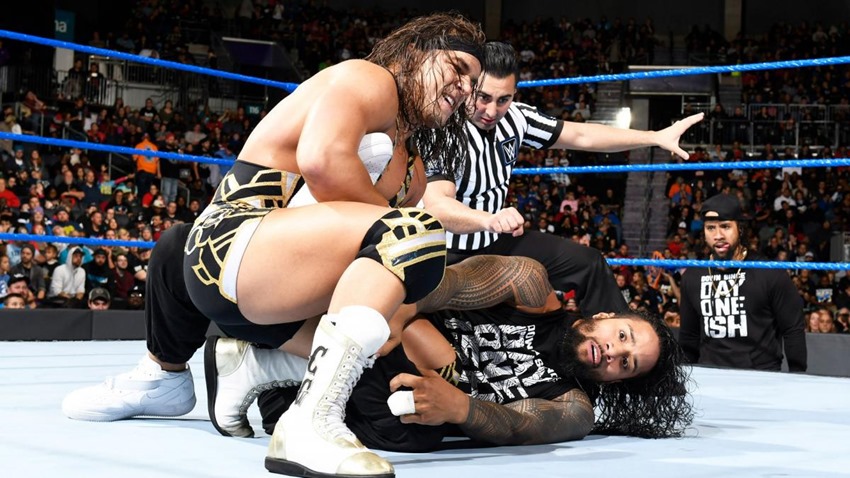 While Cesaro and Sheamus may have their hands full when they step into the Uso Penitentiary this Sunday, Smackdown LIVE tag team co-champ Jimmy Uso found more than he bargained for when a singles match against challenger Chad Gable kicked off. Jimmy Uso eventually prevailed however, securing victory with a Superkick and paving the way for a RAW showdown this Sunday.
Raw launched a vicious counter-siege on SmackDown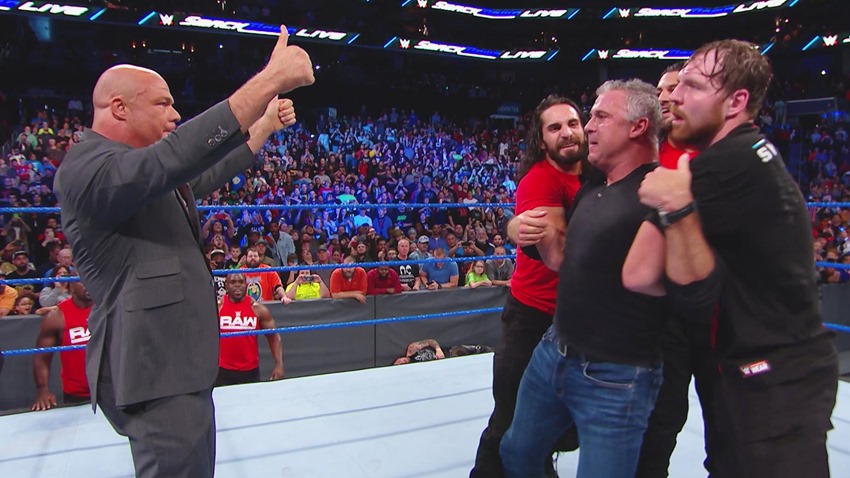 For weeks, RAW has been plagued by Smackdown LIVE invasions that have cost champions their titles and left superstars injured in the wake of a team blue assault. Smackdown LIVE got a taste of their own medicine last night, as a match between Sami Zayn, Kevin Owens and The New Day was quickly interrupted by The Shield.
The Hounds of Justice were out in full force now that Roman Reigns had returned, surrounding the ring as Zayn and Owens got the heck out of dodge. While The Shield launched the first salvo, the rest of RAW pounced: Sheamus and Cesaro found their mark on the Usos, Alexa Bliss blindsided Charlotte as the RAW women's division clashed with their Smackdown LIVE counterparts and the rest of RAW arrived to face off against their rival brand.
Evenly matched at first, it was the Gift of Destruction that turned the tide on the night as Braun Strowman demolished every superstar in his path. Smackdown LIVE commissioner Shane McMahon was held down by The Shield as RAW General Manager Kurt Angle arrived, giving the hounds a message to pass on to the younger McMahon…via a Triple Powerbomb of course.
Showing that he was still in fighting form, Angle punctuated that message with an Angle Slam, as Smackdown LIVE went off the air with Shane receiving another Triple Powerbomb.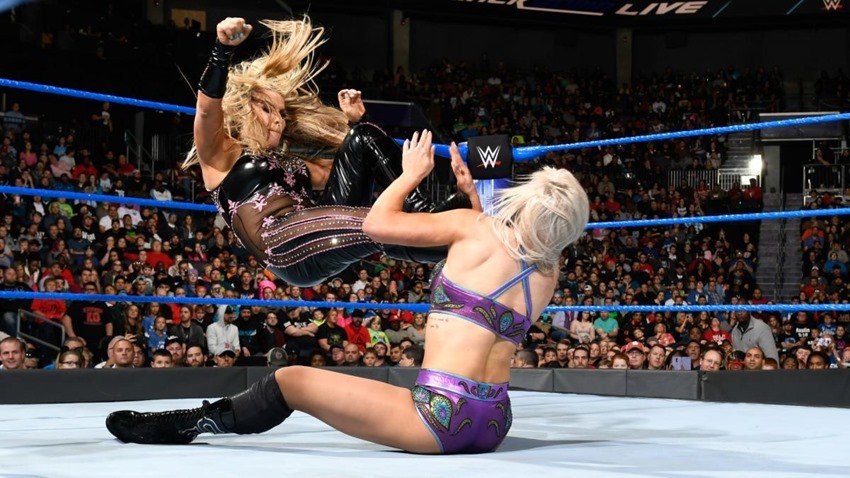 Last Updated: November 15, 2017