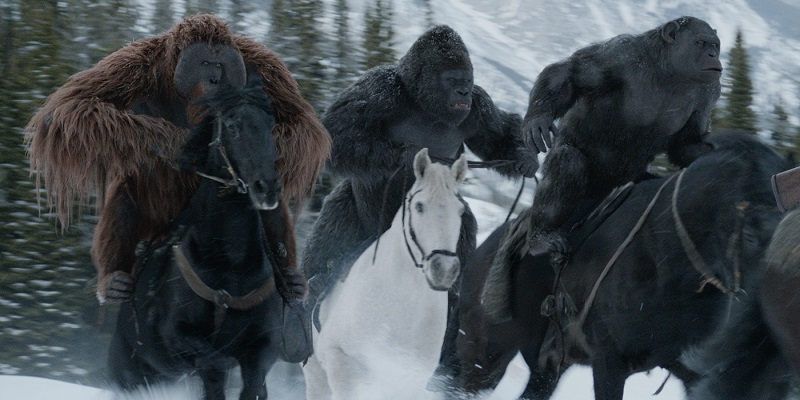 We can get incredibly hyped about war films these days, especially when that war is proceeding by 'star'. However, if there is another war film that is worth looking out for, it will be the concluding film of the recent Planet of the Apes trilogy, The War of the Planet of the Apes. Few would've seen this trilogy coming, but the series has so far shown us more emotional depth and incredible character building to go along with its epic action scenes than most movies can dream about. Or to compare it to the Transformers, watching 5 minutes of these apes will likely bring more out of you than 3 hours of robots blowing each other up for reasons we've long since stopped caring about.
Director Matt Reeves proved with the sequel that sequels can sometimes be better than the originals. And so far, with what we've seen about this film, they could be raising the bar even higher this around. Early hints of those that claim to have seen the film have started leaking with many proclaiming the film to be one of the best of the year so far. It's a little speculative with reviews formally embargoed for the time being, but with Matt Reeves directing and the likes of motion capture maestro Andy Serkis reprising the role of Caesar, I wouldn't bet against it.
A new clip from the film has dropped showing Caesar going face to face with Wood Harrelson's Colonel and again reveals some of the depth we can expect from the acting in this film, let alone the incredible battle scenes already teased in the film's trailers:
War of the Planet of the Apes is releasing on Jul 14th and also stars Steve Zahn, Terry Notary and Karin Konoval. With Christopher Nolan's own upcoming war film, Dunkirk coming not too long afterwards, it would be an interesting chance to see which of the two is truly mankind's greatest war. Against the Nazi forces of World War 2, or the uprising of mankind's own dark ways with the apes. Personally, I'm torn but can't wait to find out.
Last Updated: June 20, 2017