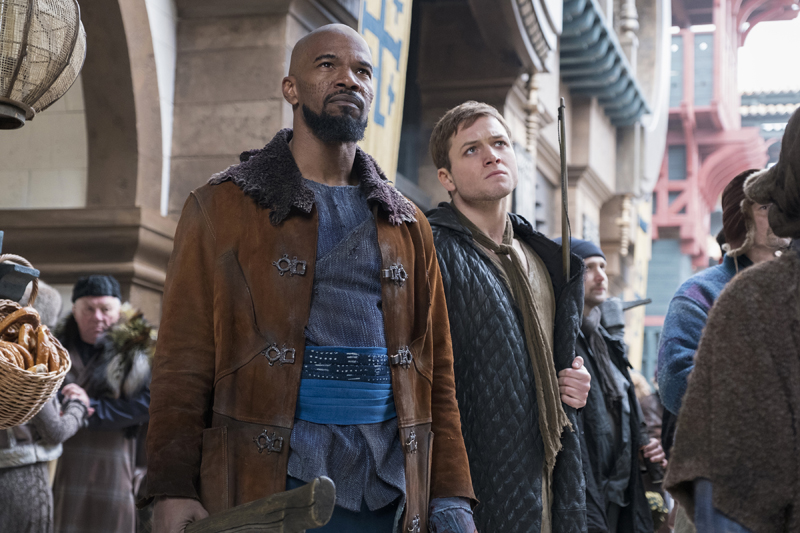 You probably noticed that we weren't around much for the last three weeks as we took a much-needed break from the hustle and bustle (Editor: "Hustle" and "Bustle" is actually code for Darryn and Nick). And while we embarked on a very successful mission to turn ourselves into beings comprised of at least 70% trifle pudding, the entertainment biz didn't slow down which meant that news, trailers and the like were still being released. If, like us, you couldn't look up long enough from another plate of festive food to check them out, then don't worry, we got you covered!
So here's a quick round-up of any TV and movie news and trailers which you may have missed over the last few weeks so that you can start off 2018 all caught up on the latest out of Hollywood.
First red-band trailer for Amazon Studios' Gringo starring David Oyelowo, Charlize Theron, Joel Edgerton, Amanda Seyfried, Thandi Newton, and Sharlto Copley. Scheduled for release on 9 March 2018.
Combining dark comedy with dramatic intrigue, Gringo joyrides across the border into Mexico, where all is not as it seems for mild-mannered American businessman Harold Soyinka (David Oyelowo). Crossing the line from citizen to criminal, Harold tangles with duplicitous business partners, Mexican drug lords, international mercenaries, and the DEA. As he attempts to survive in one of the most dangerous places on earth, the question lingers: is this ordinary man in way over his head, or is he two steps ahead?
Netflix reveals 30 March 2018 release date with new teaser trailer for season two of A Series of Unfortunate Events, starring Neil Patrick Harris, Malina Weissman, Louis Hynes, Presley Smith, K. Todd Freeman, and Patrick Warburton.
We're actually making a totally different film with a lot of the same, similar like things that we love, but it's its own movie completely, so it's not 'two' to us," Jenkins said. "It's an entirely new adventure together that we couldn't be luckier [to do].
First trailer for Kickboxer: Retaliation starring Alain Moussi, Jean-Claude Van Damme, Christopher Lambert, Mike Tyson, Sara Malakul Lane, Jessica Jann, Hafþór Júlíus Björnsson, Steven Swadling, and Sam Medina. Scheduled for release on VOD on 26 January.
One year after finding vengeance for his murdered brother, MMA champion Kurt Sloane finds himself back in Thailand kidnapped and imprisoned there by a powerful gangster (Lambert). His only shot at freedom is to win an underground death match against a 400lb killer enhanced with state – of the -art drugs (Game of Thrones' Björnsson). To make it out alive, he seeks training unlike anything he's ever endured, with the help of the legendary Master Durand (Van Damme) and fellow prisoner Briggs (Tyson).
Angry fans' march on Warner Bros. HQ to demand a Zack Snyder cut of Justice League be released was not quite as impressive as they may have hoped.
Amazon shuts down controversial Anime Strike service and now includes anime streaming in Amazon Prime subscription.
First trailer for Mamma Mia! Here We Go Again starring Meryl Streep, Pierce Brosnan, Colin Firth, Stellan Skarsgård, Julie Walters, Dominic Cooper, Amanda Seyfried, Christine Baranski, Lily James, Josh Dylan, Hugh Skinner, Jeremy Irvine, Alexa Davies, Jessica Keenan Wynn, Andy Garcia and Cher. Scheduled for release on 20 July 2018.
Get ready to sing and dance, laugh and love all over again.

Ten years after Mamma Mia! The Movie grossed more than $600 million around the world, you are invited to return to the magical Greek island of Kalokairi in an all-new original musical based on the songs of ABBA. With the film's original cast returning and new additions including Lily James (Cinderella, Baby Driver), the musical comedy will open on July 20, 2018.

Reprising their roles from Mamma Mia! The Movie are Academy Award® winner Meryl Streep as Donna, Julie Walters as Rosie and Christine Baranski as Tanya. Amanda Seyfried and Dominic Cooper reunite as Sophie and Sky, while Pierce Brosnan, Stellan Skarsgård and Oscar® winner Colin Firth return to play Sophie's three possible dads: Sam, Bill and Harry.

As the film goes back and forth in time to show how relationships forged in the past resonate in the present, James will play the role of Young Donna. Filling the roles of Young Rosie and Young Tanya are Alexa Davies (A Brilliant Young Mind) and Jessica Keenan Wynn (Broadway's Beautiful). Young Sam will be played by Jeremy Irvine (War Horse), while Young Bill is Josh Dylan (Allied) and Young Harry is Hugh Skinner (Kill Your Friends).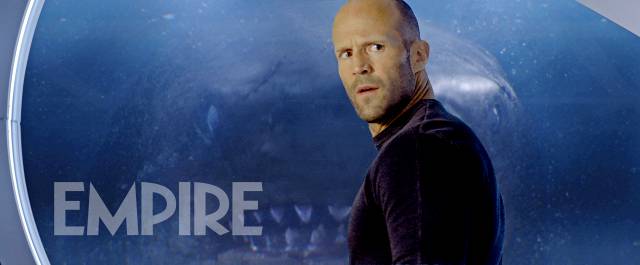 I play a former navy captain and diver and I get hired to rescue a team of scientists who are trapped at the bottom of the sea in their research station by a giant shark. Then all hell breaks loose…Who doesn't want to watch a film about the biggest shark that's ever existed?
First trailer for BBC series Hard Sun starring Jim Sturgess and Agyness Deyn from the creator of Luther. Scheduled for release on BBC and Hulu on 7 March 2018.
Jim Sturgess and Agyness Deyn play detectives Robert Hicks and Elaine Renko, partners and enemies, who seek to enforce the law and protect their loved ones in a world that every day slips closer to a world-ending natural disaster. Hicks is a family man and a great, committed officer. He's also profoundly corrupt. Renko is a difficult and damaged, but utterly incorruptible officer. Thus, the two cops stand on different ends of the social and moral spectrum and also seriously distrust one other – and for good reason. But they must somehow learn to work together if they're going to survive until the end of the world.
At the end of this movie, it's not a cliffhanger, but it's designed for people to want to know what's going to happen next, whereas the earlier Jurassic Park movies had pretty clear definitive endings. They were much more episodic. In working with Derek Connolly, my co-writer, we were also thinking about where it was gonna go in the future.

I remember telling Steven [Spielberg] even while we were making the first movie, 'This is the beginning. Here is the middle. And here's the end of the end.' This is where we want to go. I feel like that kind of design is crucial to a franchise like this if you really want to bring people along with you and make sure they stay interested. It needs to be thought through on that level. It can't be arbitrary, especially if we want to turn this into a character-based franchise with people who you lean in to follow what they're going to do.
Earth has suffered an environmental collapse; the air became dangerous to breathe, the water became toxic, and billions of people died. Generations later, mankind has finally re-established a rudimentary society, in an attempt to pick up the pieces that continue to blister in the sun. Attica Gage (Gina Carano) is a bounty hunter with a chance at the bounty of a lifetime: to bring down the ruthless outlaw – Elijah Jackson. Gage infiltrates Jacksons gang, and everything is going to plan until she meets a slave girl who reminds her of her dead sister. With her loyalty to only herself now tested, Gage learns there might be more to life than survival.
What happened was I had a dinner with Jerry Seinfeld, who's a friend of mine. I was asking him about the end of the series. I said, 'How did you decide?' And, long story, he kind of said, 'Look, I've always believed, creatively, you should never spend everything… because it's almost Herculean to start up again. You should always have something in the tank. Leave the party before it gets too late kind of theory. And then somehow it spurs you into the next thing.'

…I went home and I said to [my wife] Deb on my way home in a cab… 'This is the last one.' She goes, 'What?' I said, 'I just know this is the last one.' I woke up the next morning with this very strong idea, which [Logan director] Jim Mangold and I had been working on, of treating it not like a comic book movie in any way, treating him not like a superhero but as a human being who's lived a life of violence and let's make a movie about the ramifications of violence. I was thinking The Wrestler. I was thinking Unforgiven… The moment I'd had that thought I was supercharged, super excited, absolutely sure I'd never play it again and very nervous.
First look at Alan Ritchston and Minka Kelly as Hawk and Dove from DC Comics upcoming live-action series Titans.
First trailer for Mom and Dad starring Nicolas Cage and Selma Blair. Scheduled for release on VOD on 19 January 2018.
A teenage girl and her little brother must survive a wild 24 hours during which a mass hysteria of unknown origins causes parents to turn violently on their own kids.
Dirk Gently's Holistic Detective Agency brought together an incredible group of talented, creative people to make something truly original that celebrates how weird and wonderful the universe can be. We are so proud to work with the writers, producers and actors who created this brilliant world. We've seen your passionate social campaigns for another season of Dirk Gently and we regret to say that Season 2 will be the last season on BBC America. We have been so inspired by your rowdy imagination, your wild passion and whip-smart humor. We've tweeted with you every episode, watched you make incredible fan art and most importantly, build great friendships. Dirk Gently fans aren't just great fans, they're great friends, too. You'll continue to find connections, overcome great obstacles, make amends, help others, and create your own family of weirdos, chosen or not. Thank you, Dirk Gently fans, for everything.
Second trailer for Paddington 2 starring Ben Wishaw, Imelda Staunton, Jim Broadbent, Hugh Bonneville, and Sally Hawkins. Scheduled for release on 12 January 2018.
Following the worldwide hit "Paddington," one of the most successful family films of all time, this much-anticipated sequel finds Paddington (Ben Whishaw) happily settled with the Brown family in London, where he has become a popular member of the local community, spreading joy and marmalade wherever he goes.

While searching for the perfect present for his beloved Aunt Lucy's hundredth birthday, Paddington sees a unique pop-up book in Mr. Gruber's antique shop, and embarks upon a series of odd jobs to buy it. But when the book is stolen, it's up to Paddington and the Browns to unmask the thief.
Last Updated: January 8, 2018