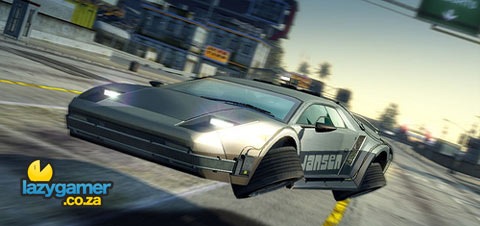 Burnout Paradise is a true example of what it means to improve and support your product with the use of DLC.
This trailer shows off one of the new cars in the Legendary Cars Pack, and if you haven't noticed, it's basically the DeLorean from the Back to the Future movies. Just like the car from the movies, it can fly, well, kind of. It hovers, but to make it even cooler for all of you old school fans it leaves flames behind it, similar to the way the DeLorean did in the movies.
Check the trailer out, after the jump.
The pack is quite interesting as it is bringing a whole bunch of legendary cars into Burnout, although they are all knock-offs, which doesn't really kill the cool factor to be honest. If you thought the DeLorean was cool, you should see what else they have included. A Knight Rider knock off, complete with the front red light thing, as well as the Ecto 1 from the Ghostbusters movie and even the long lost twin of the General Lee from The Dukes of Hazard.
If that ain't cool, I don't know what is.
Last Updated: February 19, 2009