And I really do mean ridiculously low.
I had to pop into my local mall to get a few things done yesterday and while I was there I bumped into none other than Werner aka MiNeM, (you know, the dude that runs xbox-360.co.za) and he told me that he noticed that Incredible Connection was selling some Xbox 360 games at ridiculous prices.
So I popped in to go have a look and he was in fact, quite right. But just before I left the store, I noticed a shelf, which had some PS3 games. It was actually thanks to my wife who was attracted by the cute characters, because after she picked the box for LittleBigPlanet up to look at it, I noticed the price.
I couldn't believe my eyes. I took a pic of the box, your won't believe your eyes either. More info about the PS3 and Xbox 360 games sale as well as a pic or two, after the jump.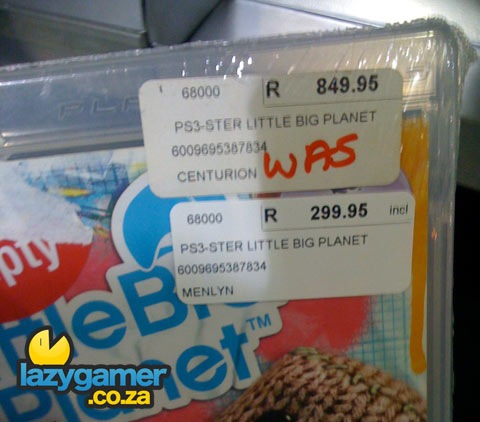 Yes, that's right. the price has been dropped from R849.95 to R299.95.
When I got home I did a little bit of research and found that some folks on the PS3 forums had spotted it as well and that MGS4 was apparently going for the same price. I was in the Menlyn store in Pretoria and I can tell you that the copy in the above photo was the last one, but it was just before closing time, so if you call them right away, you may be able to get them to keep it aside for you.
Can anyone else here confirm if they have spotted any more of these or MGS4 at their local Incredible Connection? If you can, be a sport and let everyone else know as well. Sharing is caring after all.
There were quite a couple of other PS3 games on sale as well, but none as cheap as these that I could see, but you should probably check it out anyway.
As for the Xbox 360 games, here is another pic that I snapped on my phone, and as you can see, it is a fair collection.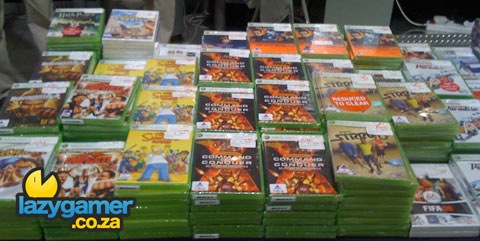 Most of the titles that you see here are going for R199.95 except Facebreaker, which believe it or not is being flogged off for only R99.95.
If you want some new games to play but are strapped for cash, what are you waiting for?
Last Updated: February 19, 2009