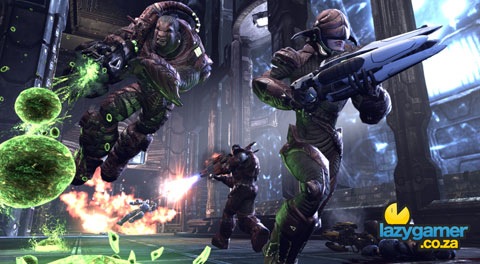 To all of you Unreal Tournament fans, I have some good news and then I have some really great news.
Unreal Tournament 3, or UT3 as most of us know it is going to be getting a pretty hefty pack of goodies in the near future ranging from new maps and modes as well as improvements to the games features and even trophy support for the PS3. This really is quite a staunch pack.
That was the good news. Now for the really great news, can you guess what it is?
That's right, the pack is going to be absolutely free. More details after the jump.
Ok, so here is a list of what will be included in the pack:
16 environments – 4 Warfare, 3 vCTF, 6 Deathmatch, and 3 CTF maps – that are new to the PC and PS3 versions

Three bonus pack maps, CTF-Face, CTF-Searchlight and DM-Morbias (with preview pics)

The namesake Titan mutator, which lets players overwhelm opponents as a 15 foot tall titan, or crush them as a 30 foot tall Behemoth

Greed and Betrayal, two gametypes that breed new-found fervor throughout the competitive UT3 arena

Two powerful weapons, the Stinger Turret and Eradicator Cannon artillery

Two valuable deployables, the X-Ray Field and Link Station

The Slow Field power-up, a portable version of the Slow Field deployable

Stealthbender, a new vehicle that carries two spidermine trap deployables, one EMP mine, and one each of the new Link Station and X-Ray Field deployables

Two new characters, Nova and Kana (Liandri and Ronin, respectively)

57 awards attainable as Steam Achievements and PS3 Trophies

Broad improvements for PC and PS3: Significant AI enhancements, especially in vehicle gametypes; networking performance upgrades; greatly improved menu flow and UI usability; better mod support

Client-side demo recording, highly improved Server Browser, a new maplist system, plus mid-game mutator and gametype voting functionality for PC

High demand PS3 features including PS3 Trophy support, two-player split-screen support, and mod browsing
Now if that isn't a seriously awesome free pack of DLC then I don't know what is. If you want even more details, check out the source at the bottom of this post.
The pack becomes available on March 5th, which is right around the corner! I don't know if it will be available in South Africa yet, but all we can do is hold thumbs and hope for the best.
Source: BeyondUnreal
Last Updated: February 20, 2009