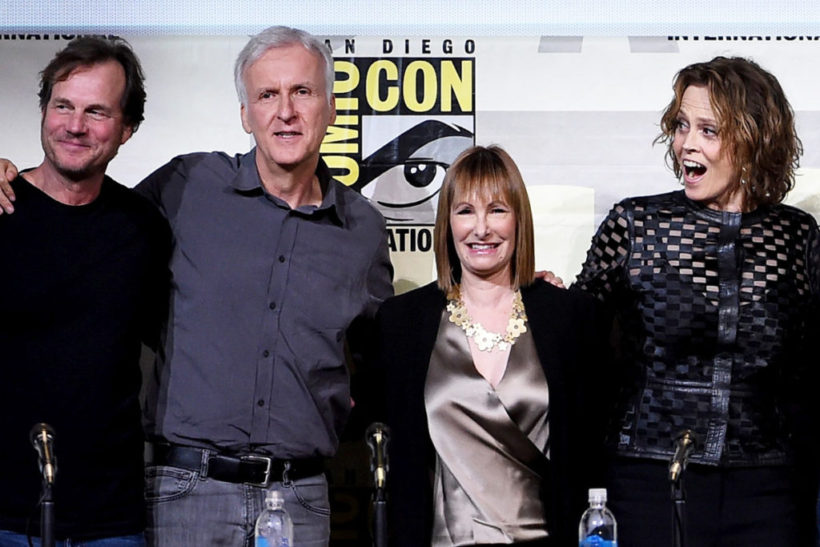 This weekend past at Comic-Con saw the cast and crew behind the Alien franchise gathering together for a special panel to honour the 30th anniversary of director Ridley Scott's acclaimed original film. Since the release of that film, there have been 6 other titles in the franchise and most of them have not been good. One of the most divisive entries was David Fincher's Alien 3, which made the odd decision of killing off fan-favourite off screen, among many other creative choices that earned the ire of fans.
Fans that also included the actual people who worked on these fans, as director James Cameron – who successfully followed Scott's super-tense original film, with his gung-ho sci-action thriller Aliens – explained to the panel audience in Hall H with complete honesty (via io9).
"I thought [the decision to eliminate Newt, Hicks, and Bishop] was dumb. I thought it was a huge slap in the face to the fans. ['Alien 3' director] David Fincher is a friend of mine, and he's an amazing filmmaker, unquestionably. That was kind of his first big gig, and he was getting vectored around by the studio, and he dropped into the production late, and they had a horrible script, and they were re-writing it on the fly. It was just a mess. I think it was a big mistake. Certainly, had we been involved we would not have done that, because we felt we earned something with the audience for those characters."
And if the reports are to be believed, then it's a mess that Neill Blomkamp is hoping to clean up with an upcoming Alien movie of his own. According to early reports, which were then contradicted, and then contradicted again, and finally confirmed by franchise star Sigourney Weaver, Blomkamp's still untitled Alien 5 is set to pick up right from the end of Aliens, completely ignoring the events of Alien 3 and Alien: Resurrection. And it appears Cameron is all in favour of this idea as he has heaped praise on what Blomkamp was doing.
"I think it works gangbusters. He shared it with me, and I think it's a very strong script and he could go make it tomorrow. I don't know anything about the production, and I don't know what Ridley [Scott]'s doing. But hopefully there'll be room for both of them. Like parallel universes."
Cameron certainly knows a thing or two about making fantastic sequels to sci-fi films, have of course also made Terminator 2: Judgement Day. The veteran filmmaker had this advice for whomever also gets to make a follow-up movie.
"I think there's a tricky balance when you're doing a sequel, between making it fresh, surprising the audience, but not surprising them with such a swerve that they feel that it's not honoring the first film. You've got to play to expectations, you've got to play against expectations. And I always think that it's about answering a question that you didn't know to ask. But when they see it, it seems obvious."
And in this case, that question is: How can we just forget that we made Alien 3 and Alien: Resurrection?
Blomkamp's Alien 5 currently still does not even have a greenlight yet, as it exists as nothing more than a script and some wishful thinking right now. Meanwhile, Scott himself is still busy expanding the universe as he is currently busy shooting Alien: Covenant, the follow up to 2013's Prometheus (which itself began life as an Alien prequel, before becoming a standalone spinoff and then back to being a prequel again. Sort of. It's all a little muddled).
Check out highlights from the Alien 30th Anniversary panel below.
Last Updated: January 4, 2017