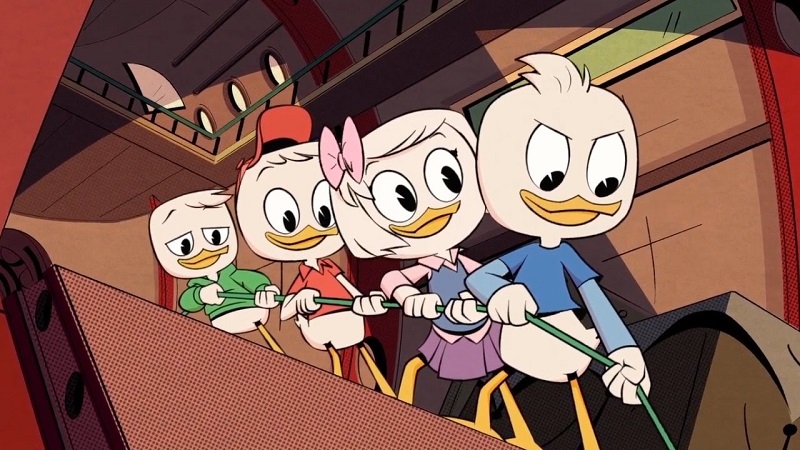 I'm not one to watch kids shows on TV and would like to think that most adults outside of Darryn have moved on to different things. However, I am surprised at just how much excitement people have for the upcoming DuckTales reboot. It's amazing what a healthy dose of nostalgia can do. Despite this hype though, we haven't been hearing an awful lot about the series which is scheduled for release on Disney XD on August 12, 2017.
Thankfully, we can now get a better idea of what to expect from the show, with not just one, but two new scenes to enjoy. If you are one of those fans of the original show, then you're in luck because these clips play out exactly like you would expect them to. Prepare for your nostalgia high to kick in even more:
If anything, the only thing that stands out as a sharp difference from the original series is that this time around there is even more characters who will participate in many of the family's adventures, especially Donald Duck who is likely to feature more prominently this time around. The core of the series seems to be intact, the animation somewhat resembles that of the original series, only sharper, the original characters have maintained their personalities and mannerisms and even the theme song has been re-recorded by Felicia Barton. Most importantly though, the fun of that first series looks to have been maintained here as well.
The original DuckTales series followed the adventures of Scrooge McDuck and his grandnephews Huey, Dewey, and Louie as they protected Scrooge's fortune and even attempted to make him richer. Accompanied by goofy pilot Launchpad McQuack, the family faced constant peril, threatened by everything from evil villains to natural disasters to Launchpad's never-ending ability to crash his plane. The successful series lasted for four seasons and 100 episodes, plus a movie.
Last Updated: July 5, 2017