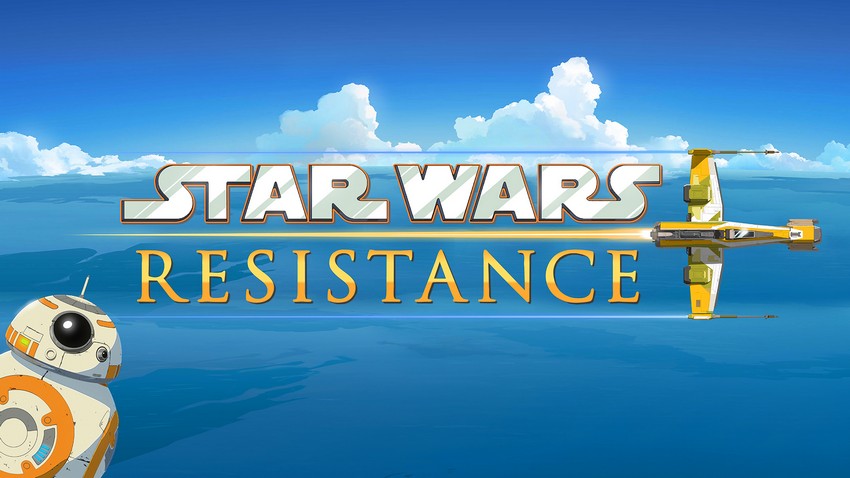 I sense a great disturbance in the Force… and it sounds awesome! StarWars.com has just broken the news that a new "anime-inspired" Star Wars animated series will be debuting later this year. Star Wars Resistance is the latest creation from Star Wars: The Clone Wars and Star Wars Rebels' Dave Filoni and will be debuting in the US fall (i.e. our Spring) on Disney XD.
The series will be set prior to the events of Star Wars: The Force Awakens and will follow the adventures of "Kazuda Xiono, a young pilot recruited by the Resistance and tasked with a top-secret mission to spy on the growing threat of the First Order." Star Wars Resistance will also feature "the beloved droid BB-8 alongside ace pilots, colorful new characters and appearances by fan favorites including Poe Dameron and Captain Phasma, voiced by actors Oscar Isaac and Gwendoline Christie, respectively." Also joining those actors in the voice cast in unconfirmed roles will be Christopher Sean (Days of Our Lives), Suzie McGrath (East Enders), Scott Lawrence (Legion), Myrna Velasco (Elena of Avalor), Josh Brener (Silicon Valley), Donald Faison (Scrubs), Bobby Moynihan (DuckTales), Jim Rash (Community), and Rachel Butera (Tammy's Tiny Tea Time).
This sounds like the closest we've come thus far to seeing an on-screen adaptation of the old X-Wing: Rogue Squadron books and video games, but according to Filoni, "The idea for Star Wars Resistance came out of my interest in World War II aircraft and fighter pilots."
My grandfather was a pilot and my uncle flew and restored planes, so that's been a big influence on me. There's a long history of high-speed racing in Star Wars, and I think we've captured that sense of excitement in an anime-inspired style, which is something the entire team has been wanting to do for a long time.
Filoni's previous Star Wars shows have all been traditional CG affairs, so this pivot to a more anime style will be intriguing. It's actually something that fans have been dabbling with unofficially for ages as Star Wars' universe and story lends itself so well to anime storytelling. Probably the most well-known example of this is fan OtaKing7707's 2015 TIE Fighter anime fan film.
While I doubt Filoni and co will be pushing the anime envelope that far, based on the single released pic above and the fact that they will definitely try to maintain a sense of cohesion with the rest of the universe, adding a new flavour into the mix is always welcome. The Star Wars universe is so potentially big and varied that there are endless stories to tell in endless ways, as long as you hit certain key elements. Disney XD general manager Marc Buhaj highlighted some of these.
Our colleagues at Lucasfilm have created a compelling narrative for an untold moment in the Star Wars galaxy, and we are excited to partner with them again on this new original series. Star Wars Resistance will bring viewers across generations an engaging story with heart, humor and both new and familiar characters.
As a gigantic fan of anime, Star Wars, and Dave Filoni's previous work, I'm seriously hyped to see Star Wars Resistance. There's just one problem. If Filoni is busy working on this, that means he's not working on whatever will follow-up the recently completed Star Wars Rebels. And there HAS to be a follow-up as that show's ending was just far too setup-y in the all right ways for them to just abandon those characters. Who knows, maybe young Kazuda Xiono runs into a certain ex-Padawan and Mandalorian warrior on their quest to find a lost Jedi?
Last Updated: April 26, 2018