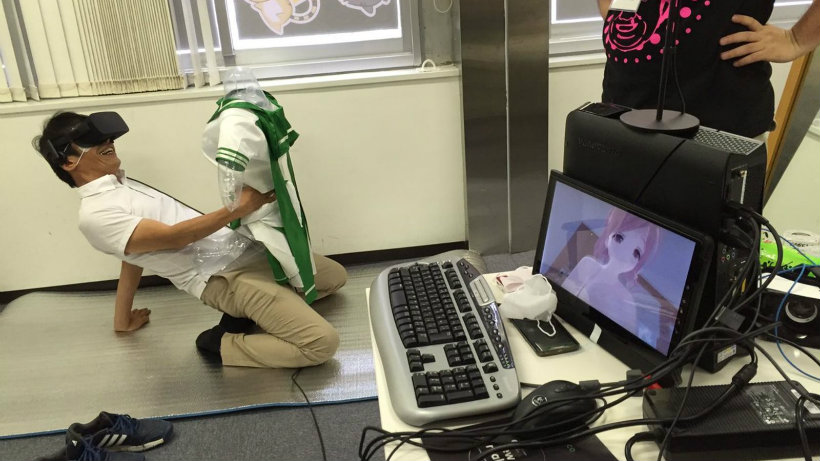 Right now, one of my favorite events of the year is taking place in LA. It's an exciting event that gives me hope for the future. In Japan, another exciting event took place over the weekend, but it's rather different. The Adult VR Festival kicked off in Tokyo, and it drew in quite a crowd. But it's what was going on inside that might raise some eyebrows. Warning, while there's no nudity in this article, your boss still might not approve.
We all know that any new technology will be used for porn and other adult entertainment, right? But when we actually see it, it can be so much stranger. First up, there are these titillating images.
AR+VR?????????????????????????VR???? ?? @noda pic.twitter.com/EGuEOfq35T

— ??? (@mikamiyoh) June 12, 2016
?????VR?????VR?????????????? pic.twitter.com/T4Dhq7y4VL

— ??? (@mikamiyoh) June 12, 2016
Okay, so using VR to feel fake breasts is pretty weird, but I could actually see some nice uses for the option to see what it's like to have breasts yourself. For those experiencing transgendered questioning, this could be useful in therapy to understand what it would feel like to be a woman as a man or a man as a woman as a step towards transitioning. Or, you know, it could just be used by horny straight men who want an excuse to feel fake boobs.
But then things seemed to get… different. Here is the demo video where the header image was created.
This sort of reminds me of stories of the Roman Empire before it collapsed. Have we become so out there that the only place for our civilization to go is down? Is this the beginning of the end? What did I just watch? I really try to never judge anyone's sexual proclivities – if it makes you happy and everyone involved consents, go wild. But this just makes me feel yucky. Maybe it's the outfit on the plastic doll – he can't what she looks like anyway with those VR goggles on, why dress her like that at all?
Last Updated: June 14, 2016