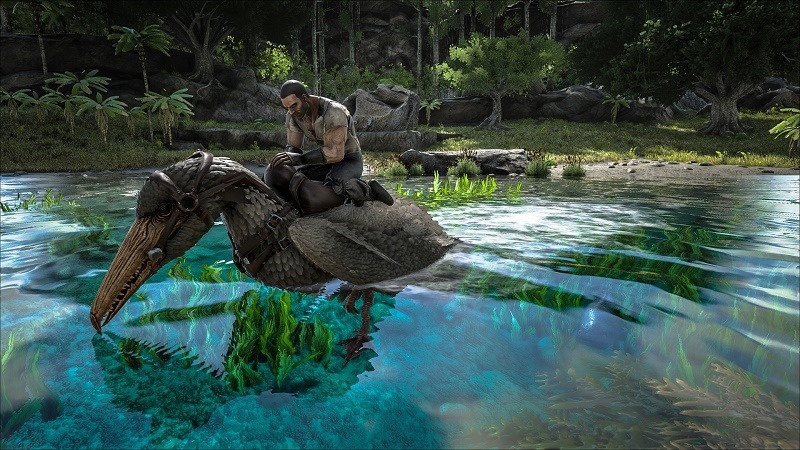 Ever wanted to ride a dinosaur, or beat the crap out of another player with a stone hatchet in ARK: Survival Evolved? Now's as good a time as any, because this weekend, Studio Wildcard's title will be completely free to play. What's even better is that if you find you enjoy the game, you can go ahead and add it to your library at half the price! For a limited time only of course…
From Thursday through Sunday, July 28-31, 2016, ARK: Survival Evolved is hosting a Free Weekend on Steam where all survivors can invite their friends to start to tame, train, breed and ride Dinosaurs in this open-world action-adventure survival game. ARK: Survival Evolved also is on sale for Steam players at 50% off (retail $29.99) from Thursday through Wednesday, July 28 – August 3, 2016.
At 50% off, ARK: Survival Evolved will cost you only R159.50. That's not a bad price at all!
Anyhow, this promotion coincides with a huge bit of content that's just hit the game – Patch v245. It contains new creatures (a Pelagornis and Allosaurus), fishing rods, new structures, and more!
As if that wasn't already enough, Wildcard Studios have also thrown in a free bit of optional DLC. It makes the game somewhat more realistic in terms of what primitive humans were capable of…
Now available as a free DLC in the 'ARK Official Mods Program', Primitive+, created by Cedric Burkes, is playable as a functionality mod on all Official ARK Maps and challenges players by altering the available tools, weapons and structures in the game to reflect what humans could realistically create using primitive technology and resources. This does not simply remove advanced technology from ARK, but instead replaces it with a multitude of new resources, engrams and systems.

Players will need to specialize in specific roles and work together to complete their goals. Hunters, farmers, cooks and builders can band together to create a new, functioning society where diplomacy and even economics can matter. In Primitive Plus, you will not only cope with human society's limitations, but unlock its potential.
But wait, THERE'S MORE! The Center is also getting some loving with this new update…
As well as the release of Primitive+, this huge patch also covers a large expansion to The Center! The Center, has now been expanded to include new biomes, islands, caves, and a completely new boss arena for survivors to explore, as well as the addition of a wide variety creatures to tame and be hunted.
Sheesh, that is plenty content, and all for free, for this weekend only. Clear all your plans, there's much to do in ARK: Survival Evolved – like tame dinosaurs, and build stuff, and… fish. Hooray!
Last Updated: July 29, 2016