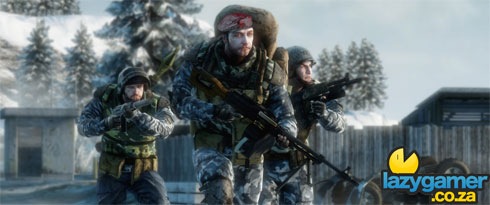 Battlefield Bad Company 2 has sold 5 million copies to date. While not quite on the gargantuan levels of Modern Warfare 2, those are some pretty good numbers. Those of you who enjoy destroying stuff out on the battlefield should be happy to know that the game is going to receive a new multiplayer mode.
Onslaught, a 4-player co-op mode pits you and 3 of your buddies against waves and waves of enemy AI.
Valparaiso, Atacama Desert, Isla Inocentes and Nelson Bay – all of which have been redesigned with new lighting, time of day, added vehicles and other sparklies will be playable in the new game mode, each with a specific focus.
Senior Producer Patrick Bach had this to say about Onslaught : "We want to consistently support the fans playing the game with new ways to get into multiplayer and also challenge the elite players with new experiences to improve their performance online. Effective squad play is the key to success in Battlefield: Bad Company 2 multiplayer and this new mode will provide players with a dedicated environment to test their team skills and rank against the competition."
Unfortunately there's no word yet on whether the new mode will be a free bit of DLC to those who have VIP access, or if it's going to be paid DLC. for those of you enjoy things like Gears of War's Horde mode, it'll be well worth your money if that's the case.
When's it coming? Soon, but only for PS3 and Xbox 360 players at the moment. Sorry PC guys.
Source : Battlefield
Last Updated: May 13, 2010