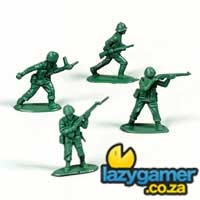 Americans and – through some strategic lip-puckering on the part of Tony Blair – Britons are considered first class citizens of the world. The rest of us? Not quite as favoured, it seems. It's come to light that many PSN users from less blessed regions – including Europe, Australasia, Asia, and of course South Africa still have Playstation Stores with curiously invisible Call of Duty : World at War maps.
On the 20th of March, we were told this :
Sony has the map pack available in the Playstation Store for PS3 owners. Unfortunately, the European release of Map Pack 1 for the PS3 will not be for another week, except in the UK. SCEE is working hard to make this content available as soon as possible.
Almost two weeks later, still nothing. While this may have something to do with Germany's draconian game legislation (The same legislation that means those very same maps are locked for our unsupported Xbox 360 playing bretheren), it shouldn't affect the rest of us. 
Well you know what Activision and SCEE? bugger you for a game of soldiers! I'm gonna dig out my bag of plastic army men and recreate my own damned Nazi zombie battle.
Last Updated: April 1, 2009