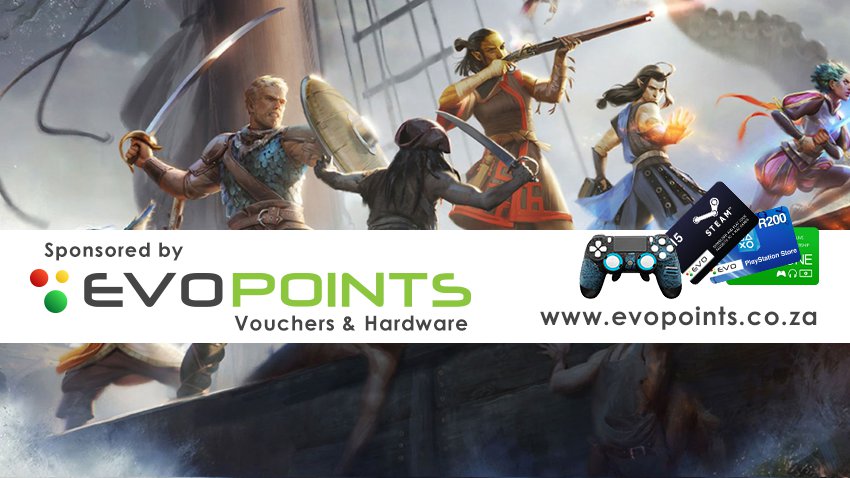 Welcome back to our weekly post of featured downloadable content available for different gaming platforms sponsored by www.evopoints.co.za. Here's this week's list of fresh downloadable games, content and specials.
If you would like to purchase vouchers, you can click the category headers to go straight to the appropriate page on evopoints.co.za
————————————-
PC Gaming — [Steam Vouchers Available]
Pillars of Eternity II: Deadfire
Conan Exiles
Steam Early Access – Assault Spy /
Steam Weekend/Daily Sales and Promos:
Devolver Digital Publisher Weekend – Up to 90% off!
Weekend Deal – tinyBuild 5th Anniversary, Up to 67% Off
Orcs Must Die! Franchise Sale, 85% Off!
PlayStation — [ PSN Vouchers & Subs Available ]
PS4

AO International Tennis
Conan Exiles
Darkest Dungeon: Ancestral Edition
Dead Ahead: Zombie Warfare
Death Road to Canada
Grim Legends 3: The Dark City
Hyper Sentinel
InkSplosion
Laser League
Lunch Truck Tycoon 2
Megadimension Neptunia VIIR
Raging Justice
Reverie
Shantae: Half-Genie Hero Ultimate Edition
Subaeria
Tacoma
Through the Woods
Trailblazers
Tyr: Chains of Valhalla
PS VR
2MD: VR Football
CoolPaintr VR
Megadimension Neptunia VIIR
PS Vita
Dead Ahead: Zombie Warfare
InkSplosion
To see all of the latest PlayStation content posts this week, click here for EU and US or check out the Online Sony Store.
Xbox — [ Xbox Live Vouchers & Subs Available ]
Xbox One

Hyper Sentinel
Grim Legends 3: The Dark City
Laser League
ACA NEOGEO SUPER SIDEKICKS 2
Rocket Wars
Subaeria
Zombie Pinball
InkSplosion
Trailblazers
Call of Duty: WWII – Gold Edition
DOOM + Wolfenstein II Bundle
Prey + Dishonored 2 Bundle
Skyrim Special Edition + Fallout 4 G.O.T.Y Bundle
Conan Exiles
Lily's Epic Quest For Lost Gems
Shantae: Half-Genie Hero Ultimate Edition
Raging Justice
Death Road To Canada
Xbox Live Deals With Gold – Check it out here
Xbox One – Burnout Paradise, Pixark, Mud Runner and More
Xbox 360 – Assassin's Creed III, Game of Thrones, WRC5 and More
iTunes App Store
For all your codes, vouchers and subscription needs head on over to www.evopoints.co.za to get whatever you need.
Last Updated: May 11, 2018