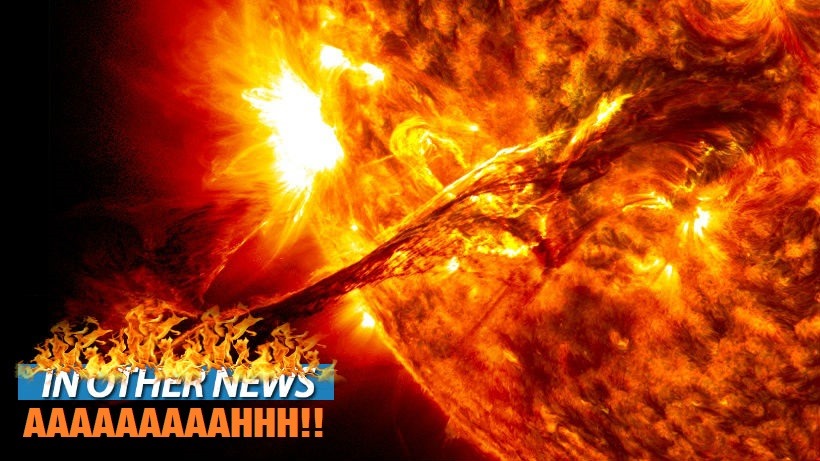 The weekend of rAge is finally here, though, for some reason, the sun has made the decision to be an absolute asshole and dialled up sunray distribution by over 9000%. If you're in Johannesburg, you know exactly what I'm talking about. If you're travelling here from other parts of the country, well, don't even bother packing clothes, because trust me, the heat is so severe and stuffy that your first instinct will be to remove all apparel.
Think you're going to see technology at rAge? HA! Prepare to be swamped by sweaty naked people, because if outside is this hot, the dome is going to be an absolute killer!
I'll be there, along with the rest of the Lazygamer bunch. Be sure to come say hi!
In Other News: it's hot. It's really really hot. No really, it's really really really hot!
Here's the news we didn't post today because we were too busy being charged for indecent exposure.
News
Massive Chalice lead Brad Muir's gone and joined Valve
Lovely Planet's sequel will ditch the Y-axis and Sunshine Gun
App Store fiasco: Capcom, EA, SEGA, Telltale games removed from purchase history
This War Of Mine Update 1.4 Improves Scenario Editor
Stuff
Awesome Mad Max Cosplay Dies, Lives Again
African-developed Aurion: Legacy of the Kori-Odan looking for funds on Kickstarter
This is what a Crisis looks like in Torment: Tides of Numenera
Backstreet Boys Invade Destiny In Fan-Made Music Video
Hearthstone EU: A Closer Look At Thijs's Winning Decks
Video
Dota 2 Symphony of Fails – Ep. 80
Game Theory: Is the MMO genre DYING?
ROCKET LEAGUE – Top Goals Of the Week #9
What's on @ The Movies?
Make no mistake, this is the first trailer for the SHERLOCK Christmas special!
WE REVIEW THE WALK (IMAX 3D) – A BALANCING ACT OF VISUAL SPECTACLE AND CHARACTER
The TERMINATOR franchise might be back
This trailer for TRIPLE 9 wants you to out-monster the monster
Seth Rogen talks about PREACHER and straying away from the source material
Both Ridley Scott's PROMETHEUS sequel and Neill Blomkamp's ALIEN film to arrive 2017?
Model: The Sun
Last Updated: October 8, 2015