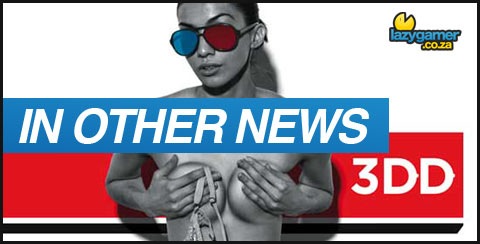 Today isn't Friday, which means you probably wont find your self passed out in a ditch tomorrow morning, dressed in a tuxedo and scuba gear. On a more positive note, at least it's not Monday! Below you'll find the stuff we couldn't find time to squeeze on to the site today, probably because we were all drunkenly scuba-diving in our tuxedos.
It's also just one month until the kick-off to the FIFA World Cup, an event that sounds to us like a bloody good reason to drink enough to pass out in a ditch. Also legendary fantasy and Sci-Fi artist Frank Frazetta met DEATH today, so let's have a drink for him.
Other notable things that happened in history on this day? In 1927 Mercedes-Benz was formed by Gottlieb Daimler and Karl Benz merging their two companies. You can drive your own Mercedes Benz in Gran Turismo 5 when it finally releases. In 1997 IBM's Deep Blue defeated Gary Kasparov to become the first super-computer to defeat a chess Grandmaster. Neither Deep Blue or Gary Kasparov are playable in Gran Turismo 5. Probably.
News
Call of Duty : Black Ops to get 4 Player Co-op
LG and Xbox 360 Bring 3D Gaming to South Korea
Capcom Reckons Dead Rising 2 will Sell 3 Million Copies
LittleBigPlanet 2 may not be 100% backwards compatible
Stuff
Sexy New Red Dead Redemption Screens
Designer 3D Glasses for pretentious types
God of War Getting Novel Treatment, First Chapter Available Online
Video
Lost Planet 2 – Kill Big trailer
LittleBigPlanet 2 debut trailer
Bioshock 2 – Kill 'em Kindly DLC trailer
Last Updated: May 11, 2010