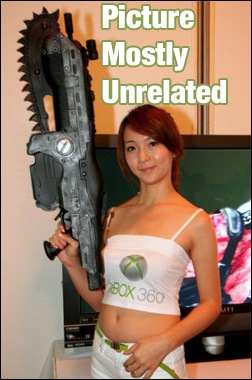 Square-Enix, renowned RPG architects have released the latest highly anticipated game in the Star Ocean series in Japan. Star Ocean 4 : The Last Hope – an Xbox 360 exclusive – topped the Japanese sales charts last weeks. Xbox 360 sales, fuelled by Star Ocean's exclusivity have surged, beating not only the PS3 but the Wii as well.
Microsoft's move to secure exclusive RPG certainly haven't harmed it's standing in Japan – sales generally skyrocket in the week following a high profile exclusive RPG release. While Microsoft's successes in Nippon are fleeting, it does seem the fiercely-territorial Japanese are starting to warm to the 360. Of course they have to – their favourite games are only available on Microsoft's western console, forcing them to "Jump In"
Japanese hardware and software charts (courtesy of Media Create) after the jump.
Hardware
DSi – 41,839
PSP – 29,552
Xbox 360 – 25,334
Wii – 16,973
PS3 – 16,149
DS Lite – 9,975
PS2 – 5,029
Software
1. スターオーシャン4 -THE LAST HOPE-(同梱版含む) – Star Ocean 4: The Last Hope (360)
2. マリオ&ルイージRPG3!!!  – Mario & Luigi RPG 3 (DS)
3. アイドルマスターSP パーフェクトサン – Idolmaster SP: Perfect Sun (PSP)
4. アイドルマスターSP ミッシングムーン – Idolmaster SP: Missing Moon (PSP)
5. アイドルマスターSP ワンダリングスター – Idolmaster SP: Wandering Star (PSP)
6. シャイニング・フォース フェザー – Shining Force Feather (DS)
7. モンスターハンターポータブル 2nd G – Monster Hunter Portable 2nd G (PSP)
8. セイクリッド ブレイズ – Sacred Blaze (PS2)
9. ストリートファイターIV – Street Fighter IV (PS3)
10. Demon's Souls (PS3)
Source : Media Create
Last Updated: March 2, 2009