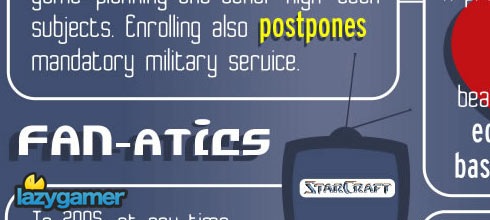 South Koreans are absolutely crazy for Starcraft and when you see some of the stats attached to the infographic after the jump, you will know what I mean.
How about the fact that the average South Korean Starcraft pro gamer makes 3 times as much as the average salary, or the fact that their heartbeats sometimes reach heights that equal that of an NBA basketball player during a match?
Check out the image after the jump and see all of the crazy info for yourself.
You can click on the image to make it even bigger and clearer.
Source: guidetoonlineschools
Last Updated: August 30, 2010