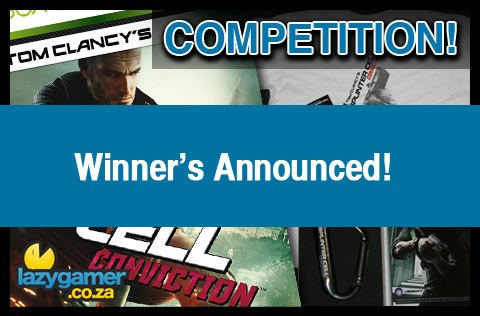 Ladies and Gents, we have once again summoned the almighty power of the Lazygamer Randomizerer-er to tell us who fate has chosen as the winners of our Splinter Cell: Conviction hamper competition.
Splinter Cell: Conviction hits stores tomorrow, so if you are the winner of the 1st Prize bundle that includes the game and you want to get it as soon as you can, then contact us ASAP with your additional details so that we can send it to you.
Here are our lucky winners.
Ok, let's start with the winner of our 2nd prize, which includes a Splinter Cell: Conviction T-Shirt and branded Torch/Clip. And the 2nd place winner is:
Scot Cowley
And now for our winner of the super cool bundle which includes the T-Shirt, Clip/Torch and a copy of Splinter Cell: Conviction for Xbox 360. Our 1st place winner is:
Ryan Fung
Congratulations to you both. Please mail us with additional delivery details as soon as humanly possible. Please do not forget to include a telephone number for the couriers to contact you on as well as additional direction notes if necessary.
A big thank you to Ubisoft and Megarom once more for a great competition!
Last Updated: April 15, 2010