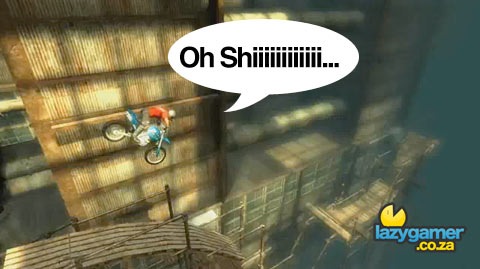 In videogames, there are many ways to completely destroy your poor in-game avatar (no not those avatars).
This week, we get the opportunity to destroy ourselves on motorbikes whilst trying to maneuver around some pretty rough obstacles in Trials HD, based on that sport where people try and climb stuff on their motorbikes… the lazy bastards.
I just watched the gameplay trailer (posted after the jump) and this game looks absolutely awesome! Seriously, watch the video if you don't believe me.
Video and game details, pricing etc. after the jump.
Here is what the it says on the back of the "virtual box":
Fasten your helmet…and unlock the full version of Trials HD. This physics-based motorcycle game has over 50 brilliant tracks and amazing HD graphics, in two unique game modes. Customize your rider, unlock bikes, climb global leaderboards, and compete with new in-game friend-scores. With the level-editor, create and share an unlimited amount of new tracks. Trials HD is an experience you haven't seen before!
Trials HD is 1200 MS Points and weighs in at 207mb according to Xbox.com.

Source: Major Nelson
via VG247
Last Updated: August 12, 2009