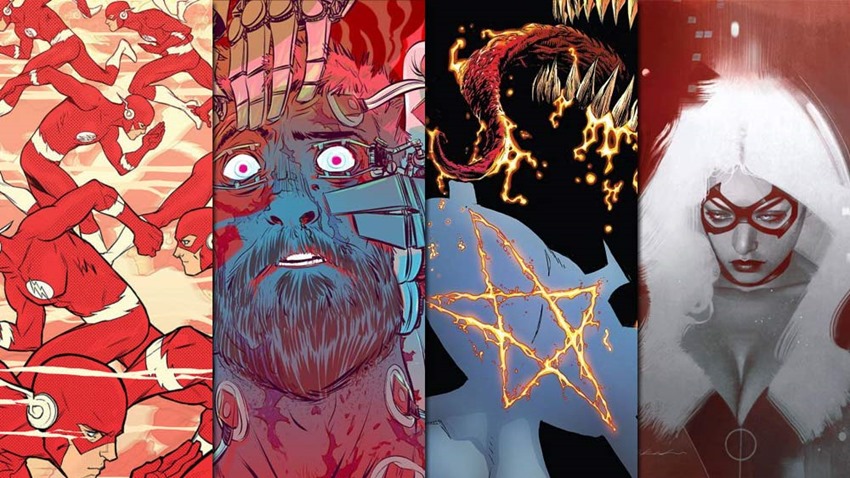 So what's on your reading list currently? I've been catching up on back issues of The Walking Dead, a series which at one point felt almost as stiff as the ramshackle reanimated cadavers that populate its landscape, but has somehow managed to really inject a huge dose of life back into its premise of life after the apocalypse.
If you've been hooked on the TV show, then you've missed out on one of the finest comic book series of the last decade, that provided the source material for that TV adaptation. What began with writer Robert Kirkman and artist Tony Moore (With Charlie Adlard later coming on to cement the series' distinct monochrome visual aesthetic), has evolved into a sprawling epic over the years as mankind struggles to survive in a world where the dead are a shambling extinction level event.
Sure, the whole "who are the real monsters here" plot point may be present, but it's never forced down your throat. Instead, what makes the series so endlessly entertaining is that the scenarios for the survival of mankind never feel too far removed from reality. Forming a small enclave and attempting to eke out an existence by living off the land?
That's practical. Growing larger and eventually going to war with rival communities? Yeah, that's probably going to happen. Killing the dead, ripping their flesh off and fashioning it into skin-suits which can be used to infiltrate a horde of biters safely? Look, for me, that's a very viable option at least. Basically, I'm saying that you need to go read the Walking Dead already. You've got dozens upon dozens of issues to enjoy, great art and writing that makes each character feel like an actual person.
It's definitely worth biting into. With that being said, here's a look at the best comic book covers of the week!
The Flash #58 by Karl Kerschl

Wonder Woman #58 by Terry Dodson

The Amazing Spider-Man #9 by Jeff Dekal

Mister Miracle #12 by Mitch Gerads

Star Wars: Darth Vader #23 by Giuseppe Camuncoli

Venom #8 by Ryan Stegman

Fantastic Four #3 by Jae Lee

Superman #5 by Adam Hughes

Catwoman #5 by Joelle Jones

Daredevil #611 by Phil Noto

Birthright #33 by Adriano Lucas

Go Go Power Rangers #14 by Natacha Bustos

The Weatherman #6 by Nathan Fox

House of Whispers #3 by Sean Andrew Murray

Firefly #1 by Lee Garbett

Dark Ark #11 by Juan Doe

Transformers: Unicron #6 by Alex Milne

Bloodshot: Rising Spirit #1 by Felipe Massafera

Euthanauts #4 by Nick Robles

Dragon Age: Deception #2 by Sachin Teng

Last Updated: November 12, 2018