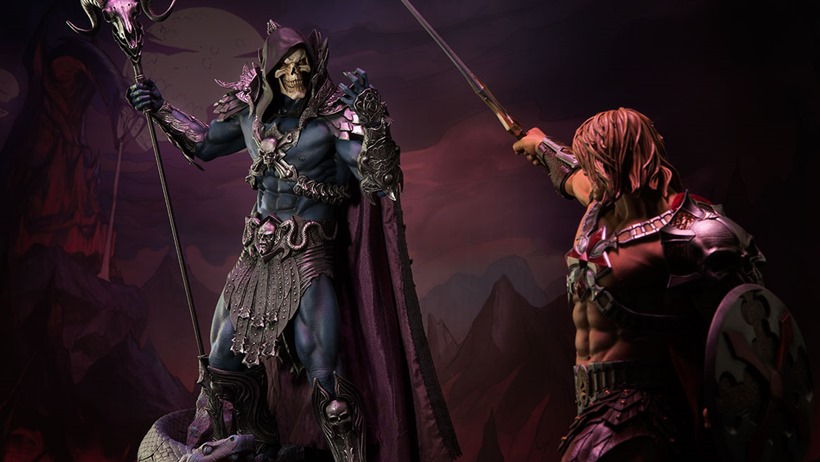 If there's one set of action figures that may not have have aged too well, it has to be He-Man and the Masters of the Universe. I mean…just look at them. They pretty much appear to be what most guys at the free weights section in your gym aspire to look like, toys that haven't ever had a single leg day since they came out of the action figure oven.
If there was one figure out of the lot worth having however, it had to be Skeletor. Even though he got his ass handed to him in every single episode, Skeletor was still awesome. How many villains are there who are both masters at lifting weights and casting spells? And those cheekbones! I know of models who would die to have such a sculpted set of face-bones like that.
But seriously, the idea behind Skeletor is cool, and his design has survived through the ages to make him one of the best insult-slinging villains of all time. And after seeing that redesigned He-Man statue, I reckon it's time for the Masters of the Universe to return again. AGAIN. Especially if they have to face a Skeletor who rocks this particular look:
Hailing from the otherworldly dimension of Infinitia, Skeletor rules over the darkest corners of Eternia with an iron fist from his treacherous volcanic base on Snake Mountain. Wielding his enchanted Havoc Staff to command an invisible horde of henchmen and minions, Sideshow's artists have brought the sinister villain to life with ornately sculpted battle armor and a removable cape.
Furry fools and muscle-bound dolts beware: Skeletor don't come cheap.  Measuring in at 21.5″ H (546.1mm) x 12″ W (304.8mm) x 12″ L (304.8mm), Skeletor will set you back around $449.99 when he ships out in November. At which point, your bank manager will turn towards you, raise his staff of power and bellow that he is now master of your universal banking account.
Last Updated: February 3, 2016