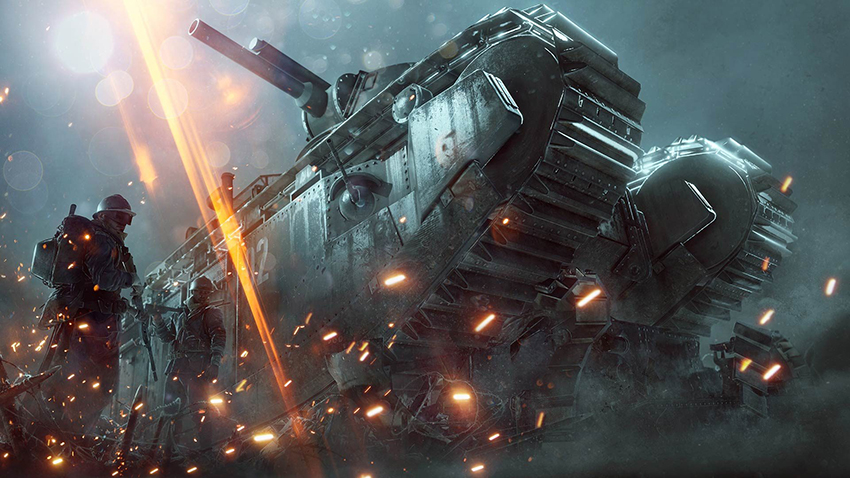 Battlefield 1 is currently in the twilight of its life, so to speak. EA and DICE will be unveiling whatever the still-untitled next Battlefield game is going to be at E3 next month, with "Battlefield 2018" then reportedly set for release in October. As such, the rollout of new content for Battlefield is being slowed down. The rollout of old content though has just begun.
As from today until 16 May, Battlefield 1's very first DLC pack, They Shall Not Pass, will be available for download completely free on PC, PS4 and Xbox One. Originally released on 14 March last year, TSNP introduced the French Army as a playable faction and brought with it new maps based in the region like Verdun Heights, Fort De Vaux, Soissons and Rupture. It also brought the Frontlines game mode back to BF1, introduced the Trench Raider elite class and gave soldiers access to brand new weapons like the Ribeyrolles 1918 SMG, Lebel Model 1886 sniper rifle and more.
Out of all the released DLC for BF1 thus far, I would say that TSNP has had the biggest impact on the game as it included several fan-favourite maps and weapons. Battlefield games have always had a problem locally in trying to find occupied servers for new content as gamers don't buy the DLC packs, and instead just play the "vanilla" base game content over and over, but TSNP actually drew a surprising crowd. If you're one of those who hasn't purchased TSNP yet, or maybe you've just recently jumped into the game, then is this definitely a deal for you (as long as you grab it before 16 May!).
Traditionally, Battlefield games have always had very long shelf lives – not only are local Battlefield 4 servers still jam-packed every night, but you can still get full Battlefield 3 games – and one of the reasons for this is that EA/DICE will eventually make all old content available for free to all. If that trend holds, then this is just the start of free DLC releases for BF1, which means that new players will still have plenty to keep them busy in the coming months despite the impending release of the next chapter in the Battlefield franchise.
Last Updated: May 3, 2018