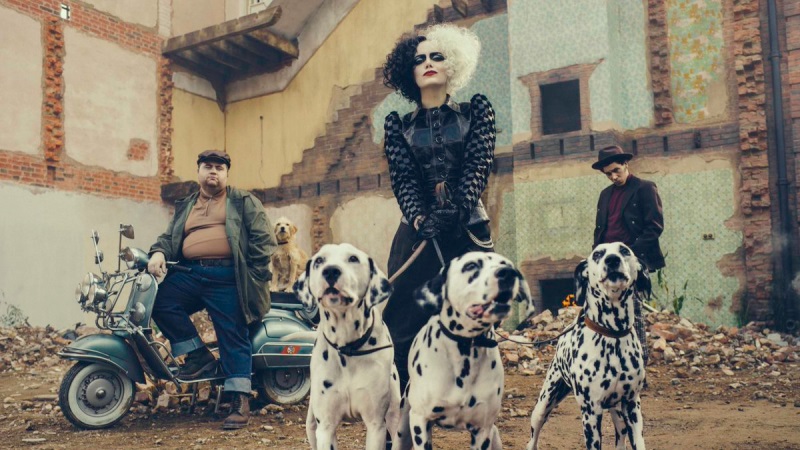 If there were any doubts that Disney wants to take over the entertainment world, then this past weekend at the D23 expo, they should've firmly be put to rest. Disney does not only have their hands full with a variety of Star Wars, Marvel and Fox related content, but they have some big plans for their own movie studio which has been massively successful of late in adapting old animated classics into live-action films.
The company revealed what some of those big plans are this past weekend which shows that we have a lot to look forward to on this side of things as well, which we can now also report on thanks to the help of Variety who was in attendance.
First up is Disney's Jungle Cruise, based on a popular theme park ride, which brings the world's biggest movie star, Dwayne Johnson and Emily Blunt together to star in a movie that is reportedly taking inspiration from Indiana Jones in being a throwback to classic adventure movies. Or as Johnson called it during the presentation, "We made a movie about men kicking ass and saving the girl."
This was followed by some footage that Variety describes as, "big on effects, adventure, and dad jokes, think Pirates of the Caribbean in the jungle". A description that I must say sound intriguing and a lot of fun, even if it doesn't bring anything new to the table.
Disney also showed off some new footage for Maleficent: Mistress of Evil, which essentially featured one big massive fight between Jolie and Michelle Pfeiffer's new character Queen Ingrith fighting over the love of Aurora (Elle Fanning).
This was followed up by the big animation remakes of Mulan and Cruella. Interesting for Mulan, director Niki Caro spoke about how the film is not just trying to be a remake of the animated classic but actually a faithful adaptation of the original source material with some nods back to the animated classic, which makes sense given that everything we've seen about this movie so far looks like a more traditional action-adventure than a Disney musical. Something which I m really looking forward to.
For Cruella, Disney unveiled the first image of Emma Stone as the popular villain Cruella de Vil and if anything, it looks like this is a movie that is going to be built largely around the performance of Stone here, much like Disney's 101 Dalmatians live-action film was built around a superb performance by Glenn Close as the same character.
Next, it was Pixar's turn to shine as they revealed plans for their next two big projects which are thankfully enough both original films and not sequels. First up is Soul, which is to be directed by Pete Doctor (Up, Inside Out) and will focus on the process of becoming a person. Up until now Pixar has been very cryptic on what the movie has been about, but during the session they gave more details about the film, which will star Jamie Foxx as Joe Gardner, as a middle school band teacher whose true passion is jazz, and who gets his big break to play at the NYC's The Half Note Club. But it also features a "You Seminar," where the human soul is trained to become an individual, which sounds like a very Inside Out-style concept. The cast will also feature Tina Fey as the character 22.
It's a bizarre idea by Pixar and not one which I'm sold on, but one big plus it certainly has going for it is that it was also announced that Trent Reznor and Atticus Ross (The Social Network, Gone Girl) will be doing the score for the music with Jon Batiste also contributing music. That is certainly the kind of music powerhouse that will allow for an inspired and introspective story from a musical perspective at least.
The other big Pixar movie which we have seen more of a glimpse of is Onward, which stars Chris Pratt and Tom Holland as two young elves who go on a journey to see if there's still magic left in their now-mundane world. The audience did get to see the first 8 minutes of the movie, though there are no details on what that was about. Considering this movie is scheduled for release in March though it should be close to completion and we should expect more trailers on this soon.
Lastly, it was Disney animation's turn to showcase their new movies with the first being a new feature film Raya and the Last Dragon, directed by Paul Briggs and Dean Wellins written by Adele Lim (Crazy Rich Asians), and produced by Osnat Shurer (Moana) for a Thanksgiving 2020 release date. Much like Mulan, this is a film that takes inspiration from Southeast Asian Culture which Disney is calling an epic fantasy adventure with the vibe of a Hong Kong action movie. Those are all things that don't sound like they should go together but have definitely piqued my interest.
The story will be set in a country called Kumandra and follows the journey of Raya, a woman who goes on a quest to save Kumandra by finding the world's last dragon. Raya will be voiced by Cassie Steel (Degrassi: The Next Generation), and the dragon, named Sisu, will be played by Awkwafina. Sisu, however, will be in human form when she first meets Raya, and will need Raya's help to reclaim her true power.
The final presentation from Disney was on arguably their next massive release, which is none other than Frozen II, a film that looks to answer the questions left open by the original movie like Where did Elsa get her powers? Where were their parents going? Are there more people with powers like Elsa's out there? The two films, according to Disney will tell one complete story, meaning that this film should build into the story of the first rather well and probably showcase more annoying music to go along with it all too. New music which was showcased and will probably come its way soon.
Overall, it looks like Disney has big plans and you can't help but feel excited about what they have in store for us. While I don't like all of their ideas spoken about, there is a good mix of new and exciting content to go along with the usual reboots and sequels to give me hope that they still have some originality left in them and will hopefully keep pushing these original stories forward in the future.
Oh, and yes, if Disney keeps this up, they will probably own your soul soon too.
Last Updated: August 26, 2019