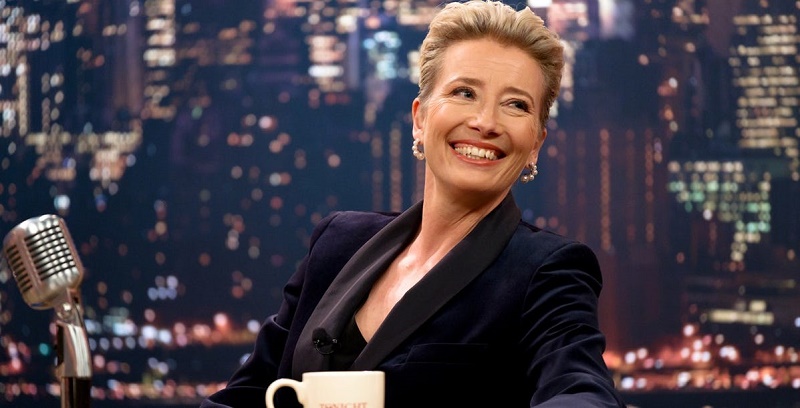 The devil may wear Prada, but if you know anything about the evils of showbusiness, they like to have the camera fixed on them too. And if you want to survive in the world of showbusiness, you need to learn to be ruthless to make it out to the top. Something which Mindy Kaling's character has to learn in this trailer for Late Night.
Showing her the ropes (or more appropriately giving her the crash course) in the hard-edged entertainment world is Emma Thompson as the seasoned professional who's learnt to survive in the demanding and typically sexist world of late-night television. The movie, which has been secured by Amazon, is billed to be a biting look at the working environment of the Hollywood industry and dealing with many of the controversial topics of sexism which are so prevalent in the industry.
And based on the description of the film it's easy to compare it to the Anne Hathaway/Meryl Streep-led A Devil Wears Prada, which so creatively explored the judgemental realties of the fashion world mentor/mentee relationship. However, can Late Night achieve that same high standard of satire without descending into a silly parody? Let's take a look and see if the first trailer for the movie gives us any clues:
Based on that evidence, I would say the comparison is justifiable, though this movie looks to take a little more of a slapstick approach to its humour. And while I think Thompson is at her ruthless best here, Kaling feels a little out of place and seems to be used mostly for comedic effect. Something which she probably only has herself to blame for as she wrote the script for the movie.
Still, there is enough of a good cast here to provide hope that the movie may offer a little more, with John Lithgow, Amy Ryan, Ike Barinholtz, Hugh Dancy, and Megalyn Echikunwoke all starring. Late Night is directed by Nisha Ganatra who is used to working on shows like Brooklyn Nine-Nine and 30 Rock, a good fit based on the brand of humour on display .
The film is scheduled to release in US theatres on June 7th, before soon finding its way onto the Amazon streaming service, as is the usual trend for Amazon movies.
Last Updated: March 8, 2019