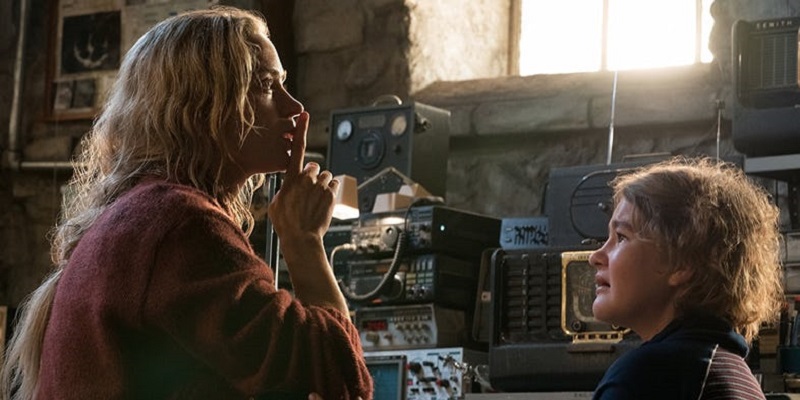 John Krasinki's A Quiet Place is headed for theatres this weekend, which means that it is only fitting that Paramount unleashes one last trailer on us to convince us why we should, or should not, go watch this movie at the theatres. And I say "should not", not because this movie looks terrible, but rather just the opposite A Quiet Place looks excellent to be a film that could turn out to be a truly terrifying experience. Excellent then, is enough reason for some people to avoid it entirely. For someone like myself though who likes these sorts of tense thrillers, it is an absolute must-view and this third trailer only does more to make me want to see it after the previous two excellent teasers already had me convinced about the film.
This final trailer perhaps gives us the best indication of the film's actual plot, revolving around a family (Krasinski and Emily Blunt) that tries to live out a quiet and peaceful life when terror strikes and mysterious creatures start to appear on Earth that respond only to sound, leaving them to live out an existence of even greater quiet and solitude if they want to keep their family alive.
What exactly these mysterious creatures are and how they arrive on Earth is not known, though a theory from Dread Central suggests – potentially wild spoiler alert here – that these weird creatures could in some way be tied to the Cloverfield franchise. This rumour might sound a little bizarre, but if you think about it, Paramount does own the rights to the Cloverfield franchise and the small glimpses of the monsters you see in the trailers do match the look of what we saw in Matt Reeves' 2012 Cloverfield film and 2016's 10 Cloverfield Lane by Dan Trachtenberg. Considering Krasinksi was also once attached to work on The Cloverfield Paradox and there may be some relevance to these rumours.
However, all of those films were produced by J.J. Abrams Bad Robot productions, which has been markedly absent from any of the promotional material for this film, so unless Abrams has actually being involved all along and is just hiding this from us, I doubt the films are related. It's also lacking the Cloverfield name in its title, in perhaps the biggest giveaway that the films are not related at all. Either way, A Quiet Place currently has a 100% score on Rotten Tomatoes (as of the time of writing), so we don't just need to take the trailers as evidence that it's an excellent movie.
A Quiet Place releases this weekend, April 6 2018. You can expect our review of the film out before the end of this week.
Last Updated: April 3, 2018