Marvel Studios has a villain problem. Forgetting the sterling work done on the small screen in their Netflix shows via Daredevil's Kingpin and Jessica Jones's Killgrave, the comic book studio really only has Tom Hiddleston's Loki to be proud of as virtually every other villain in their stable has been instantly forgettable. And then there's Thanos.
Thus far he's only been seen on screen for a couple of minutes across three separate movies, but there's no doubt that the Infinity Gauntlet wielding badass is technically at the very top of the Marvel villain food chain as he's been behind most of the central arc running throughout the entire Marvel Cinematic Universe. And with such an important role, Marvel have certainly tapped a great actor to bring him to life in Josh Brolin (No Country For Old Men, Sicario).
And yes, it really is Brolin bringing him to life, as the actor explained to SuperheroHype that Thanos is not some purple cartoon character, digitally painted into scenes during post production that he's providing the voice for.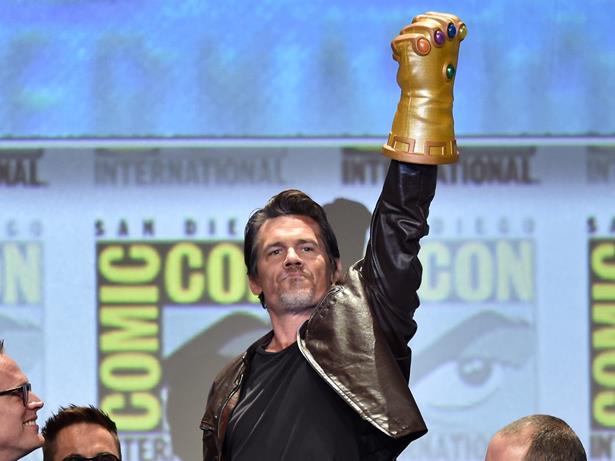 It's not voice work, it's mo-cap. I'm there. I'm there and I'm not in a booth. I'm being filmed. I have a bunch of crap on my face. [laughs] I'm being filmed by like thirty-four cameras? Thirty-six cameras? Something like that. Every movement, everything. So, it's very new to me, it's very exciting, it's very unnerving. But I sure trust these guys!
Up until now, Thanos has been resigned to some villainous behind the scenes string pulling, but in The Avengers: Infinity War we'll finally get to see the cosmic despot's machinations come to a head as he goes to toe to toe with just about the entire Marvel Cinematic Universe. Of course, that's only happening in 2018. So will we be seeing Thanos popping up in any other movies before then? Brolin isn't saying, but he's certainly relishing all the opportunities.
We're supposed to get together very soon to talk about the trajectory of Thanos in the next few years and it's very exciting. It's one of the better decisions I think I've made.
Avengers: Infinity War – Part I is scheduled for release on May 4, 2018, with Infinity War – Part II following on May 3, 2019. Both films are to be directed by the incredible duo of Joe and Anthony Russo, who have also helmed Captain America: The Winter Soldier and the upcoming Captain America: Civil War.
Last Updated: February 10, 2016