Eighteen new movies hit home release in South Africa this month, so if you're struggling for a Mother's Day gift, you'll probably find something in this eclectic mix of romances, actioners, animated flicks and intense dramas.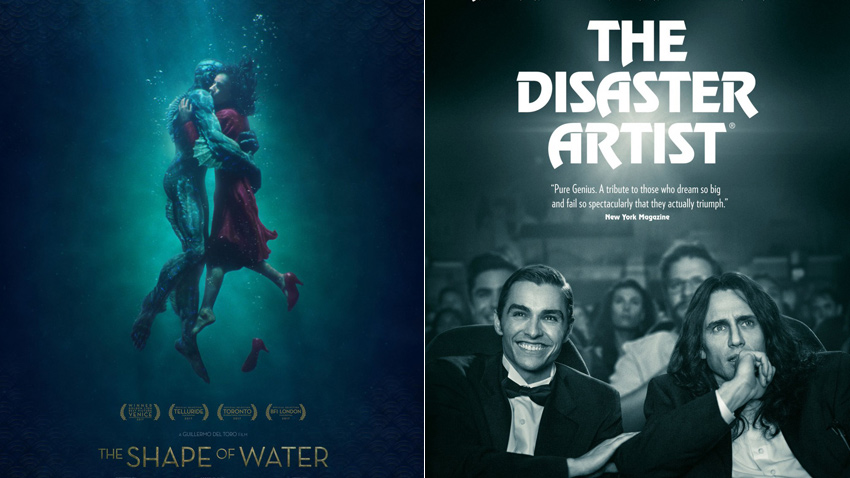 Our top 5 picks this month:
The Shape of Water
Genre: Fantasy / Romance
From master story teller, Guillermo del Toro, comes The Shape of Water – an other-worldly fairy tale, set against the backdrop of Cold War era America circa 1962. In the hidden high-security government laboratory where she works, lonely Elisa (Sally Hawkins) is trapped in a life of isolation. Elisa's life is changed forever when she and co-worker Zelda (Octavia Spencer) discover a secret classified experiment. Rounding out the cast are Michael Shannon, Richard Jenkins, Doug Jones and Michael Stuhlbarg.
This year's winner for Best Picture and Best Director at the Academy Awards (along with two other Oscars), is a visually striking and emotionally powerful piece of cinema. Reviewers have been throwing around words like "Poetry," "Magic," "Elegant," and "Masterpiece." Del Toro's best since Pan's Labyrinth.
Critical Hit: 8/10
Rotten Tomatoes: 92%
Metacritic: 87
The Disaster Artist
Genre: Drama / Comedy / True Story
With The Disaster Artist, director James Franco (As I Lay Dying, Child of God) transforms the tragicomic true story of aspiring filmmaker and infamous Hollywood outsider Tommy Wiseau—an artist whose passion was as sincere as his methods were questionable—into a celebration of friendship, artistic expression, and dreams pursued against insurmountable odds. Based on Greg Sestero's best-selling tell-all about the making of Tommy's cult-classic "disasterpiece" The Room ("The Greatest Bad Movie Ever Made"), The Disaster Artist is a hilarious and welcome reminder that there is more than one way to become a legend—and no limit to what you can achieve when you have absolutely no idea what you're doing.
Think of multi-award nominee The Disaster Artist as a 21st Century Ed Wood, delving into the making of one of the worst movies ever shot. This behind-the-scenes tale is more than simply that, though. It's a touching, funny and exceptionally well-acted look at artistic self-belief and friendship in the face of failure.
Rotten Tomatoes: 91%
Metacritic: 76
Game Night
Genre: Comedy
Max (Jason Bateman) and Annie's (Rachel McAdams) weekly couples game night gets kicked up a notch when Max's charismatic brother, Brooks (Kyle Chandler), arranges a murder mystery party, complete with fake thugs and faux federal agents. So when Brooks gets kidnapped, it's all part of the game…right? But as the six uber-competitive gamers set out to solve the case and win, they begin to discover that neither this "game"—nor Brooks—are what they seem to be. Over the course of one chaotic night, the friends find themselves increasingly in over their heads as each twist leads to another unexpected turn. With no rules, no points, and no idea who all the players are, this could turn out to be the most fun they've ever had… or game over.
A shout-out here to one of the rare actually good grown-up comedies. Sharp, smart and stylish, Game Night sidesteps the usual gross-out humour and instead emerges as a darkly comic farce. "Consistently entertaining" is the term most commonly applied to this one.
Rotten Tomatoes: 82%
Metacritic: 66
The Commuter
Genre: Action / Thriller
In this action-packed thriller, Liam Neeson plays an insurance salesman, Michael, on his daily commute home, which quickly becomes anything but routine. After being contacted by a mysterious stranger, Michael is forced to uncover the identity of a hidden passenger on his train before the last stop. As he works against the clock to solve the puzzle, he realizes a deadly plan is unfolding and is unwittingly caught up in a criminal conspiracy. One that carries life and death stakes, for himself and his fellow passengers.
If you can't get enough of Liam Neeson as an agitated badass, here's another one for you (from the director of that Neeson-on-a-plane thriller Non-Stop). The Commuter is far from groundbreaking but it delivers the race-against-time goods, and benefits from a surprisingly good cast, which includes Vera Farmiga, Patrick Wilson and Sam Neill.
Rotten Tomatoes: 57%
Metacritic: 56
12 Strong
Genre: War / Drama
12 Strong is set in the harrowing days following 9/11 when a U.S. Special Forces team, led by their new Captain, Mitch Nelson (Chris Hemsworth), is chosen to be the first U.S. troops sent into Afghanistan for an extremely dangerous mission. There, in the rugged mountains, they must convince Northern Alliance General Dostum (Navid Negahban) to join forces with them to fight their common adversary: the Taliban and their Al Qaeda allies. In addition to overcoming mutual distrust and a vast cultural divide, the Americans—accustomed to state-of-the-art warfare—must adopt the rudimentary tactics of the Afghani horse soldiers. But despite their uneasy bond, the new allies face overwhelming odds: outnumbered and outgunned by a ruthless enemy that does not take prisoners.
Not the most critically acclaimed of the new DVDs this month, but sure to be of interest to Critical Hit readers – especially if you love real-life war stories like Black Hawk Down. 12 Strong apparently lacks nuance but benefits from its charismatic cast, and manages to thrill throughout.
Rotten Tomatoes: 54%
Metacritic: 54
The rest released this month:
The Post
A cover-up that spanned four U.S. Presidents pushed the country's first female newspaper publisher and a hard-driving editor to join an unprecedented battle between journalist and government. Inspired by true events. Steven Spielberg directs Tom Hanks, Meryl Streep.
Rotten Tomatoes: 87%
Metacritic: 83
Maze Runner: The Death Cure
In the epic finale to the Maze Runner saga, Thomas leads his group of escaped Gladers on their final and most dangerous mission yet. To save their friends, they must break into the legendary Last City, a WCKD-controlled labyrinth that may turn out to be the deadliest maze of all.
Rotten Tomatoes: 42%
Metacritic: 51
Den of Thieves
Den of Thieves follows the intersecting and often personally connected lives of an elite unit of the LA County Sheriff's Dept. and the state's most successful bank robbery crew as the outlaws plan a seemingly impossible heist on the Federal Reserve Bank of downtown Los Angeles. With Gerard Butler and 50 Cent.
Rotten Tomatoes: 41%
Metacritic: 49
Batman Ninja
In this groundbreaking anime adaptation of the legendary Batman franchise, Gotham City is swapped out for feudal Japan, where Batman fights his infamous foes as an armored ninja. With Catwoman, Two-Face and the Joker all showing up to battle the Bat, will Bruce Wayne be able to save the day?
Kidnap
In the US, a child goes missing every 40 seconds. You never think it will happen to you. Until it does. Alone and scared, Karla Dyson (Halle Berry) is unwilling to leave the fate of her son's life in someone else's hands. When she catches a glimpse of the abductors speeding away, she decides to fight back.
Rotten Tomatoes: 37%
Metacritic: 44
Fifty Shades Freed
Believing they have left behind shadowy figures from their past, newlyweds Christian and Ana fully embrace an inextricable connection and shared life of luxury. But just as she steps into her role as Mrs. Grey and he relaxes into an unfamiliar stability, new threats could jeopardize their happy ending before it even begins.
Rotten Tomatoes: 13%
Metacritic: 31
Darkest Hour
In May 1940, the fate of Western Europe hangs on British Prime Minister Winston Churchill, who must decide whether to negotiate with Adolf Hitler, or fight on knowing that it could mean a humiliating defeat for Britain and its empire. With Gary Oldman and Lily James.
Rotten Tomatoes: 85%
Metacritic: 75
The Man With the Iron Heart
1942: The Third Reich is at its peak. The Czech resistance in London decides to plan the most ambitious military operation of WWII: Anthropoid. Two young recruits in their late twenties, Jozef Gabcik and Jan Kubis, are sent to Prague to assassinate the most ruthless Nazi leader—Reich-protector Reinhard Heydrich, Head of the SS, the Gestapo, and the architect of the Final Solution. With Jason Clarke and Rosamund Pike.
Rotten Tomatoes: 57%
Permission
Anna (Rebecca Hall) and Will (Dan Stevens), were each other's first every-things: first kiss, first love, first and only relationship. Now, 10 years in, at Anna's 30th birthday party, as Will is about to propose, the couple's best friend makes a drunken toast, suggesting that they should sleep around before their inevitable marriage.
Rotten Tomatoes: 71%
Metacritic: 62
Beatriz at Dinner
Beatriz (Salma Hayek), an immigrant from a poor town in Mexico, has drawn on her innate kindness to build a career as a health practitioner in Los Angeles. Doug Strutt (John Lithgow) is a cutthroat, self-satisfied billionaire. When these two opposites meet at a dinner party, their worlds collide and neither will ever be the same.
Rotten Tomatoes: 74%
Metacritic: 68
Monster Family
The Wishbone family is far from happy. With a struggling bookshop, an overworked husband, and two misunderstood teenagers, Emma is at her wit's end trying to be the perfect mom. After dragging her family to a costume party on Halloween night, they are cursed by an evil witch and transformed into a Vampire, a Mummy, a Werewolf, and Frankenstein's monster. Now Emma will fight to keep her Monster Family together and uncover the secret of their curse… eventually leading them to the Prince of Darkness himself, Dracula!
Rotten Tomatoes: 10%
Tad the Lost Explorer and the Secret of King Midas
Tad Jones, the most awkward explorer, must rescue his beloved Sara from a millionaire who is looking for King Midas' necklace.
Rotten Tomatoes: 25%
Lego DC Superhero Girls: Super-Villain High
The heroes are forced to deal with a new set of rivals when a mysterious new high school pops up.
Last Updated: May 9, 2018