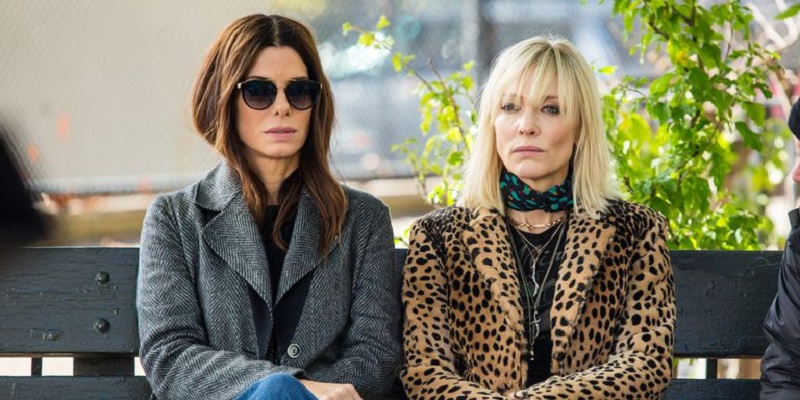 When it comes to reboots or sequels with Hollywood, you can't exactly expect originality to top the list of things to look forward to. I'm not exactly expecting much of it from their next reboot/sequel Oceans 8 film, which will see a new group of high-class criminals and bank robbers try to attempt another heist – only this time they will all be women. And because women can apparently do it better, they will need fewer of them to do so.
However, the film might look like a cheap cash in and completely lacking in originality but that doesn't mean that it can't still be fun, much in the same way the Soderbergh trilogy of movies were, despite being formulaic and predictable. The thrill is not so much in figuring out the ending, but more just in trying to see how that ending all comes together. So, is this new movie going to be as watchable as those previous movies? Well let's look at the new trailer to find out:
This second trailer for the film focuses more on introducing us to the different characters, and gives us a brief indication of their abilities and personalities. It also outlines exactly what our capable group of criminals is going to be trying to achieve. Much like the original films, it's all a little predictable. But you know what? It still looks like a lot of fun and director Gary Ross matches the spirit and style of the Oceans films perfectly.
I also think that the chemistry between this group of women is arguably stronger than their male counterparts and while it is a little too early to judge, I think their smaller number might allow an opportunity for each of the stars to shine. In previous films, the larger cast numbers inevitably reduced some members to bit parts players only. Which is great because a cast featuring Sandra Bullock, Cate Blanchett, Anne Hathaway, Mindy Kaling, Sarah Paulson, Awkwafina, Rihanna and Helena Bonham Carter sounds incredible.
I guess time will soon tell as the film is scheduled for release on June 8. Which is just around the corner and ripe for the picking for people who have already spent far too much money on Marvel and Star Wars movies.
Last Updated: May 28, 2018