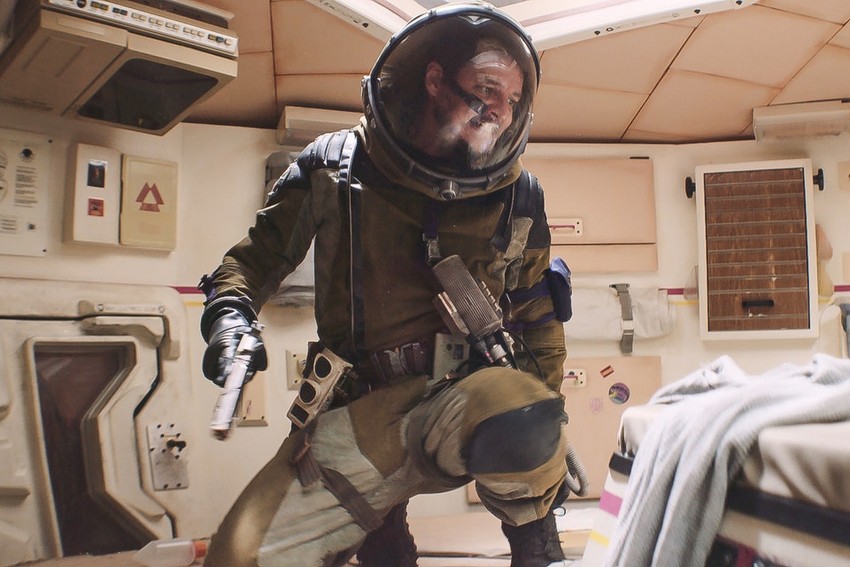 It's SXSW this weekend past. For the uninitiated, no, I did not just hit four random letters on my keyboard. South By Southwest is a film festival that takes place in Texas annually and has become one of the best stops on the US film fest tour to highlight hot new genre films before their general release. One such film that has got several people talking about it for all the right reasons is Prospect.
Coming off like a mix of science-fiction and western, Prospect is set some time in the future and follows a teenage girl (Sophie Thatcher) and her father (Jay Duplass) who travel to a remote moon on the hunt for elusive riches. But there are others roving the moon's toxic forest and the job quickly devolves into a desperate fight to escape. One of these others is played by Narcos and Game of Thrones alum Pedro Pascal, who plays a mysterious role as a fellow prospector on this moon who befriends the young girl but may not be what he says he is.
Not that any of that is really too clear from the film's first trailer which keeps its secrets very close to its chest (just the way I like 'em). What that preview does do though, is show off a whole lot of grim and tense atmosphere and that grimy, lived-in feel, which according to the really good early reviews out of SXSW, Prospect has by the bucket loads. Check it out below.
Co-writer-directors Zeek Earl and Christopher Caldwell actually adapted and expanded Prospect from their 2016 short film of the same name. If you're not too afraid of potential spoilers (although it would seem that Prospect follows some familiar western tropes so things are not too surprising), you can watch that really fantastic short film in full below to get a taste of what the filmmakers can do.
Prospect still needs to get picked up for distribution (one of the reasons why movies get shown off at film festivals) so it doesn't have a release date yet, but when it does you can be damned sure I will be there to watch it.
Last Updated: March 12, 2018