Much like May the fourth is Star Wars Day, 5 April is First Contact Day for those in the Star Trek universe. And what better way to tease going boldly forward, than with the release of teasers for the three currently-running Star Trek series? Star Trek: Discovery, Star Trek: Picard, and Star Trek: Lower Decks all got fresh new glimpses at their upcoming seasons, and there are spoilers from here on out for each of the preceding seasons of the above-mentioned shows, so you have been warned.
But for those of you who want to see them? Engage.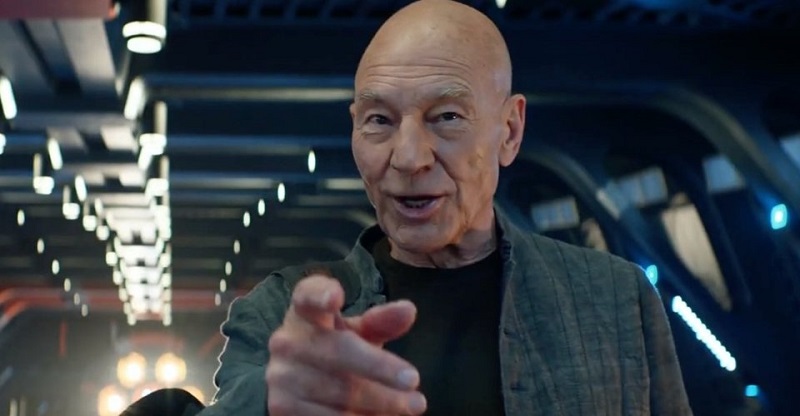 If you'll remember, season three of Star Trek: Discovery ended with the time-displaced crew of the USS Discovery resolving the mystery of the Burn, and in so doing taking the first steps towards rebuilding the Federation. It also saw Sonequa Martin-Green's Michael Burnham finally take over as captain of the USS Discovery.
Season four will kick off with the newly-minted captain and her crew tackling a deadly new threat to the fledging Federation 2.0 – a massive gravitational anomaly that pops in and out of existence all over the galaxy, and which threatens to destroy anything it comes into contact with:
Season one of Star Trek: Picard saw Patrick Stewart returning to the role he played for around fifteen years, that of Jean-Luc Picard. But while many remember him as the steadfast captain of the USS Enterprise, this version of Picard is a man well past his prime, suffering from a terminal illness, and haunted by regrets stemming from the death of Data and destruction of Romulus. In self-imposed exile on his farm, he's given a chance to right some of the wrongs of his past when he's approached for help by a new, highly-advanced synth that's being hunted by the Romulans.
The season ended with Picard neutralising the Romulan threat to the newly-discovered synth colony, and the destruction of all organic life by those self-same synths. He also got his consciousness uploaded into a new synthetic body, neatly sidestepping that life-threatening illness, and ventured off into the unknown with his new crew.
Season two will premiere some time in 2022, and while the teaser doesn't reveal any new footage, from Picard's voiceover we can gather that he's still coming to terms with his legacy and place in history, while also still struggling with his doubts and regrets. It's a harsh trial he's subjected to, and it's one that the newly-revealed antagonist of the second season, John DeLancie's iconic Q, is reveling in:
One show that does have a firm release date though? Star Trek: Lower Decks. I was pleasantly surprised by just how much I enjoyed the animated comedy which lovingly parodied the venerable franchise, so I'm quite looking forward to the second season which will premiere on 12 August.
As we see in the teaser below Mariner (Tawny Newsome), Tendi (Noël Wells), and Rutherford (Eugene Cordero) are still accidentally getting mixed up in life-threatening situations on the USS Ceritos. Meanwhile Boimler (Jack Quaid) is having a hard time adjusting to being deliberately put in harm's way on his new ship, the USS Titan, under the command of Captain William Riker (Jonathan Frakes):
Last Updated: April 6, 2021