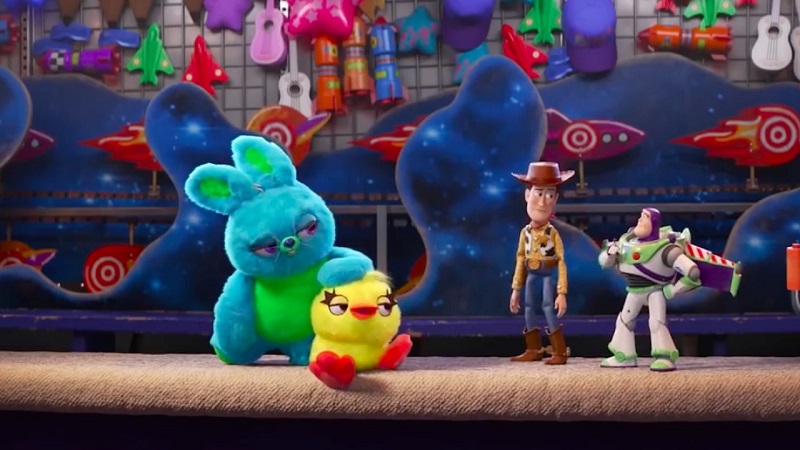 Las night was the Super Bowl, which if you're a sports fan means something, something, Patriots and Rams, something, something. To be honest, although I love sports, American Football just doesn't do it for me, so I can't tell you any more than that. What does excite me though are the movie trailers that we get and most often the first look at many big movies coming out.
Perhaps one of the biggest first looks we got of the night was that of the next sequel to the beloved Pixar/Disney franchise Toy Story. While Disney adapting their big animated classics into live-action epics seems like a guaranteed recipe for box office success, there is probably still an even bigger sure bet for them. And that is the next Pixar movie. Throw the word Toy Story on front of it to continue the longest running computer animated franchise of all time (considering Toy Story was the first, that's another safe bet of a statement to make) and you have a movie that will instantly appeal to everyone.
Obviously, it has certainly helped that the last three Toy Story movies have all been exceptional in their own rights. With the same team behind this fourth iteration and a return of all the characters we love, it's hard to imagine this movie not been worth watching.
The journey with Andy might have come to an end at the end of the last movie, but just because we grow up, doesn't mean our toys don't stay relevant (just ask Darryn). So, even though this first look doesn't give us much of an idea on what that new adventure for the likes of Woody (Tom Hanks), Buzz Lightyear (Tim Allen), Bo Peep (Annie Potts) and Jessie (Joan Cusack) will be, what it does do is introduce us to some new characters like Ducky (Keegan-Michael Key) and Bunny (Jordan Peele) whose infectious characters prove that they will probably only keep the magic of the franchise alive.
UPDATE: A newly released synopsis actually does give us an idea of this adventure after all!
Woody (voice of Tom Hanks) has always been confident about his place in the world, and that his priority is taking care of his owner, whether that is Andy or Bonnie. So when Bonnie's beloved new craft-project-turned-toy, Forky (voice of Tony Hale), declares himself as "trash" and not a toy, Woody takes it upon himself to show Forky why he should embrace being a toy. But when Bonnie takes the whole gang on her family's road trip excursion, Woody ends up on an unexpected detour that includes a reunion with his long-lost girlfriend Bo Peep (voice of Annie Potts). After years of being on her own, Bo's adventurous spirit and life on the road belie her delicate porcelain exterior. As Woody and Bo realize they are worlds apart when it comes to life as a toy, they soon come to find that is the least of their worries.
Toy Story 4 is scheduled for release on Jun 21, 2019, in what along with Captain Marvel and Avengers: Endgame, is promising to be a massive first half of the year for Disney at the box office.
Last Updated: February 4, 2019