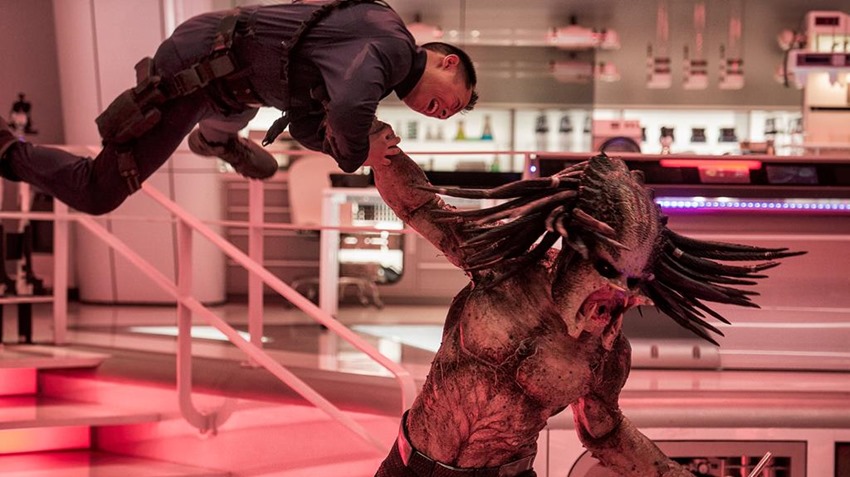 It was the battle of movie monsters at the US box office this weekend past, but while The Predator may have beat The Nun to claim the top spot, it was a bit of a pyrrhic victory. Shane Black's Predator sequel has been met with both mixed reviews and behind-the-scenes controversy, and it appears these negative aspects have hamstrung the film as it opened soft with just $24 million.
What makes that number particular bad is that The Predator received a gigantic cinema count, opening in over 4037 venues. This means it actually enters the history books for the wrong reasons as it claims the infamous title from last year's The Mummy to be the lowest US opening for any film in more than 4000 locations. Ouch. Internationally, it did a tiny bit better business as it earned $30.7 million from 72 markets, but that means that the film is still a very long way from breaking even with its reported $88 million production budget.
The Predator wasn't alone in the bittersweet news department though. While The Nun only slipped one place after being tops last weekend, it only earned $18.2 million domestically. That means it had a sophomore weekend drop of 66%, the worst in the entire Conjuring franchise. The film is doing great overseas though, with its international tally currently sitting on $143.6 million, giving it a global total of $228.7 million off just a $22 million price tag.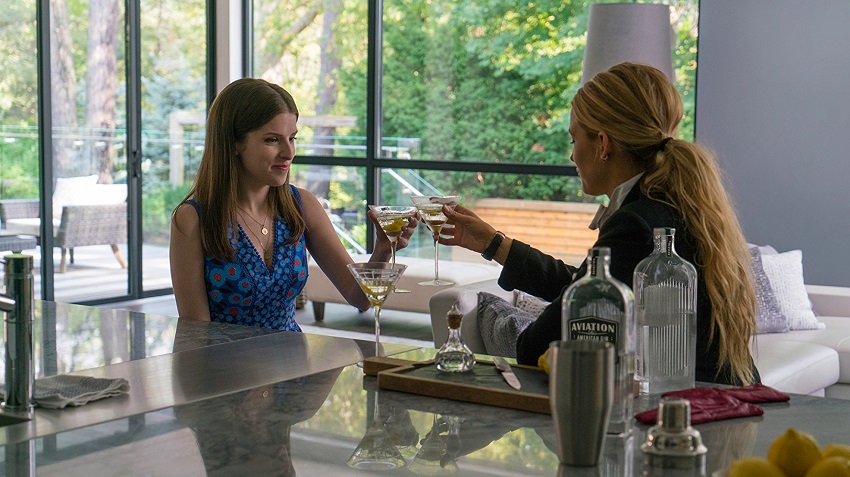 A duo of newcomers takes up the 3rd and 4th place with A Simple Favor and White Boy Rick respectively. Psychological thriller A Simple Favour is a big change in pace for usual funny film director Paul Feig, but audiences and critics have responded favourably as it earned $16 million, right in line with studio predictions. Matthew McConaughey-led drug drama White Boy Rick didn't fare as well, only pulling in $8.8 million. That's especially not good news for director Yann Demange who is reportedly on the shortlist of directors for the next James Bond movie as he probably wanted to have some hype to push him up the pecking order.
We would have to jump all the way down to 9th place to find the last newcomer of the weekend though as period drama Unbroken: Path to Redemption totally faceplanted on release. This is actually a sequel to 2014's Unbroken, the true-story drama about US Olympian turned WWII prisoner-of-war Louis Zamperini which was directed by Angelina Jolie and penned by the Coen Bros. This follow-up swaps out all that star power – including lead actor Jack O'Connell – for mostly no-names and with it went its audience appeal as the film failed miserably with just a $2.3 million debut.
Rounding out the charts is Mission: Impossible – Fallout which also earned $2.3 million. What makes that addition important is that it pushes the film's domestic total to $216 million, surpassing Mission Impossible II's $215.4 million to become the highest-grossing domestic entry in the entire franchise.
Let's see what the rest of the US box office chart looks like:
| No. | Movie Name | Weekend gross | Percentage change | US Domestic gross | Worldwide gross | Last Week's Position |
| --- | --- | --- | --- | --- | --- | --- |
| 1 | The Predator | $24 million | NE | $24 million | $54.7 million | NE |
| 2 | The Nun | $18.2  million | -66% | $85 million | $131 million | 1st |
| 3 | A Simple Favour | $16 million | NE | $16 million | $19.5 million | NE |
| 4 | White Boy Rick | $8.8 million | NE | $8.8 million | $8.8 million | NE |
| 5 | Crazy Rich Asians | $8.7 million | -33% | $149.5 million | $187.4 million | 3rd |
| 6 | Peppermint | $6 million | -54% | $24.2 million | $25.6 million | 2nd |
| 7 | The Meg | $3.8 million | -37% | $137 million | $505.2 million | 4th |
| 8 | Searching | $3.2 million | -30% | $19.6 million | $45.8 million | 5th |
| 9 | Unbroken: Path to Redemption | $2.3 million | NE | $2.3 million | $2.3 million | NE |
| 10 | Mission: Impossible – Fallout | $2.3 million | -40% | $216 million | $760 million | 6th |
Last Updated: September 17, 2018