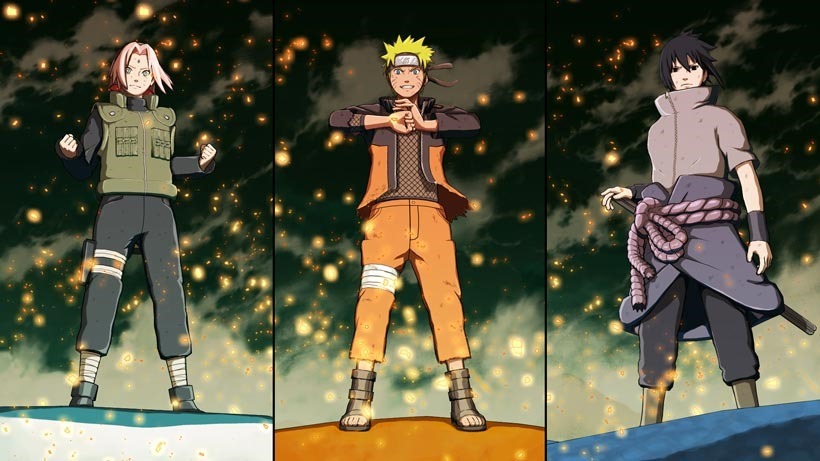 So you want to be a ninja? Well step right up into the D's shinobi school! Mind the dead bodies. Right, so you've got a full timetable set up. There's that gym class where you do that weird run with your arms locked into a 90 degree position, how to miss every target as quickly as possible when you use throwing stars, obligatory treetop navigation and smoke bomb 101.
What's that? You want to learn how to use secret techniques, ninja magic so powerful that it can crack entire cities in half? Yeeeeeeeaaaaaah, I might not know how to teach you that. You're going to have to go to one of the Naruto schools to learn that technique, but I've got something better for you! It's a shinobi history course, based on this DVD boxset of the Michael Dudikoff American Ninja films that I found in a nearby bin!
Where'd everyone go? FINE. Watch this trailer of Naruto Shippuden: Ultimate Ninja Storm 4 secret techniques instead. Bunch of ingrates.
If you're wondering just what the hell is going on in the video above, I'll happily explain it to you! Also, I drugged your drink, there really is no escape from me. In the Naruto Shippuden: Ultimate Ninja Storm games, secret techniques are pretty much your trump cards, only they're not horribly racist orange windbags with an amazing combover hairstyle.
They're the techniques that can be used to end a battle or deal a significant amount of damage to a player, but they require large chakra reserves, space and key timing to properly pull off. Just about everyone in Naruto Shippuden: Ultimate Ninja Storm 4 has one, and they vary from Earth-shattering through to complete WTF.
The big draw here comes from tag-team combinations however. With Naruto Shippuden: Ultimate Ninja Storm 4 focusing more on team dynamics this year, those secret techniques are about to get a lot more…spicier. The final game in the Ultimate Ninja Storm series is out this week on PS4 and Xbox One. BELIEVE IT ONE MORE TIME!
For more on Naruto Shippuden: Ultimate Ninja Storm 4, check out our handy hub page, bub.
Last Updated: February 4, 2016