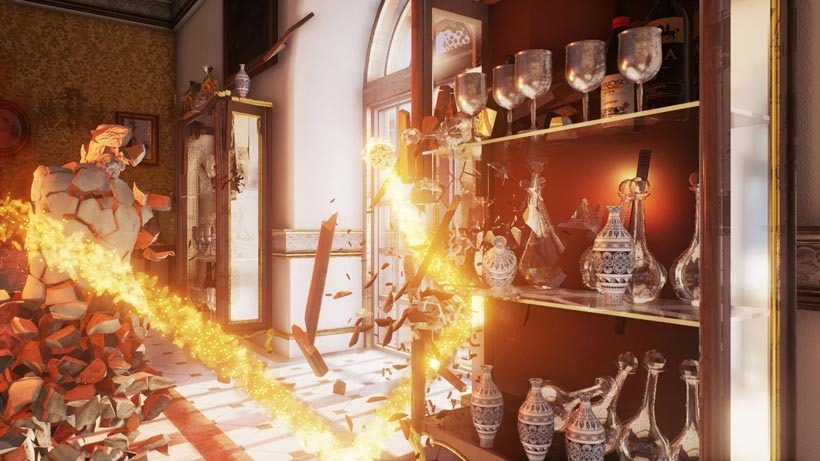 A few years ago, I was sitting inside a hall, watching EA's annual press conference – I can't quite recall if it was E3, or Gamescom, as they all sort of blur in to one event in my head. Anyway, EA showed off a trailer for a new golf game, that somehow involved battleships and wanton destruction – and I laughed. That derisive laugh that mostly happens in your head, and sometimes exits your nose as little more than barely audible puff of air.
I thought the idea of an off-centre golf game was, frankly, stupid. It seems EA eventually did too, because that gamer never really happened. EA and I? We were both wrong.
There is a game of that sort coming, from a new studio made up of former Criterion developers; Three Fields Entertainment. Called Dangerous Golf, it fuses Burnout's general design ethos with what may be one of the world's most boring spectator sports on the planet – and by golly, does it sound like a lot of fun.
"Smash a priceless chandelier, set fire to a gas station and destroy a kitchen full of china — this isn't your average golf game," says the press release.

"Available for download at the Xbox Store, PlayStation Store and Steam in May 2016, Dangerous Golf is an irreverent, silly, fun approach to golf games that challenges players to break the rules and wreak havoc on more than 100 holes in four unexpected locations.

It's as serious a golf game as Burnout was a serious simulation to driving games. We wanted to mix the attitude of Burnout with the destruction of Black whilst setting the golf ball on fire — a nod to NBA Jam. This type of gameplay is part of our DNA, and something we think our fans will truly enjoy."
I hate racing games – but Burnout is one of my favourite franchises ever – and anybody who's able to take something I actively dislike and make it unbelievably fun has my interest piqued.
"In Dangerous Golf, players aren't striving for Par or aiming for Birdie — they're playing for dollar damage as their high score. As they progress throughout the game, players will not only be awarded points for trick shots and ricochet techniques, but they'll also get rewarded for destroying stuff by turning their golf ball into a bomb and setting off their SmashBreaker. Destructive powers increase as the ball heats up, ensuring that the most elaborate shots are not only the most rewarded, but the most impressive to watch.

The action takes place in a series of elaborate indoor and outdoor locations including a hotel kitchen, a glittering palace ballroom, a rural gas station and a stately medieval castle. Featuring turn-based play in both on and offline multiplayer, Dangerous Golf awards points based on destruction, encouraging players to get creative as they wreak havoc in an effort to increase their score."
And while the game itself may be irreverent and silly, the underlying technology is anything but. The game is wholly physics based, and will leverage PhysX, Apex Destruction and Flex to create the very destructible world its set in.
Last Updated: January 27, 2016