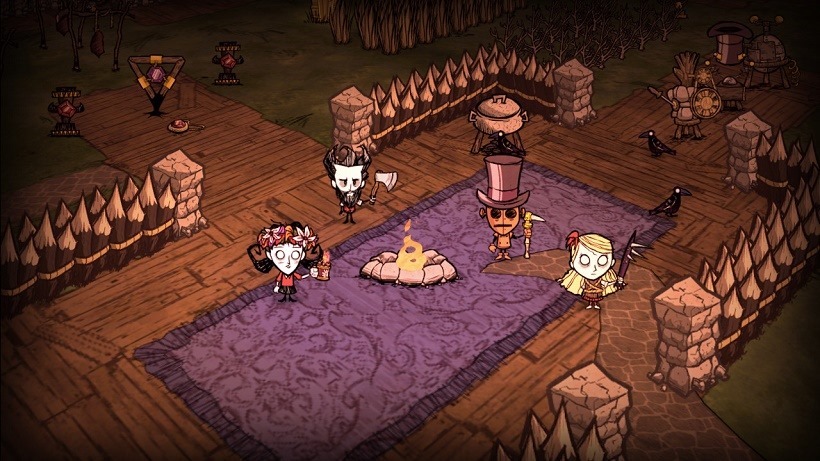 Back in the day, Zoe told you all that the popular indie survival title Don't Starve would be getting multiplayer. Now, about a year and a half later, Don't Starve Together is about ready to ship.
And it's about damn time too. Don't Starve Together has been in Early Access since December 2014! Have you checked your calendar lately? That was a long, long time ago.
If you've been patiently holding out for the final product, you won't have to wait too much longer at least. Don't Starve Together will be exiting Early Access on April 21st (via Eurogamer):
We are finally at content parity with the base game. Maxwell is on his way, the mandrake is in, caves are hostable without jumping through fiery hoops — we now feel the game is ready for the general public and we're ready to tell everyone.
Both Zoe and Geoff played Don't Starve on PC and PlayStation 4 respectively, and they both rather enjoyed it. Admittedly, I've not played the game myself, but I think I'll need to change that all soon.
Surviving alone doesn't really appeal to me, but the prospect of playing such a harsh title with friends? Colour me intrigued!
Enter a strange and unexplored world full of strange creatures, dangers, and surprises. Gather resources to craft items and structures that match your survival style. Play your way as you unravel the mysteries of this strange land. Cooperate with your friends in a private game, or take your chances with strangers online. Work with other players to survive the harsh environment, or strike out on your own.
It looks like a whole lot of fun! Knowing my friend circle though (it consists of many a troll), Don't Starve Together could prove to be a frustrating experience. Still, it's going onto my Steam wishlist right this very second.
In fact, maybe I should just go ahead and grab it. For only R159, I can nab two copies. Now which of my friends will I bring along for the ride? Hmmmm…
Last Updated: April 11, 2016