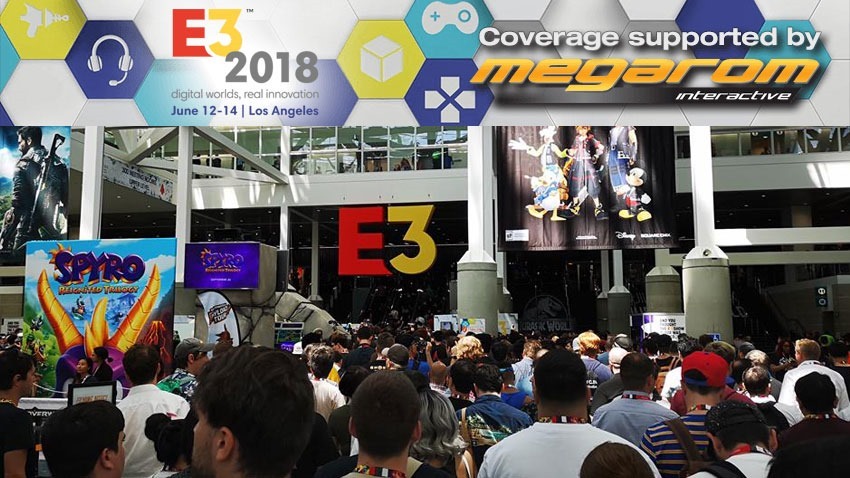 E3 is a juggernaut of an expo, an annual extravaganza that showcases the best games coming over the next year of three. Because we're a small, underfunded site in the scheme of things, we usually take the time that we have here to get as many behind closed door appointments as possible, only stepping on to the actual showroom to take in its spectacle in brief flashes as we run from appointment to appointment in a flurry, trying to play as much as possible in the short time we have here.
This year, I wanted to experience what the show might be like for an actual consumer now that it's open to the public, so I made sure to give myself a few hours free to just wonder the show floor, stand in a few queues to play some of the games we didn't have scheduled behind-closed-door appointments for and just enjoy it as the game that's still buried deep within the cynical shell that now houses my squishy bits.
While the show is indeed a spectacle, I must say that if I had spent the $149 it costs for a day's entry (or the $249 it costs for the full three days), I'd probably feel like I'd wasted my money. Because E3 is still a largely industry-focused event, there's really not very much to do within its halls. Sure, there are grand, bespoke installations that sure are enticing and a handful of places to buy otherwise hard to get merchandise, but the reality of it is that there's relatively little to play. And, when there is something to play it usually means standing in queues for hours just for that privilege.
It also feels a little emptier than it used. With Microsoft and EA moving their wares to external locations, it just feels like E3 as an Expo itself is a little less exciting than it used to be. Don't get me wrong at all, it's still something I'm very glad to have done, and something I'd be happy to do again in the future – but as a consumer, Germany's Gamescom still can't be beat. I did have a good time but my favourite moments today came not from seeing elaborate stands or playing the latest games. At one of the stands was a collection of old arcade games, including Street Fighter II, and myself and a couple of other older gamers stood around the machine for a good while, just challenging each other in rotation, the muscle memory and reflexes of our youths coming back and bringing the electricity of the old arcade scene back with them.
Anyway, here's a gallery of some pretty groovy shots we took at E3 today, along with few super quick booth tours of what you'd expect to see. If you've ever been to Rage, thenE3 as a consumer really is just like that – only on a much larger scale.
These pictures were all taken with a Huawei P20 Pro, supplied to us by the lovely people at Huawei South Africa.
Last Updated: June 13, 2018